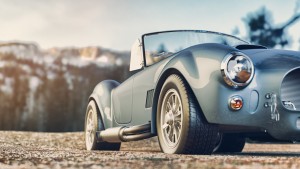 It's no secret that a lot of people these days have an obsession with the 1980s.
From rewatching 80s movies to the resurgence of 80s fashion trends, you can see hints of this awesome decade everywhere you turn.
Many people don't realize, though, that there were also some pretty impressive cars driven around in the 80s.
If you're not familiar with all the cars the 80s had to offer, keep reading. Listed below are some of the best cars of the 80s.
Audi Quattro
Introduced in 1980, the Audi Quattro helped cement Audi's reputation as a maker of great all-wheel-drive vehicles.
This car was originally designed for racing, but it soon became a favorite daily use car thanks to its good handling ability and reliability.
This car served as the basis for a lot of future cars, and it's definitely a great one to check out.
Lincoln Mark VI Continental
All you have to do is take one look at this car, introduced in 1981, to realize that designers created it with high-powered executives in mind.
The Lincoln Mark VI Continental features a variety of unique and impressive details, including swivel headlights, porthole windows, and a vinyl roof.
It was also one of the first cars to include modern staples like a remote-controlled lock and auto lamp.
Porsche 944
First produced in 1982, the Porsche 944 came on the scene as a replacement to the Porsche 924.
It was a solution to the 924, which did not have a great performance record. It boasts an improved suspension, updated front and rear bumpers, and a transmission that was fitted at the rear, which yielded equal weight distribution.
Porsches have come a long way since the initial introduction of this car, but it's still a classic that made way for a lot of great improvements.
Chevrolet Monte Carlo SS
This sports coupe, which hit the market in 1983, was introduced with the intent of revamping the classic Chevy muscle car.
It featured a 5.0L V8 engine and 180hp. It also had a stiffer suspension to increase stability and was known for being a high-performing, highly reliable car.
With these great features, this car was definitely a popular option. It also didn't hurt that this car had a unique, sleek look to it.
Ford Thunderbird Turbo
The Ford Thunderbird Turbo combined aesthetics and dynamic performance when it came on the scene in 1983.
It came with a lot of impressive features, include special fuel injection ports and a Mustang GT engine.
This car had great handling ability, too, and it had a lot of fun design elements that helped it stand out from the pack.
Chevrolet Corvette
The 1984 Chevy Corvette made a huge splash when it first hit the scene.
When this car was released, it was the first time that the Corvette had experienced a complete redesign. All of the previous models were mere evolutions and adjustments of those that came before.
The 1984 Corvette has a futuristic, fresh look and got people excited about what the future of the automotive industry had in store for them.
Camaro Iroc-Z
The Camaro Iroc-Z, which was introduced in 1985, is one of the best looking cars of the bunch.
It attracted attention right away for its unique look and impressive performance. It also introduced a lot of changes, including moving the location of the break light to the upper area of the back hatch.
Ferrari F40
With its mid-size engine, carbon-fiber chassis, and V8 twin-turbocharged engine, the Ferrari F40 is easily one of the best cars of the 80s. It was also one of the most expensive, and with good reason considering all it had to offer.
Introduced later in the decade (1987), this model was also the last the Enzo Ferrari approved personally.
Mercedes-Benz 300TD Wagon
The Mercedes-Benz 300TD wagon was the perfect combination of luxury and practicality when it hit the scene in 1987.
It was considered to be a great family car for those who could afford it. While its aesthetics weren't perfect, it was still a reliable car that a lot of families purchased at the time. 
Ford Mustang Convertible
The 1987 Ford Mustang Convertible is the definition of a muscle car.
This car is perfect for anyone obsessed with the 80s. It's highly durable and stands out from other, more modern Mustangs.  
With its Fox Body and the absence of tri-bar tail lamps, the Ford Mustang Convertible will always be a classic. 
DeLorean DMC-12
Finally, it wouldn't be a proper list of the 80s best cars with mention of the DeLorean.
The film, Back to the Future, may have made this car famous, but the DeLorean has not experienced the same kind of longevity as some of the other cars on this list.
In fact, only about 9,000 models were produced between 1981 and 1983, before John DeLorean's business collapsed.
Can You Drive the Best Cars of the 80s Today?
Are you interested in driving one of these great cars? If you're considering investing in a classic car, there are a few tips you need to keep in mind, including the following:
Talk to other owners to find out what their experience is driving and maintaining the particular car that interests you
Take someone with you to inspect and test drive the car to help you stay focused
Get an inspection from a mechanic before you invest in a particulate car
Plan to have the car towed if it's not in driveable condition yet
If you're not interested in owning one of these classic cars permanently but still want to experience driving one, you can always take one for a test drive.
You can also look into car leasing services that will allow you to use one for a short period of time to get the experience without a long-term commitment.
Learn About Other 80s Bests Today
As you can see, the 80s produced some pretty impressive cars. 
If you can get your hands on one of the best cars of the 80s today, even if you just rent it or take it for a test drive, you'll be pretty surprised at how great they are.
Do you want to learn about other great things the 80s had to offer?
If so, check out some of the other articles on our site today. The 80s Fashion and 80s Party Guide sections are both good places to start.