DISCLAIMER: Getting a Tan = Sun Damage. Regular tanning, from the sun or from a tanning bed/booth, is a cancer risk. We all know that nowadays, right? The following article describes how we tanned in the 80's when we were younger and foolish-er. It is NOT meant to instruct you to actually run out and do it today. Like, if I told you to jump off a twenty-story building, would you do it? I DIDN'T THINK SO. Anyway! It's almost summertime! Well, sort of. It's mid March as I type this, but I'm heartily sick of winter and I've got my eye on the prize. I LOVE summer: the heat, the long days, the catchy pop music, the cute clothes and sandals, and maybe just a wee bit of a tan. Let's revisit how we got that summertime glow, 80s style.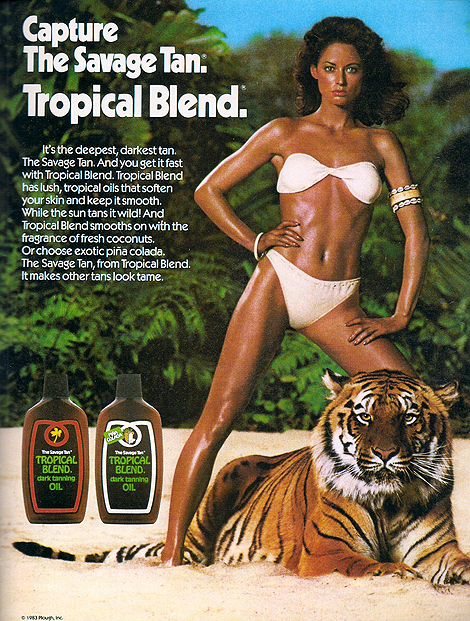 Step One: GET A CUTE BATHING SUIT.
You're going to want it skimpy. Obviously, bikinis provide a lot of exposure, but there are some very cute one-pieces with sexy cut-outs, as well. Underwire is a nice touch. Perhaps not the comfiest addition to your attire, but it will provide a flattering lift and separate to your bosom. Be sure to get very high cut bottoms, too, for that legs-up-to-there look. Neon prints are eye-catching and will set off your tan. Hot brands are Ocean Pacific and Body Glove. I suggest getting a couple of different styles so that you can hit some of the areas covered up by one suit when you wear a different one, thus minimizing the visible tan lines.
Step Two: GET A BASE TAN.
This might involve a couple of burn/peel cycles, so have the Panama Jack aloe vera handy. If you must, apply some SPF 8 Panama Jack or Banana Boat sunscreen during this process, but avoid if possible. It's just an unfortunate phase you have to get through on your way to burnished bronze, so push on through as fast as possible. Don't get discouraged!

Step Three: WORK ON YOUR TAN DAILY.
A rich, bronze tan takes real commitment. Ideally, you can rush home after school and get in a good forty-five minutes in the backyard on a beach towel. Or, if you work, try to arrange your schedule so you can catch some good rays every day. Be sure to spend an equal amount of time on front and back. Also, don't forget to unhook your bikini top when you're on your stomach and slip your straps down over your shoulders when you're on your back so your back and shoulders are evenly browned. For the maintenance phase of your tanning, you might like some Panama Jack SPF 4 Dark Tanning Oil or some Banana Boat SPF 2 Dark Tanning Oil. Ideally, though, you'll be able to use pure baby oil on your skin. It will keep your skin silky soft while filtering none of the sun's rays.  If you really want to kick it 80s style, you could put down a bed of aluminum oil and layout on that.  Yup.  We did that.

Step Four: GO DEEPER AND DARKER.
When you're ready to aim for a truly startling shade of bronze, it's time for some tanning accelerator. I suggest Body Drench Tan FX Lotion: Tanning Accelerator for Experienced Tanners. Apply it a few minutes before each tanning session to let the sun soak even deeper into your skin. The other classic 80s tanning accelerator option is Bain de Soleil, you know, for the St. Tropez tan. http://youtu.be/mJ6Gg80aq_o

Step Five: DON'T LET WEATHER BE A FACTOR IN YOUR TAN.
So what if it's overcast, chilly, or snowy? That's what tanning beds are for. Go ahead and invest in a year's membership to a tanning salon, if your fitness center or hair salon doesn't have a tanning bed you can use. You may want to buy your own tanning goggles to wear, too. Don't forget to spray down the entire surface of the tanning bed with disinfectant and wipe it dry before each use. Tanning bed use has the bonus of Tan Line Elimination: strip down to your birthday suit before you tan, and watch those white strap marks disappear.

Step Six: USE A SELF-TANNER.
If you're not quite satisfied with the depth of your tan, or if you're starting to heed those pesky rumors of "sun damage," you need to break out the self-tanner. Buy some QT (or "Quick Tan") and get a fast, sun-free tan. When self-tanning, exfoliate in the shower first. I like St. Ives Apricot Scrub. Dry off, and then apply the self-tanner EVENLY. Go very lightly on the elbows, knees, and feet. I suggest doing your feet last and using a mixture of ½ QT and ½ Jergen's Body Lotion. Finally, WASH YOUR HANDS, especially between your fingers. You'll want to loiter naked a bit in the bathroom while it soaks in to avoid staining your clothes. Et voila! Through hard work and determination, you've achieved that "I party with Duran Duran in Rio de Janeiro" look. Congratulations, baby. You look totally hot!