80s Costumes: Ideas For What to Wear to an 80s Party
Costume Ideas to the Max
80s parties are totally rad, and we have the perfect costume ideas to have you looking fresh out of 1985.  The 80s offer a treasure trove of movies, musicians, characters, and fads from which to draw ideas for a killer costume.  No 80s party on the horizon?  Halloween is the ideal time to show your 80s pride.  Whether your tastes run to the refined (think Robert Palmer and his black-clad ladies in the 'Simply Irresistible' video) or to the creepy (think "Here's Johnny" or the twins from 'The Shining') or to the fun (think Cyndi Lauper – girls just want to have it, you know), we've got you covered.  We have ideas that are fairly involved (DIY rubik's cube) to SUPER easy (Farmer Ted and the underwear from 'Sixteen Candles').  Get ready to bust an 80s costume move, like, for sure.
Find the Perfect 80s Costume
You can start your search for the perfect 80s costume using the categories below for guys, gals, groups, and kids.  Or, you can browse the 80s Costume Pictures sent in by our readers for inspiration.  Help us build the biggest collection of 80s party and costume pictures out there.  Send us your pictures to add to the site.  If you have a great 80s costume idea we haven't included here, please let us know!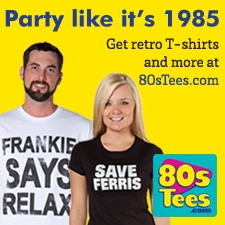 If you are looking for a 90s costume idea, try our sister site www.90s411.com.
Related Stories: