OF COURSE one of my favorite 80s movies is Pretty in Pink!
What an epic love triangle – both Blaine and Duckie vying for the love of our dear, sweet girl-from-the-wrong-side-of-the-Traxx (see what I did there?) Andie.  I was Team Duckie all the way. He was a total dreamboat to me. I loved Duckie from head to toe – from his pompadour hair down to his trademark dirty white shoes.  I dreamed of someday meeting a boy who would love and admire me daily as Duckie did Andie. Say what you want about the Duckman, he LOVED Andie. He would die for her!  And, we die for this create 80s costume idea.  You can go in so many directions, using lots of items you already have on hand.
Read on for a how-to and some really rad examples of the Duckie Dale costume in action.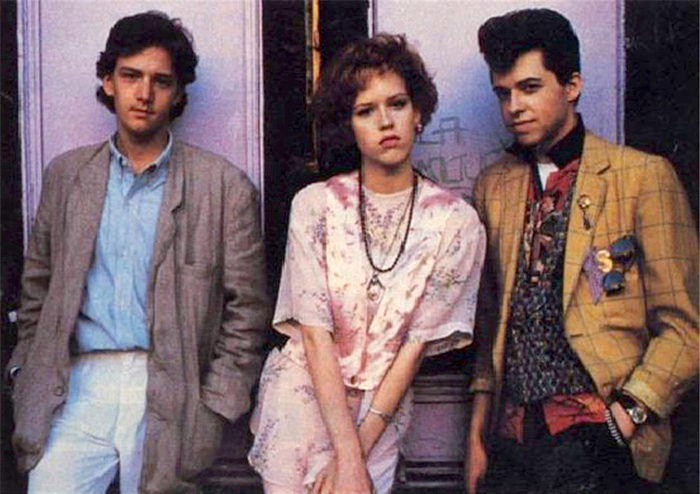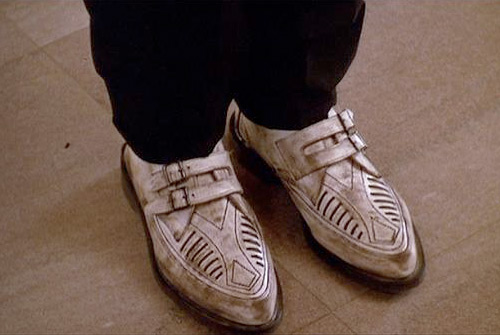 Duckie had some serious 80's fashion sense going on. Again, it's a matter of taste but if I could have dated a guy in high school who rocked a bolo tie, John Lennon glasses and an old-man-straw-hat, in my mind I would have won the boyfriend lottery.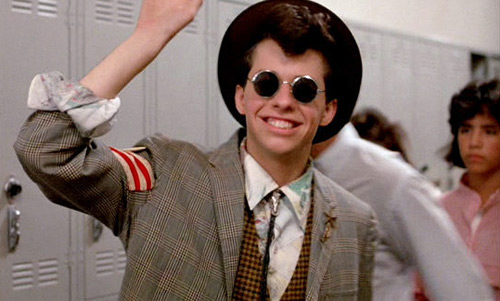 Here are some staples that you will need to create as Duckie would say, a "truly volcanic ensemble."
If you don't have these goodies hanging in your closet, a quick trip to the thrift store can easily solve that:
A blazer, preferably cream or mustard yellow. Even better if the fabric resembles an old sofa. Embellish with patches and little 80s band pins.
Round glasses – bonus points for ones with sunglasses that flip up.
A paisley button up shirt, or something flowery or plaid.
Suspenders are cute . . .
Black pants, rolled up at the bottom.
White, pointy-toed Duckman shoes!
Hip little-old-man hat.
Bolo tie (A MUST!)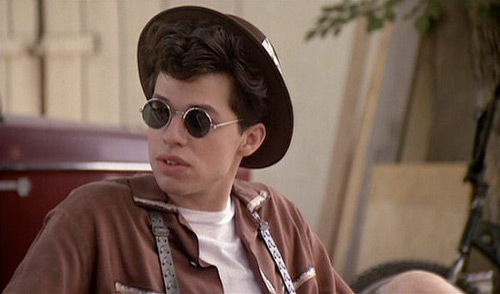 So bust out the beer, scotch, juice boxes, whatever . . . and be my teenage dream for Halloween.
I'm off like a dirty shirt.
Check out these great Duckie costumes . . .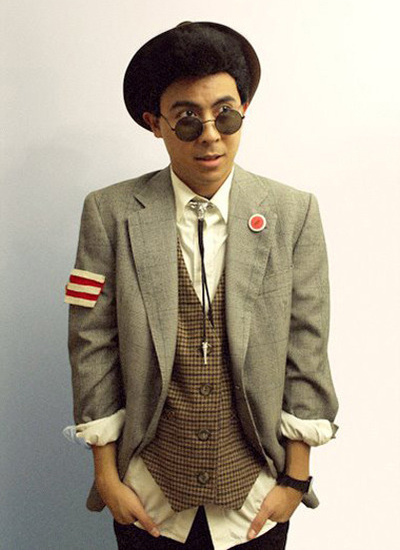 Photo credit: Little Fille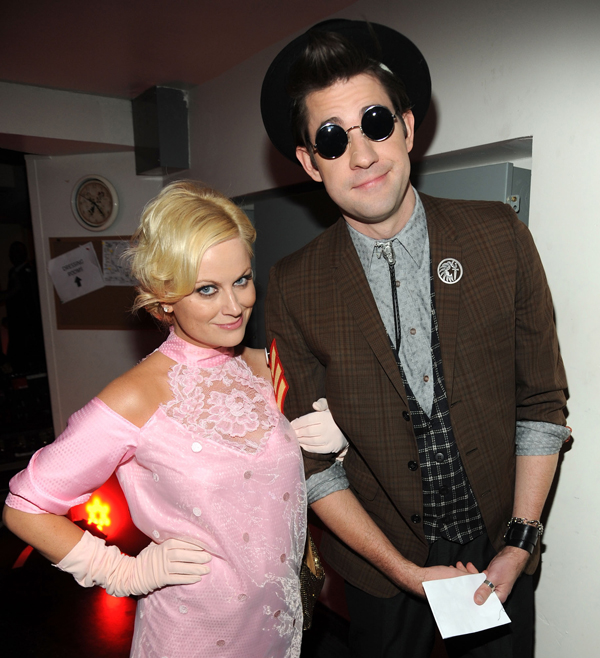 Amy Poehler as Pretty in Pink's Andie Walsh & John Krasinski as Duckie Dale
(Photo credit: Red Carpet Roxy)