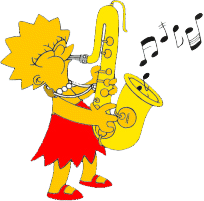 When I signed up for seventh grade band in the fall of 1984, I desperately wanted to play the saxophone. Forget flute or piccolo or clarinet, the girly instruments: I wanted to wail on a tenor sax. They seemed mature, expressive, and totally sexy. Something a girl might play in a smoky jazz bar, sporting a slinky black dress and dark Wayfarers. Alas, my parents put the kibosh on my saxophone dreams and insisted on the uber-square French horn for me. Sigh. It's hard to get sexy with a French horn.
Nowadays, we don't get much sax in our pop music, but it was all over the place in the early eighties, to the extent that twelve year old me thought it was the coolest instrument ever. Those mellow, expressive melodic lines that saxophones delivered were variously fiery and haunting, joyful and serene. Here are a few of sax solo standouts from the eighties that meant the most to me.
Let's start off with Billy Joel's "It's Still Rock and Roll to Me" from 1980. Admittedly, I have a personal issue with music that is self-referential. It makes me cranky to hear a song's genre included in the words of the chorus. Nonetheless, it IS a terrific song, with those fun in-your-face lyrics, and some terrific saxophone playing.
1981 had some awesome sax solos. Quarterflash's "Harden My Heart" was a mean, tough song that totally rocked. It jumps right into the sax. Check out the awesome video:
Foreigner's "Urgent" had some great keyboard (another instrument that was way more prevalent in the 80's) along with saxophone. Then Men at Work made agoraphobia cool with "Who Can It Be Now?" And even the Rolling Stones were feeling the sax groove in their smoothly hip "Waiting on a Friend." Just try to listen to this one without swaying in your computer chair:
We had even more great sax solos in 1982. George Thoroughgood's "Bad to the Bone" is one of those songs that just about everybody knows all the (totally outrageous) words to. Duran Duran's "Rio" is ample proof of why saxophones were sexy back in the day, am I right? And Hall and Oates cautionary "Maneater," which admittedly confused ten-year old me (What exactly IS a maneater, Mom?) might just have been in response to the previous year's "Harden My Heart."
In 1983, Spandau Ballet's "True" showed us how the sax could be tender and sad and just beautiful. I love this song. And also Tony Hadley's black eyeliner.
INXS had tons of great sax playing in their songs. Michael Hutchence was just sooo cute, so you could watch the videos for the eye candy alone, but INXS's music was also a great example of saxophone music played in gritty, new age tunes. "What You Need" had some great sax in it as well. This clip is from 1983's "The One Thing":
1984 was a golden year for sax solos. Billy Ocean's 1984 hit "Caribbean Queen" is a great example of bouncy 80's pop that gets stuck in your head for days at a time. Sheila E, initially a member of Prince's entourage, rocked out with "Glamorous Life," which confused me as well. I mean, diamonds and furs are great, right? What's the problem here? I wanted to lead a Glamorous Life TOO. Wham!'s "Careless Whisper" is a mournful, repentant song about cheating on your girlfriend and living to regret it. Live and learn, bub: Cheaters never win. Huey Lewis and the News' "The Heart of Rock and Roll," another self-referential rock song (groan), has a great example of a wailing 80's sax line.
But there were two sax solos of 1984 that win a gold star from me. One is Sade's "Smooth Operator." It's just everything you want in a slinky sax line, and Sade's silky voice is kind of the vocal version of a saxophone. The video totally channels the materialism and drive for wealth that was such a part of the 80's.
The other has got to be Bruce Springsteen's "Dancing in the Dark." I mean, Clarence Clemens kind of defined awesome saxophone music in rock songs, right? And oh, Bruce's perfectly fitting blue jeans. And Courtney Cox! I remember being angered to learn that she was a "plant" in the audience – she wasn't just a REGULAR GIRL that Bruce pulled up on stage, no matter how blushing and shy she might act while she danced with him! She still must have been totally thrilled, though, paid actress or not.
We continued with the sax love in 1985. Corey Hart gave us brooding hotness in "Never Surrender" and Michael Hutchence gave us wild messy-haired hotness in "What You Need." Glenn Frey's "You Belong to the City" is a fabulous example of 80's music with heavily featured saxophone, but right now I'm loving Oingo Boingo's "Dead Man's Party," largely because I haven't heard it in, like, fifteen years, and I love the dancing skeletons in the video:
"If You Leave" by OMD (Orchestral Maneuvers in the Dark) was featured in John Hughes's film "Pretty in Pink" in 1986, which would have probably assured its success. But "If You Leave" is an awesome, desperately grasping, sincere love song all on its own. 1987 also brought us Eric Carmen's "Hungry Eyes," a song I loved to hate for the silly imagery it gave my teenage mind. However, it was a huge hit and a key song in that year's beloved film "Dirty Dancing." George Harrison's upbeat-without-being-saccharine "Got My Mind Set on You" had that fabulous video where he sat in a chair and did back flips all over the place, and the furniture in the room danced around. Remember that one?
1988 was the end of the glory days of sax solos in pop music. Paula Abdul's "Forever Your Girl" did feature a nice sax line, and Steve Winwood's "Roll With It" is catchy and rollicking. It jumps right into a great sax line that is echoed all through the song. The Beach Boys' "Kokomo" is another of those songs that I feel we all know by heart. Corny, perhaps, but totally lovable and wildly successful at producing beach-vacation-dreaming. Also, check out John Stamos doing the drumming in the video:
Love, love, love all this hot sax music in the 80's! Maybe it's not too late for me to take up the instrument and get a resurgence of the saxophone underway, at least in our house. Lisa Simpson would totally understand.