by Julie Anderson
Who doesn't love a dramatic, life-altering makeover? From these awesome 80s makeovers, we learned that we didn't have to, like, learn stuff and change on the INSIDE. Changing our APPEARANCE was the only requirement for a huge burst of personal improvement. Turns out that a crimping iron, lots of Maybelline makeup, and the removal of a layer of clothing or two were really all it took to go from drab to fab.

Let's start with one that isn't actually a movie, but is a perfect example of the geek-to-glam genre. The shy, picked-on girl goes wild with trendy, figure-hugging clothes, heavy makeup, and sky-high heels, and earns appreciative ogles from the fellas. From 1983's album Eliminator, here's ZZ Top and "Legs":
In 1985, Rosanna Arquette's way-conservative housewife Roberta gets bonked on the head and suffers from amnesia in Desperately Seeking Susan. When she wakes, her clothing options are from the trunk belonging to Madonna's Susan, and they are wildly hip and edgy. With just a change of clothes (and a heaping helping of forgetfulness) Roberta goes from square to rockin'. Too bad we didn't get to see Madonna transform from punky-cool to boring housewife, right?
The Breakfast Club also came out in 1985. In it, Molly Ringwald's rich girl, Claire, persuades Ally Sheedy's goth Allison to submit to a makeover. Claire strips off "that black shit" from Allison's eyes and puts her in a girly tank top instead of her heavy black puffer coat. Allison thereby ignites the interest of jock Andrew, played by Emilio Estevez. Now, I LIKE a heavy black eyeliner, personally, but it is nice to see Allison's face look all fresh after Claire's ministrations.
We saw a guy makeover in 1987's Can't Buy Me Love. Uber-geek Ronald, played by Patrick Dempsey, pays his popular neighbor Cindy to pretend to be his girlfriend and teach him the Ways of Cool. All that power and popularity go to Ronald's head, and predictable problems ensue.
Student Exchange, a made-for-TV movie from 1987, is about two smart-yet-nerdy kids (why was it ALL the nerds were smart, anyway?) who decide to impersonate fashionable foreign exchange students for a year, since everyone loves a French accent. Mais oui!
Okay, here's another not-really-a-movie makeover scene, but I can't exclude Jem and the Holograms from a list of dramatic 80's makeovers. "Jem" was a cartoon that ran from 1985-1988. Businesswoman Jerrica had a computer named Synergy that used fancy holographic technology to change her into Jem, fashionable rock star, complete with pink hair and face paint. Truly outrageous!
Giving a paranormal spin to the whole makeover thing, 1989's Teen Witch, like Jem, bypassed the tedious and time-consuming parts of a makeover. Here Louise casts a spell on herself to change herself from sweater-clad, ordinary girl to lacy skirted, big haired high school popularity queen:
(Side note: I LOVE the lacy blue jean mini she wears at the end with the ankle socks and heels! I totally had a skirt like that, except mine had ruffles of white eyelet instead of lace.)
Tony Danza and Ami Dolenz (Monkee Mickey Dolenz's daughter!) starred in 1989's She's Out of Control. While Danza's Doug is out of town, his fifteen-year old daughter Dolenz's Ami gets a makeover and goes from nerd to knockout. Doug has trouble adjusting to this change, to put it mildly. More than a little corny, this one got chilly reviews, but is a fun and harmless 80's teen comedy.
1988's Earth Girls are Easy has a girly musical makeover scene that is the essence of makeover fun. Julie Brown (NOT MTV's Downtown Julie Brown) plays the wildly fashionable Candy, who helps her friend Valerie (Geena Davis) get late-80's hot in order to win her man back. In the Curl Up and Dye Salon, Valerie goes from being a bashful brown-eyed brunette to a "Brand New Girl."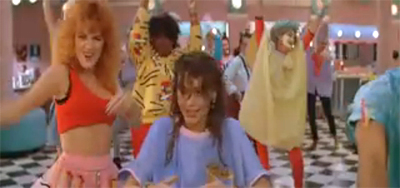 Click to watch the musical makeover scene from Earth Girls are Easy.
Watch them for wardrobe ideas, watch them for break-out-of-your-rut life inspiration, watch them for the bouncy soundtracks – 80's makeover movies are awesome when you just wanna have fun.