A Tale as Old as Time…
She's a devastating beauty, paid big bucks to wear expensive clothes and be photographed. It's fun being gorgeous and all, but she's looking for some excitement and romance…
He's a successful rock star, whose face and music are known the world over. He's had his share of groupies, but he's ready for a steady girlfriend, the younger the better…
They meet. Birds sing, shutters snap. HE gets to make all the men around him green with envy; SHE gets to party backstage and gets songs written about her. It's a match made in heaven.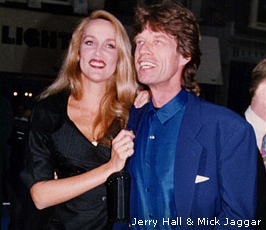 Rock musicians and models had their share of fairy tale endings in the 80's, and we loved to learn about their jet set adventures. After all, what little girl in the 80's didn't want to look like Christie Brinkley, and what little boy didn't want to rock out like Mick Jagger? These couples were living the dream, at least until, you know, they got tired of each other.
Jerry Hall was a model who had appeared on forty magazine covers, including Cosmo, by 1977. She was an international sensation known for her long blond locks and six-foot stature. After a relationship of several years with Roxy Music's Bryan Ferry, sparks flew when she met Mick Jagger of the Rolling Stones. They were a hot item all through the 80's and finally tied the knot in 1990.
The marriage lasted until Mick was confirmed as the father of Brazilian model Luciana Gimenez's baby in 1999.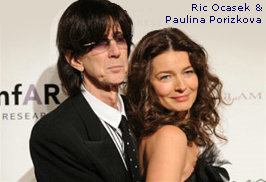 New Age group The Cars were one of my favorite 80's bands, and Ric Ocasek's vocals and songwriting skills were largely the reason. Perhaps Czech model Paulina Porizkova was a Cars fan, too. Paulina has acted in numerous roles and is an accomplished writer (she blogs!), but I always think of her Estee Lauder campaigns when I hear her name. She and Ric married in 1989 after dating for five years, and, in a quirky twist to the rock star fairy tale, they're still together. Congratulations, Ric and Paulina!
Here Paulina portrays a mentally disturbed (but undeniably beautiful) woman in The Cars' video for their song "Drive." Yes, that's Benjamin Orr singing, but see Ric in the video too, with his trademark choppy black hair: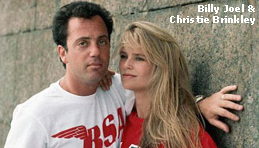 Pop rocker Billy Joel dated supermodel Elle Macpherson in the early eighties before marrying Christie Brinkley, that all-American blond with the friendly smile, in 1985. Christie graced the cover of three consecutive Sports Illustrated Swimsuit editions, thereby earning a special place in the hearts of men all over the world. Their marriage ended in 1994, although the couple is still on good terms.
Like Paulina, Christie acted in one of her man's music videos, but Christie's outfits are a lot cuter in "Uptown Girl." I thought her elegant black hat and sleek tan shoulders were the epitome of chic: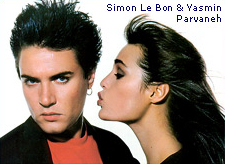 British Iranian model Yasmin Parvaneh met fabulously cool Simon Le Bon of Duran Duran in 1984. The blindingly pretty couple married in 1985. Yasmin Le Bon became the face of Guess? in the late 80's and graced the cover of many top magazines.
Like that of Ric and Paulina, the Le Bon marriage has stood the test of time.
Duran Duran's controversial video "Girls on Film" features scantily clad models parading about on the catwalk, wrestling, and being scandalous in assorted ways. It sums up the undeniable magnetism between the hot model and the cool rock star: a totally wild 80's fairy tale-come-true.