By Julie Anderson
We LOVED leather in the 1980's. Oh, yeah. We loved it skin-tight, ruffled, and pleated. We loved it zippered, studded, fringed, and candy-colored, for jackets, pants, skirts, and dresses. Leather ROCKED!
As a Hair Band Rock Star outfit, leather biker jackets were a no-brainer. We changed up the colors and fit in the eighties, but the basic biker tough guy look, with wide lapels, snaps, and zippers, remained intact. Here's Poison's 1986 hit Talk Dirty to me, with multiple examples of 80's leather in action, including a duster coat, vest, fringed boots, and skintight pants.
Judas Priest donned leather, studs, and barbed wire for an intimidating rocker look: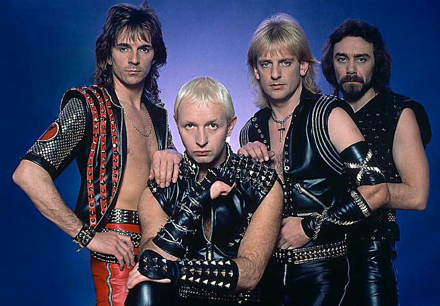 Taylor Dayne wears a cropped black motorcycle jacket with leggings and leather corset-over-flounced mini (as well as REALLY big hair, crimped bangs, and spackled-on red lipstick) in her 1987 video "Tell It To My Heart":
Michael Jackson, the King of Pop, was also a fashion icon. Replicas of his red jacket from 1983's "Thriller" were wildly popular for dudes:
Not all leather looks were for rock and roll. This fabulous ladies' jacket is urban-tough, but a bit more civilized than Taylor Dayne's attire. Love the origami-inspired shoulders, contrasting suede trim, full sleeves, and sculpted waist: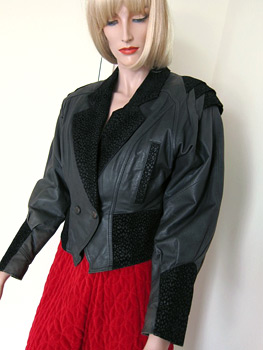 Photo credit: JoulesVintage
Here's a ladylike tailored jacket from North Beach, that leather giant of the 1980's, with a flattering nipped waist and subtle paisley pattern. Paisleys, of course, were ultra radical in the 80's: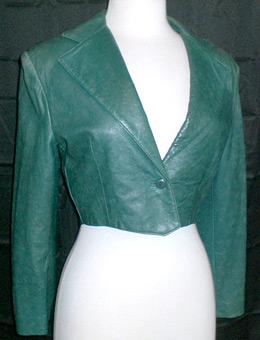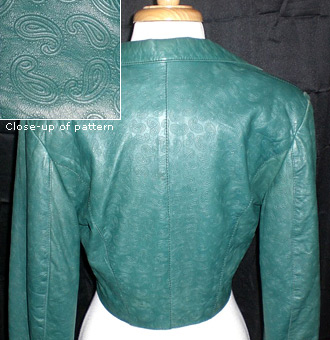 Photo credit: tnp020600
Eighties' leather looks went way beyond jackets. Women snapped up tight pencil skirts, both knee length and mini. We also loved a sassy, feminine peplum flounce. Asymmetrical dresses and tailored suits were both edgy and refined. The flashier the colors, the better, of course.
Here's an adorable and totally wearable vintage leather skirt. How cute would this fun red skirt be with tights and tall boots this fall?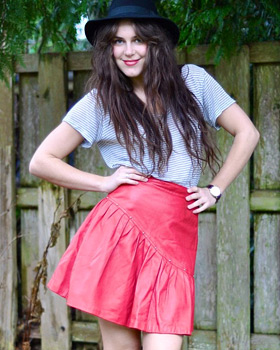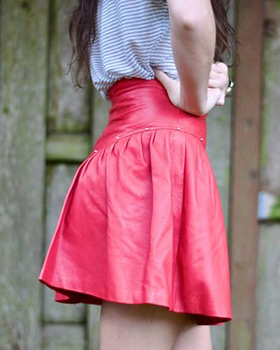 Photo credit: urbanxchange
This deep purple dress just screams eighties: the zipper, the enormous shoulders, the careful tailoring. Gorgeous!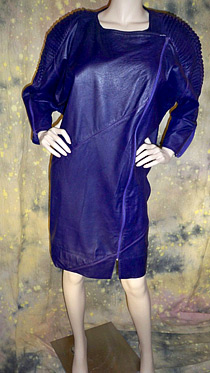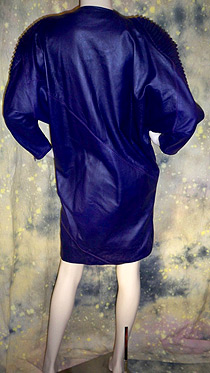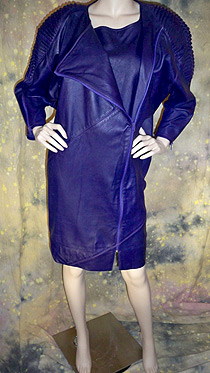 Photo credit: ferretcreekvintage
Here's another classic eighties look: the sassy mini with a fitted waist yoke and tiers of ruffles. Often seen with denim, this leather and lace version is way hot. I'd love to pair this with a simple white V-neck and some bright purple platform wedges: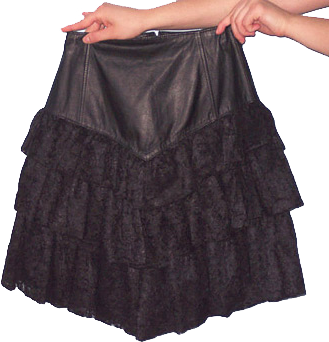 Photo credit: katriona1032
Pants in the eighties were high-waisted and often pleated. Don't judge! It was a different time. And like all cool fashions, everything old is new again, right? We've been seeing higher waistlines the past couple of years, and maybe even pleats will stage a comeback. For now, these looks are radically retro.
This whole ensemble rocks: animal print tube top and tight, high, pleated leather pants. All the model lacks is her Winger backstage pass and crimped hair: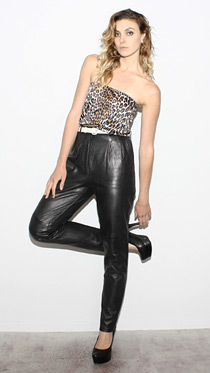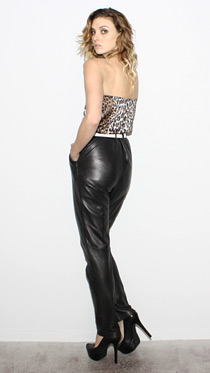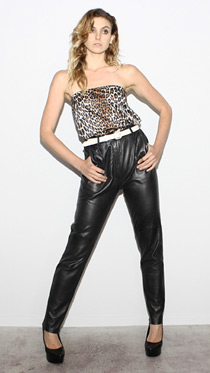 Photo credit: americanarchive
These electric blue leather pants have some cool stitching detail and zippered pockets and ankles, as well as that requisite high waist. These pants would be sooo cool with a couple of layered, artfully shredded tank tops and some slouchy acid yellow boots: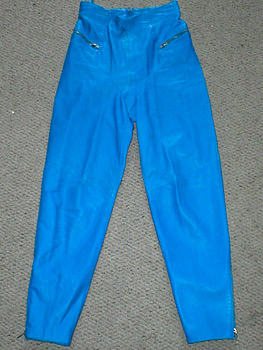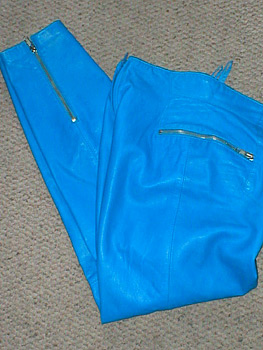 Photo credit: Annie's 2nd Hand Chic
Check out these way bitchin' snakeskin leather jeans. Straight-up hot in every way. I covet them: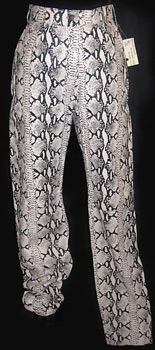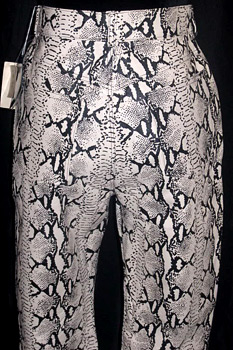 Photo credit: Bombshell Bettys
Even Cindy Mancini in 1987's 'Can't Buy Me Love' risks it all to wear her mother's insanely expensive suede leather jacket to the party.  We'd do a lot for our leather in the 80s.  And who could blame us when it looked this good?