Precise choreography, just-so styling, and bouncy, danceable pop music combined with REALLY cute boys made boy bands irresistible to tween girls in the 80's. Magazines like Tiger Beat gave us all the lovable personality quirks of each boy so we could pick our favorite crushes, in addition to sweet fold-out posters for our walls.
Often, boy bands were assembled by managers or record producers with an eye toward the predilections of preteen girls. Normally, the boys didn't play instruments, but they sang in harmony and had some swoon-worthy moves. Here's a rundown of the top three teeny-bop boy bands from our favorite decade.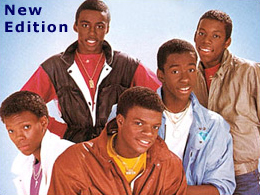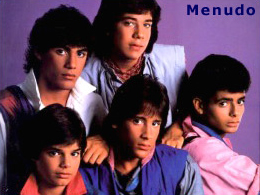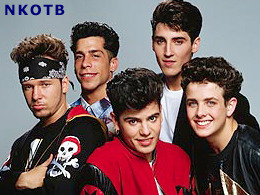 New Edition was a quintet that formed in Boston in 1978 and was discovered by producer Maurice Starr. It was made up of Ronnie DeVoe, Ralph Tresvant, Bobby Brown, Michael Bivins, and Ricky Bell. Ronnie went on to form Bell Biv DeVoe (who put out one of my all-time faves, Poison) and Bobby Brown went on to a highly successful solo career and rocky romance with Whitney Houston. 1983's Candy Girl was a huge hit for New Edition.
Groove out to New Edition's Cool It Now from 1984:
After severing ties with New Edition, Maurice Starr and his business partner, Mary Alford, held auditions for a new teen boy group. Donnie Wahlberg knocked their socks off at the audition, and he then recruited the other members of the band. Donnie's brother Mark (yes, THAT Mark Wahlberg), Danny Wood, Jordan Knight, and Jonathan Knight (yes, that made TWO sets of brothers in the group) completed the roster for New Kids on the Block (NKOTB). Soon, Mark tired of the teeny-bop sound and was replaced by Jamie Kelley, who was then quickly replaced by Joey McIntyre. Some of NKOTB's big hits included Step by Step and You Got It (The Right Stuff). Check out the choreography in Hangin' Tough. Those are some sweet moves!
Menudo was a Puerto Rican band that released their first album in 1977, but achieved their greatest popularity during the 80's. Producer Edgardo Diaz created a boy band with the plan to rotate out members before they got too old and their pre-pubescent voices changed, thereby retaining a teeny-bopper appeal for young girls. Diaz's plan worked, to put it mildly. Menudomania struck the United States and much of the world. The mid-eighties lineup was Charlie Masso, Robby Rosa, Ray Reyes, Roy Rosello, and Ricky Martin. Ricky Martin went on to great solo success after he "graduated" from the group.
Check out a young cutie-pie Ricky Martin in Menudo's 1985 video Hold Me:
Of course, there were boy bands before the 80's, like the Osmonds and The Jackson 5, and in the 90's and beyond, like Backstreet Boys, Boys II Men, and *NSYNC. These lovable 80's boy bands, though, have that sweet eighties sound and innocent dance-ability that we love so much.
P.S. Not to be all I-told-you-so, but even then, I knew that Marky Mark was TOTALLY the hottest NKOTB.