By Julie Anderson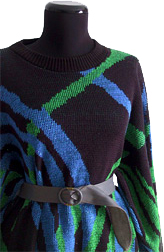 It's back to school time, so of course you'll want to scope out Seventeen magazine for their fall fashion preview. Let's see, tartan plaids, suede slouchy boots, stirrup pants, chunky plastic jewelry, big shirts, and…
SWEATER DRESSES, of course. Check out an 18-year old Whitney Houston (photo 41 of 72) modeling the trend on the cover of Seventeen back in 1981.
Sweater dresses were cozy and slouchy. We loved them in cool colors and geometric patterns, and we occasionally gussied them up with beads and sequins. Boldly colored and patterned opaque tights and leggings were (and are) perfect with sweater dresses. Shoulders were key in sweater dresses: huge shoulder pads lent shape, while bold patterns, puffs, ruffles, and embellishments on the shoulders provided flair.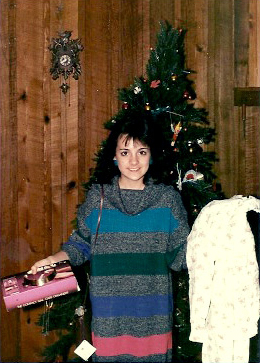 The contours of sweater dresses ranged from slightly fitted to complete figure concealment, so they were perfect for puffy days and holiday meal gorging (hello, chess pie!). The baggy, full shape was en vogue, perhaps because we balanced it out with pouffy, permed hair.
Here I am on Christmas morning in 1985 (pictured at right), SO happy to have received the sweater dress I coveted, along with a new flannel nightgown, manicure kit, and ill-advised bangs.
They're super comfy, but I do recall that annoying feeling of sitting down in your sweater dress and having it stretch too tightly over your back and rear end; one had to master a subtle lifting-of-the-lower-fabric-quadrant as one sat down in a sweater dress. This issue can be resolved easily with a belt. Pop on a wide elastic belt at your natural waist or a chunky leather belt worn low at your hip to provide a little more shape to your sweater dressing. Added bonus: some of the hems of vintage sweater dresses are longer than we'd prefer nowadays, and belting can draw them up a bit shorter. Don't fret about authenticity; it's totally eighties cool to belt your sweater dress.
We wore them with flats, slouchy boots, and riding boots back in the day, and of course all these looks still work. Lately I've been wearing my burgundy sweater dress with leggings and cowboy boots and feeling super chic.
Check out these lovely vintage sweater dresses I found online:
I adore this owl-inspired sweater dress. The ruffles, the piping, the meticulous details. I think I'd reach for a texturally interesting wide brown leather belt, mustard yellow tights, and cowboy boots with this playful dress: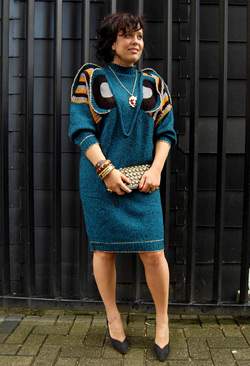 Photo credit: MyOwlBarn
Call me crazy, but the shoulder detail on this teal green dress reminds me of a Dr. Seuss illustration, albeit in a very pretty and wearable way. I'd love to find a geometrically patterned white and black hip belt to wear with this dress, along with some sleek black riding boots: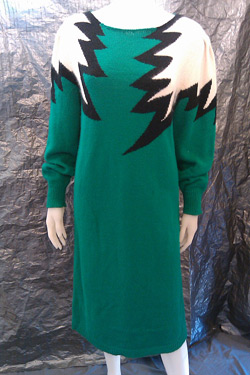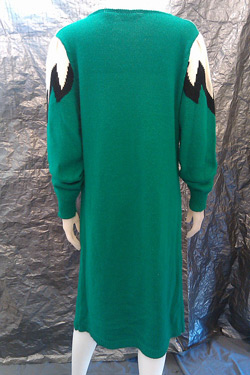 Photo credit: alexandriavaun
Vivid cobalt and magenta flowers pop on a black background. This casual dress would be perfect with black tights and scrunched black suede boots, and a hot pink hip belt would be fab: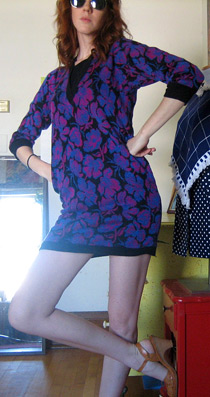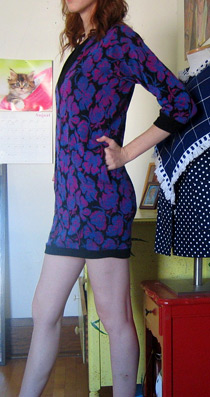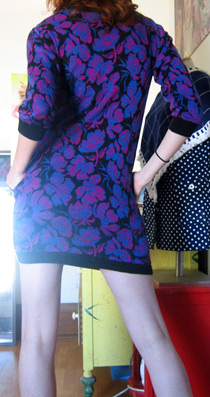 Photo credit: Chloeegray
Emerald and royal blue asymmetrical stripes give this dress its flavor; it's kind of an urban-jungle-at-night look. This would look so pretty with shiny black riding boots and a wide black elastic belt: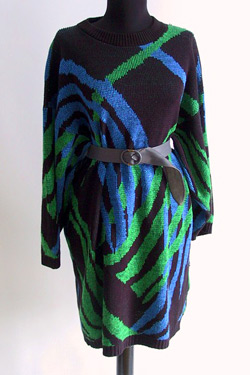 Photo credit: LoverlyVintage
Royal blue with bold black swirls enliven this little number. That sculpted waist doesn't require a belt, but I might slide on a wide black elastic one. Black fishnets and tough biker boots would be cool with this dress: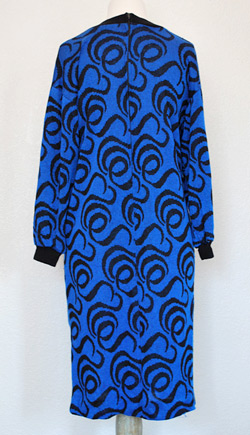 Photo credit: Waistland
This blue patterned dress is simple and chic, but those black and white polka dots announce that it's a true eighties original. I'd love it with a refined black belt and boots, but this dress would be extra cute with white accessories, don't you think?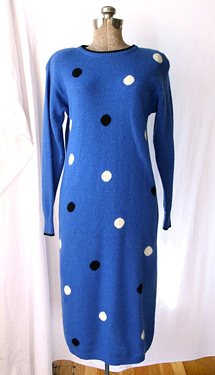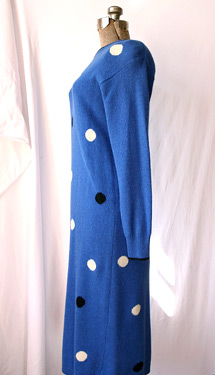 Photo credit: PomegranateSeed
With yet another take on royal blue, this soft angora blend dress will have you slapping your boyfriend's hands away all night. The bold bow design and pearls and self-belt are oh-so-eighties: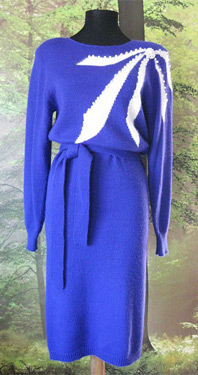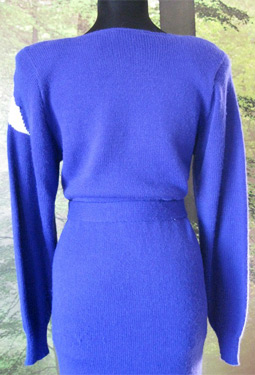 Photo credit: WonderGroveVintage
This girly pink dress boasts luxe pearl detail, too. I'd belt this one, I think, with a low-slung wide white patent belt and blouse out the sweater above it. High heeled white boots would look great, while white tights and flats would be totally 80's authentic: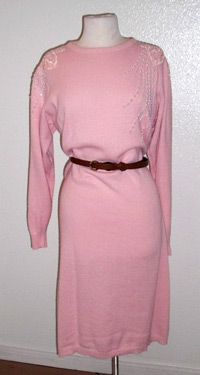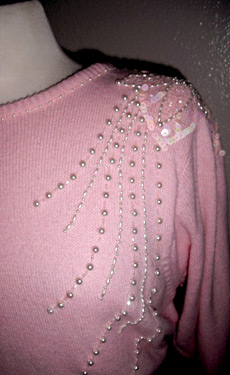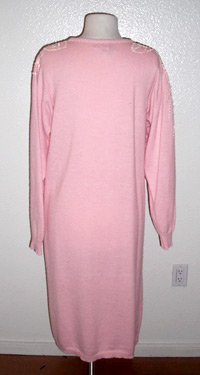 Photo credit: Themis Vintage
This eyecatching blue dress sparkles with awesome details. Those sequins will burst like firecrackers on your shoulders – ka-pow! I think this one calls for a wide black elastic belt with sleek, modern buckle, seamed black hose, and ankle-twisting stilettos: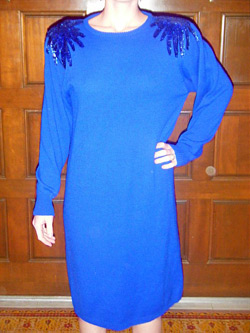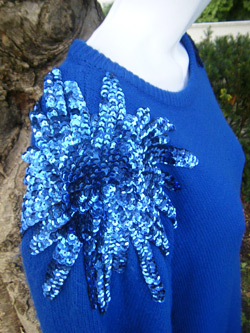 Photo credit: VinTaGeOus
I love this ribbed batwing royal blue sweater. Rock it with black or patterned leggings and black biker boots, chunky black and silver hip belt is entirely optional: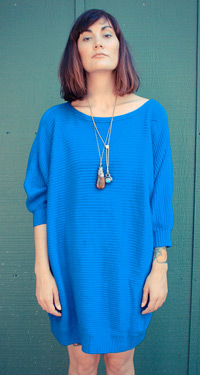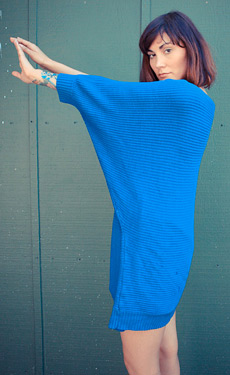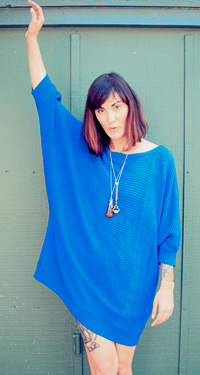 Photo credit: blackflamingovintage
For school, work, special dates, and fireside lounging, sweater dresses are a fab eighties way to stay cozy and feminine this fall. Bring on the frost!