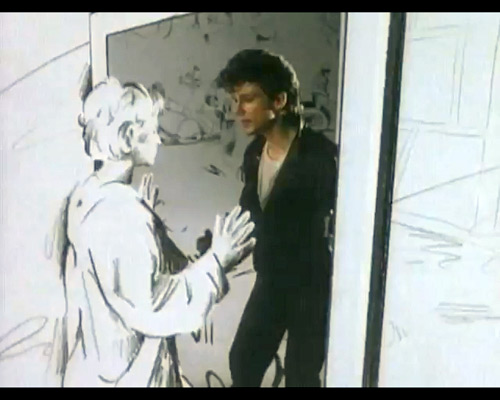 With the birth of MTV in 1981, music video production kicked into high gear. Many videos were straight-up concert footage or studio work, but we loved the ones that put a little more effort into the process. Costumes, plots, elaborate stages, puppets, animation… Here's a look at my favorite visually awesome videos of the 1980s.
Michael Jackson's Thriller was SUCH a big deal when it came out in 1982. MTV gave us a schedule for those first days following its release so that we could tune in and watch Michael Jackson turn into a zombie dancer. Of course, he had many other highly produced videos in the eighties, like Billie Jean, Beat It, and Bad,  but for cinematography and pure awesomeness, Thriller wins, hands down.
Also in 1982, Men Without Hats released their album Rhythm of Youth, which contained their bouncy hit The Safety Dance. The video has a Middle English theme, including frolicking around a Maypole, a Punch and Judy show, and a dwarf minstrel. It was filmed near Bath, England. Note in the video where singer Ivan Dorschuk and his dance partner make the "S" with their curved arms.
Turn around, bright eyes… Released in 1983, Bonnie Tyler's song Total Eclipse of the Heart, on her album Faster Than the Speed of Night, was her biggest hit. I remember being sort of baffled by the lyrics and REALLY baffled by the video. The Goth-y video was mysterious, haunting, and dreamy, featuring implausible combinations of gymnasts and fencers and loin-cloth clad tribal dancers. The real stars of the video, though, are the kids with the glowing eyes.
The Cars' album Heartbeat City from 1984 contained several hits, like Drive, Just What I Needed, and Magic. You Might Think was my favorite Cars video, though. I loved the playful computer animation in this video: SO FUN. I especially remember Ric Ocasek as the pesky fly buzzing around model Susan Gallagher (NOT Ocasek's wife, Paulina Porizkova).
Money for Nothing, from Dire Straits 1984 album Brothers in Arms, was written by singer Mark Knopfler and Sting. That's Sting singing the falsetto I want my MTV you hear in the song, by the way. The animation was edgy and fresh; today, I see its influence on Beavis and Butthead when I see the inserted music video in the cartoon sequences.
Take on Me, from the Norwegian band A-ha's album Hunting High and Low, was released in the UK in 1984 and in the United States in 1985. The animation in this video is fabulous, the Speed Racer-vibe is tons of fun, and Morton Harket, the lead singer, is oh-so-cute.
Duran Duran's album Arena came out in 1984. Like Michael Jackson, they had loads of cool videos, such as Rio, Hungry Like the Wolf, and Girls on Film. Wild Boys, off of Arena, is a favorite of mine because it has an apocalyptic Mad Max vibe, plus lots of fire breathing and a creepy humanoid robot.
In 1985, Tom Petty and the Heartbreakers released their album Southern Accents, and Don't Come Around Here No More was the lead single. Dave Stewart of the Eurythmics co-wrote the song with Tom Petty. The Alice in Wonderland themed video is coolly styled and pretty disturbing to watch. Poor Alice!
Peter Gabriel's 1986 album So was chock-full of songs I love, like Red Rain, Don't Give Up, and In Your Eyes. Sledgehammer, also off of So, was Gabriel's biggest North American hit, probably due in no small part to the rad music video. Swimming sperm, singing fruit, dancing plucked chickens, plus visually arresting stop-motion videography = RADICAL.
Another weirdly wonderful video from 1986 is Genesis's Land of Confusion, from the album Invisible Touch. The British television show Spitting Image created caricature puppets of the band members and various current celebrities, including Ronald and Nancy Reagan and Mikhail Gorbachev. Interesting side note: Peter Gabriel was the beloved lead singer for Genesis before he went solo and Phil Collins took the job. Both Gabriel and Genesis come out with artsy, edgy music videos the same year. COINCIDENCE??
(well, yeah, probably…)
Thank you, MTV, for your many gifts over the years, but mostly for encouraging the production of artistically fascinating videos like these. They are yet another awesome legacy of the 1980's.