By Julie Anderson Got a boring tunic or jean jacket? Some Keds or a baseball hat that could use spiffing up? A purse that whispers "plain" instead of shouting "AWESOME"? Don't be dull, baby – be DAZZLING!

http://youtu.be/amicrtFYgVQ We were all about glitz and sparkle in the eighties. The BeDazzler, an As Seen on TV product, added sparkling gems and metal studs to pretty much any fabric item. Create your own design and, with the ease of a stapler, bring it to sparkly life. You can still buy a BeDazzler to create your own wearable art. OR, buy a pre-dazzled objet d'art for a retro-cool fusion of vintage item and vintage BeDazzling technique! This plunging back stretch dress is pure glamour. Crimp and pouf your hair, add some enormous earrings, and you'll totally rule at your next cocktail party: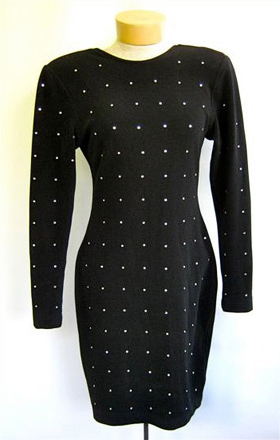 Photo Credit: Dirty Birdies Vintage
Sleek bodysuits were a wardrobe staple in the 1980's. This BeDazzler designer took a simple black bodysuit and transformed it into a chic top for an evening out. I see it sparkling with a curvy pencil skirt and high-heeled boots: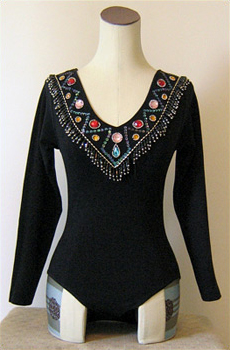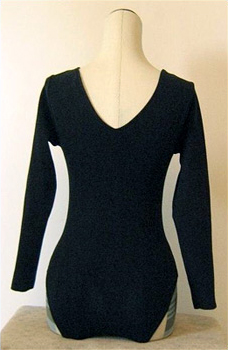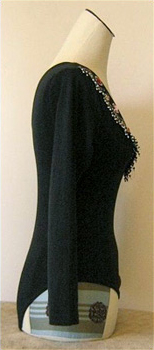 Photo Credit: retro fascination
This sweatsuit is a great example of glamming up a casual outfit with the BeDazzler. What was just a simple lounge set (with shoulder pads, duh) becomes a flashy and fabulous ensemble. Sartorial GENIUS, eighties style: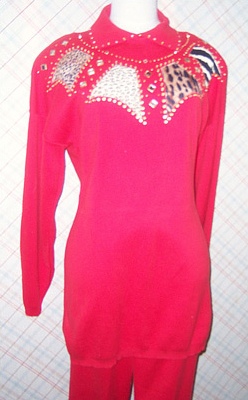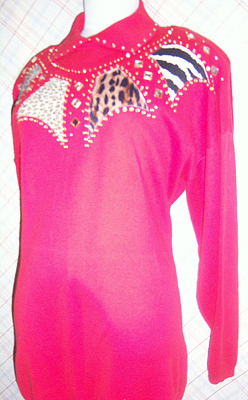 Photo Credit: Veni Vidi Vintage
I love this tough girl rocker-chic pleather vest. RADICAL. I think it calls for full 80's commitment with black parachute pants and some wicked stilettos: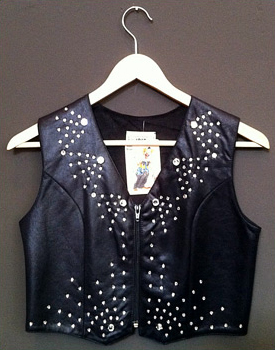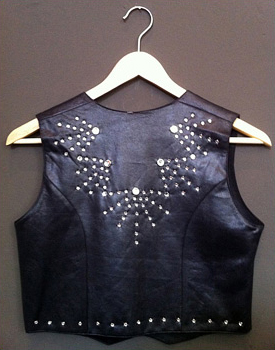 Photo Credit: Indian Summer Online
HOW CUTE are these white leather booties? They beg to be worn with your pleated pinstripe jeans, slouchy socks, and intarsia sweater: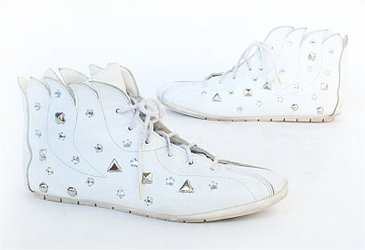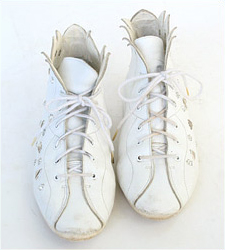 Photo Credit: Santiki Vintage
Here's another adorable BeDazzled shoe option. Slide your feet into these sweet little casual loafers and you'll be walking on sunshine with every step you take: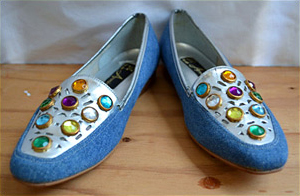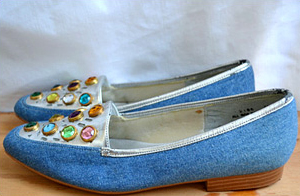 Photo Credit: Stella & June
Oh my gosh, I love this mustard purse. That's just fun in a bag right there. Wearing this will elevate your basic fall turtleneck and jeans into an attention grabbing, retro-chic outfit: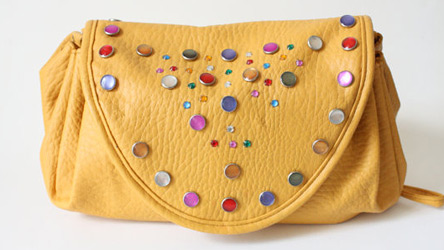 Photo Credit: Thread Echoes
I was a big fan of the men's blazer look in the eighties. I had a vintage maroon blazer with black lapels that I threw over a T and jeans and topped with a wool felt hat for that timeless Annie Hall feel. This BeDazzled blazer takes the menswear look UP TO ELEVEN: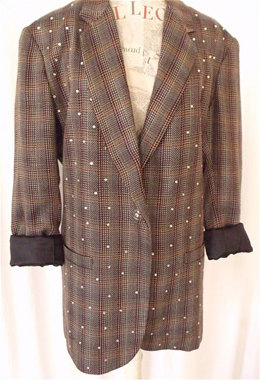 Photo Credit: re-Collection clothing
The jean jacket was the ideal canvas for some BeDazzling artwork. This cropped, studded jacket would be cute with just about anything, but I see it slipped over a mini sweater dress and high boots this fall: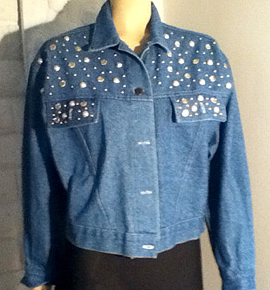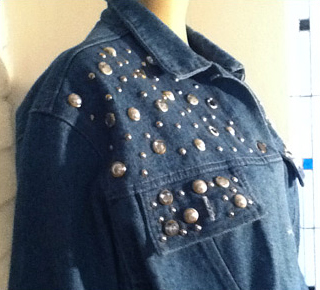 Photo Credit: Quality Not Quantity
Be creative, be attention-getting, be retro: BeDazzling!