Sure, we love it here in the United States, but sometimes we, like, get a wanderlust. World travel is totally rad! Come board our Like Totally 80s luxury jet and fly the friendly retro skies . . .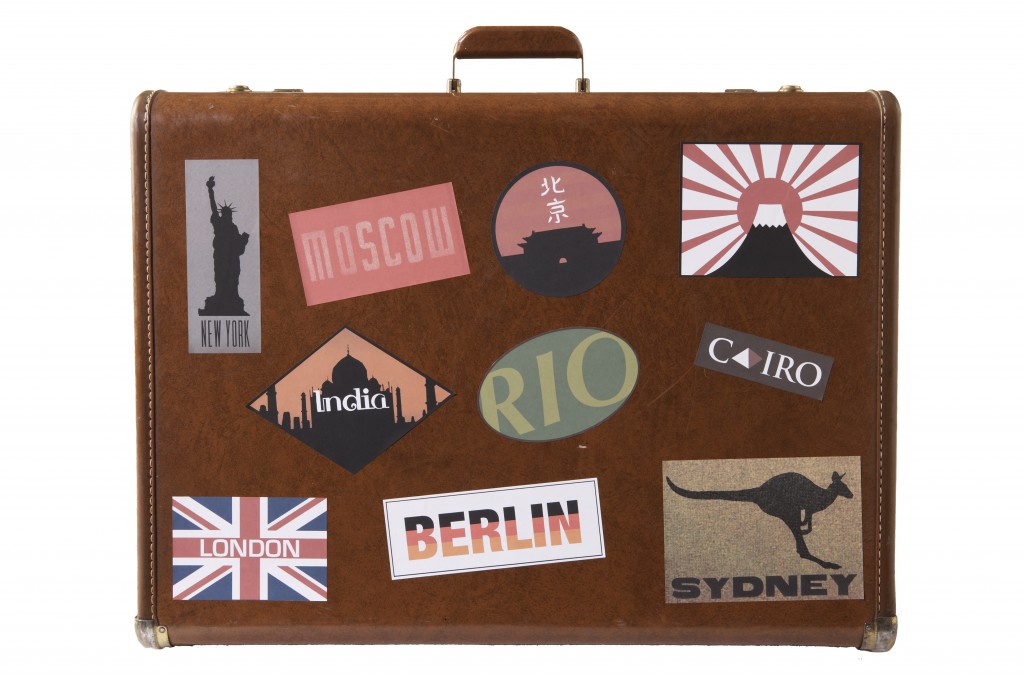 Before we leave North America, let's run for the border and take a dip in the Rio Grande. Duran Duran was (and is) straight-up awesome in every way. I know you recognize their hit "Rio" from their 1982 hit album of the same name:
Note: There's some ambiguity about which Rio the boys of Double D are singing about. The lyrics point to the Rio Grande river, BUT the video and the inspiration for the song are Brazilian in nature. Many thanks to LT80s reader Davi Tavares for pointing this out! Get more details here. So, on our world tour, you could certainly direct your retro jet to Rio de Janeiro instead of the U.S/Mexican border for the Duran Duran stopover.
And we'll jet on down into the heart of Mexico with Wall of Voodoo's quirky 1983 hit "Mexican Radio." Fun, funky, and definitely NOT forgettable. What rhymes with Tijuana? Duh, barbecued iguana!
A leap across the Atlantic brings us to the U.K. The Clash's single "London Calling" was released in the United States in 1980. Their album of the same name was declared the best album of the 1980s by Rolling Stone magazine. The Clash TOTALLY rock:
We're already in England, so let's head to Spain next. Supremely talented Freddy Mercury of Queen recorded "Barcelona" with operatic soprano Montserrat Caballe. The album, released in 1988, is Mercury's final solo album before his death. It's no "Bohemian Rhapsody", but this music is simply stunning. Take a listen and appreciate the gorgeous harmonies:
Let's head south next, shall we? Toto's album "Toto IV" came out in 1982 and gave the song "Africa" to the world. I cannot even tell you how much I LOVE this song. Sure, the video's a little corny, but whatever: The song is pure awesomeness. "Hurry boy, it's waiting there for you!"
On to Egypt! Not that I'd actually suggest deplaning in Cairo and doing the Egyptian, but their SPIRIT is in the right place. Susanna Hoff and the Bangles had us all walking like Egyptians back in 1986:
We'll cross the Mediterranean to get to our next stop: Austria. Ultravox was a British New Wave band of the late 70's and early 80s. I confess I'd never heard of them until today, but I'm totally feeling their song (and its theatrical video) "Vienna". It was released in 1981 and was a UK #2 hit for four weeks. "Vienna" also won "Single of the Year" at the 1981 Brit Awards. It's Ultravox's biggest hit to date:
Our world tour continues with a stay in Russia. Sting's 1985 album "The Dream of the Blue Turtles" featured "Russians", a song that described the Cold War angst we were all feeling. The lyrics might seem a little maudlin now, but the fear of nuclear war was a terrible keep-you-up-at-night reality for those of us who grew up in the eighties:
But let's not be all down on Moscow! Of COURSE the Russians love their children too! Here's a nice bouncy song from Genghis Khan that will leave you feeling a little happier about our friends to the east. (Although, oddly, I can't get my mind off of Borat now . . .) This song was released in Australia in 1980 in celebration of the Moscow Olympics:
Time for another plane ride south: Men at Work's "Land Down Under" (from their 1981 album "Business as Usual) made us long to visit the land of dingos, kangaroos, and wallabies. Australia in general was way cool in the eighties. Remember Crocodile Dundee? The lilting flute music, mysterious Australian slang, and silly acting created a perfect storm of Aussie-awesomeness in this video. We puzzled over vegemite sandwiches (what WERE they?) and wanted to glow like the women of Australia:
And back up to Thailand we go for "One Night in Bangkok". In 1984, the slick urban tones of Murray Head's pop hit had us singing about the exotic, ancient city on the other side of the world. I love his genteel rap – SOOOO cool:
We'll complete the Asian leg of our journey in China. David Bowie's "China Girl" was first recorded in 1977, but didn't really achieve popularity until its rerecording and rerelease in 1983. Dreamy, polished Bowie (the ultimate metrosexual) croons in this video:
Let's stop over at a few idyllic beaches on the way home! The Beach Boys, already classic rockers by the eighties, released "Kokomo" in 1988. The lovable vacation song was featured in the movie "Cocktail" starring Tom Cruise. It was a HUGE hit. We loved to rattle off the names of exotic locales and dream away. "Aruba, Jamaica, OOOOH I wanna take ya…"
Well, that completes our trip around the world, but don't be all bummed out. The United States is a totally cool place to live, too. Super-highways! Vegas dancers! All night radio! Just ask James Brown, the Godfather of Soul. His 1985 song "Living in America" (featured in the movie "Rocky IV") is a lusty ode to our great nation: "You might not be looking for the promised land, but you might find it anyway." Ow! Rock my soul!