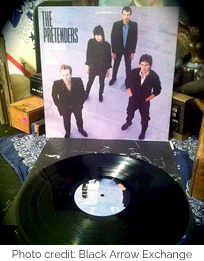 You Spin Me Right Round, Baby, Right Round…
Before cassettes, before compact discs, and WAY before iPods, we had vinyl records.
Just as a refresher, 45s were different than LPs, or long-playing records. An LP had a small hole poked in the center, like this (pictured at left).
45s had much larger holes in the center, a holdover from jukebox mechanisms. LPs played at 33 1/3 revolutions per minute, while 45s played at (you guessed it!) 45 RPM. Some older records played at 78 RPM, but the ones we generally remember are 45s and LPs.
LP albums were awesome, but they had one big drawback. You had to pick up the arm of the record player, lift it ever-so-gently, and replace it with the skill of a brain surgeon when you wanted to skip around and find a particular song. Anything less than perfect precision would result in scratches on your cherished vinyl. It's a skill that's challenging for many adults, never mind fidgety seven-year olds. LPs were bound to get hopelessly mangled by kids.
Enter the 45!
45s just had one song on each side, so there was none of that tricky lift-and-replace action with the phonograph arm. With just the pop of a 45 insert, you could play your 45 on a grown-up record player. Today, these inserts are a popular upcycling trend – check out this pendant:

Photo credit: It's Our Earth
But you probably had a 45 player all to yourself so you wouldn't destroy your dad's fancy hi-fi. 45 record players had fat inner discs to accommodate 45 records' large center cut-outs, but many also had a convertible feature that would allow you to play LPs. You could unlock and twist down the inner rim of the record player. Then just a skinny post was exposed and you were good to go with LPs as well. (You also had to change the speed from 45 to 33 in order to play an LP instead of a 45.)
In the eighties, there were loads of 45s targeted to kids, in addition to single records by our favorite bands. I had a suitcase-style portable 45 player with a denim-look cardboard case and a small but prized collection of 45 records. They were a coveted birthday party gift for kids in the 80s. I remember saving up roughly thirty bazillion tickets at Showbiz Pizza Place (a forerunner of Chuck E. Cheese) to buy Hall and Oates "One on One" from the ticket redemption counter. The 45 single of "Feed the World" was a very popular Christmas gift in 1984, at least among sixth graders at my elementary school. I also recall a 45 of Adam Ant's "Puss n' Boots" being a hot prize at the Girl Scouts' costume contest during summer camp.
Here's a trendy Cabbage Patch record player.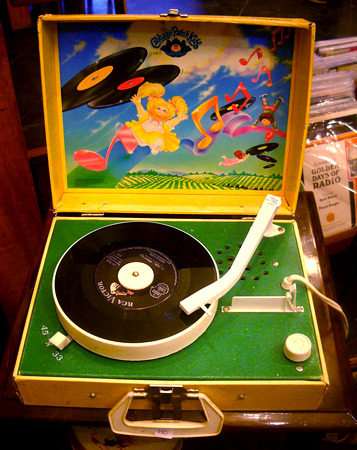 Photo credit: Dragonfly on Brady
The Read Along Book and Record was an AWESOME, AWESOME activity for kids in the early 80s. We'd listen so carefully for that tone – don't turn the page before you hear it! – and read right along. I had Treasure Island, Chipmunks, and Caspar the Friendly Ghost book and record sets that I loved oh-so-much.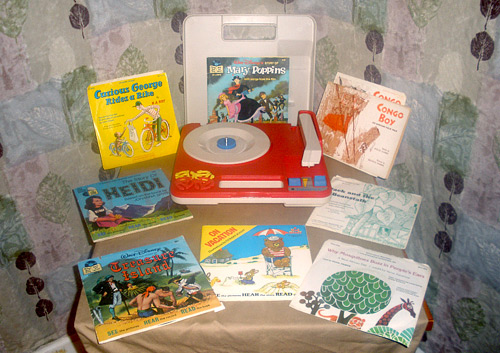 Photo credit: Mama's Fabulous Finds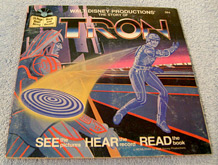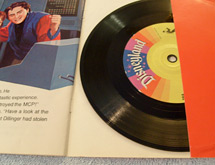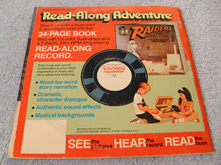 Photo credit: Tophat Posters and More
By the mid-eighties, vinyl records were on their way out. We played cassette tapes in our cars and Walkmans and that pretty much spelled doom for records. Sure, they're still admired and still being produced http://thirdmanrecords.com/about/, which is more than eight-tracks can say. Vintage vinyl has its share of current collectors, including both my husband and my 16-year old, but vinyl records are mostly a thing of the past. And that totally makes collecting them extra nostalgic and fun.
It's easy to build your own collection of eighties 45 records today. Scope out Etsy and Ebay for tons of choices, like a-ha's 1984 hit, "Take on Me":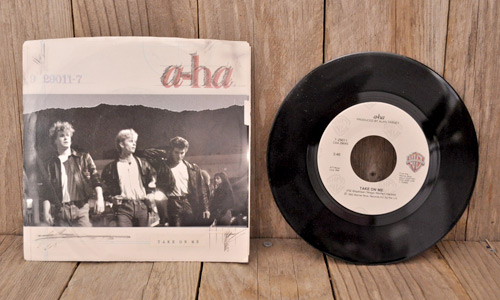 Photo credit: The Rusty Chicken
And Corey Hart's "I Wear My Sunglasses at Night":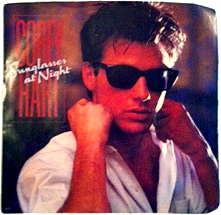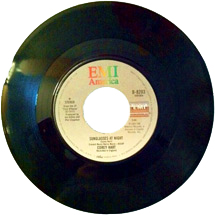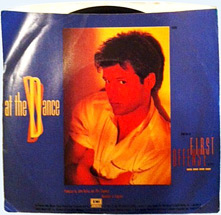 Photo credit: Amy Ince
I love this fun pillow with a 45 insert design – totally retro-chic: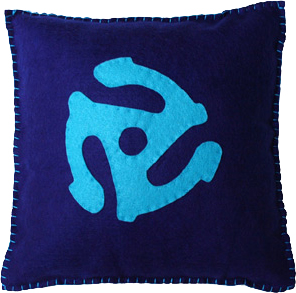 Photo credit: Avis and Iris
Recycle or upcycle them, collect or trade them, and even decorate with them, 45 records are a sweet slice of our childhoods that will never, ever be forgotten. The best use for them, of course, is playing awesome 80s hits like Billy Joel's Keeping the Faith from 1984:
I'm going to listen to my 45s
Ain't it wonderful to be alive
When the rock 'n' roll plays…