By Julie Anderson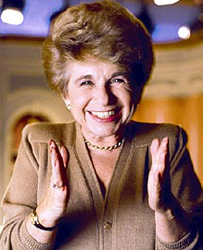 There's a whole lot to love and admire about Dr. Ruth. The pint-sized sex therapist (she's 4'7") unblushingly goes there – YOU know where – time and time again. Dr. Ruth became the go-to resource for Americans' most private questions, and she never made us feel dirty or shameful for wanting to know the answers. We might have had fun with her accent (which the Wall Street Journal has described as "a cross between Henry Kissinger and Minnie Mouse") but we definitely, definitely wanted to hear what she had to say.
Dr. Ruth Westheimer is a psychosexual therapist who combines matter-of-fact advice with flashes of wit. Americans responded to her (and continue to respond to her) because she was a respectable authority who was talking about stuff that made us kind of embarrassed or uncomfortable. It was stuff, however, that we had a real hunger to learn about.
Karola Ruth Siegel was born in Wiesenfeld, Germany in 1939. In 1939, the Nazis took her father and her mother sent her to Switzerland. She grew up in a Swiss orphanage and learned there that her parents had been killed in the Holocaust.
At the age of 17, she moved to Palestine and had her first sexual encounter: "on a starry night, in a haystack." Okay, you guys, Dr. Ruth totally just made me blush. She married a young Israeli soldier and joined the Haganah, a Jewish paramilitary organization. She was trained as a scout and a sniper.
For real. Dr. Ruth was a sniper.
She was seriously wounded during the Israeli War of Independence in 1948. After a recovery period of several months, she was able to walk again and made her way to France with her hubby. There she studied and taught psychology at the University of Paris. Her first marriage ended and she remarried. In 1956, she moved to Manhattan with husband #2.
When her second marriage ended, Dr. Ruth worked as a maid to support herself and her daughter. She earned a master's degree in sociology from The New School and an EdD from Columbia. Dr. Ruth met her third husband on a ski trip in the Catskills and took on the last name we know so well. (This marriage lasted until Manfred Westheimer's death in 1997.) Her post-doctoral work on human sexuality was at New York Presbyterian Hospital, where she worked with Austrian-born sex therapist Helen Singer Kaplan.
(And yes, with all that globetrotting she learned to speak four different languages: English, German, French, and Hebrew.)
Dr. Ruth began her career in media after Betty Elam, Community Affairs manager of WYNY, New York City's Adult Contempory radio station, heard her give a speech. Elam loved Westheimer's personality and wealth of information. Elam introduced the idea of a radio program that featured Dr. Ruth answering sex-related health questions.
Initially, Dr. Ruth's program was relegated to fifteen minutes beginning at midnight on Sundays. During the program, called Sexually Speaking, she answered listeners' letters. The show was an enormously bitchin' success. After just two months, her fifteen minutes grew to an entire hour of live call-in question-and-answer sessions. Throw in some appearances on Late Night with David Letterman and a star was born.
The televised incarnation of Dr. Ruth's program, also called Sexually Speaking, first aired in 1982 on Lifetime and is now nationally syndicated. She's made guest appearances ranging from PBS kid show In Between the Lions (as "Dr. Ruth Wordheimer") to an episode of Quantum Leap to an Herbal Essences shampoo commercial. And she's still going strong.
In 2009, Playboy magazine ranked Dr. Ruth as #13 in their list of the 55 most important people in sex in the past 55 years. (But you knew that already, because you read Playboy for the articles, right?)
Holocaust survivor, doctor, author (I counted 32 titles on her site!), public speaker, T.V. show and radio program host, and all-around nice and open-minded person: Dr. Ruth is totally inspiring, you guys.
Here's the tiny dynamo interviewing Jerry Seinfeld in 1986 on The Dr. Ruth Show:
And here's quite a match-up: Ozzy Osbourne (being impressively articulate) and Dr. Ruth co-hosted Friday Night Videos in 1986:
Here she is talking about unabashedly about the benefits of self-love:
When Like Totally 80s asked Facebook friends about their Dr. Ruth memories, we got some awesomely blush-worthy responses. Nikki recalled a caller who described an embarrassing concern: every time she inserted a tampon she had an orgasm. Dr. Ruth failed to see any problem and answered "Consider yourself lucky!" Linda and Mark remembered a Dr. Ruth caller whose boyfriend wanted her to play ring toss with onion rings on his erection. I'll betcha dollars to doughnuts that Dr. Ruth also saw nothing bothersome about some wholesome fried food fun in the bedroom. Since 1980, Dr. Ruth has been assuring listeners and viewers that consensual safe sex of all shapes and varieties is totally okay.
Today, you can follow Dr. Ruth on Twitter at @AskDrRuth and visit her site at www.drruth.com. In addition, she has her own YouTube channel and syndicated newspaper column. She's been going strong since 1980, but we still love to hear her blunt-yet-kind advice on the topics of sex and relationships. She opened our eyes and helped make it totally okay to talk about our sexuality. You rock, Dr. Ruth!