By Julie Anderson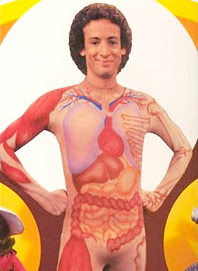 Recognize the guy in the flesh-colored, internal-organ-decorated unitard? Yup, that's Slim Goodbody, all right. Confession: He totally creeped me out. I think it was all about the visible intestines, to tell you the truth. He reminded me of my brother's Pulsar, which ALSO creeped me out. Organs, blood flow, view-beneath-the-skin? Totally grody. A little background info about Slim: The "Superhero of Health" was created by John Burstein in 1975. Burstein wrote songs and skits to entertain kids and teach them about human anatomy. While, you know, wearing a suit painted with disturbingly lifelike organs and tissues and such. BUT, given that I always sprinted to change the channel when Slim Goodbody appeared on the tube, I don't remember much about him other than, you know, the bones and muscles and all. So let's give Slim another chance, shall we? Here's Slim going country and singing about the human brain: http://youtu.be/5mc6kTkG_Jk And Slim singing an eco-friendly song about the air we share: http://youtu.be/OIEq-wj22ac Errrrrh, yeah, still pretty visually unappealing, I gotta admit. Slim went on to appear in guest spots on shows such as Good Morning America and The Today Show. In 1980, Slim got his own T.V. show on PBS called Inside Story. Inside Story became PBS's second-highest rated program; our man Slim went on to appear in other series, including Goodbodies. In the NutriCity series, Slim teaches us that no computer can ever really compete with the human brain: http://youtu.be/AZ3HMQ_LyZY There are also loads of books and videos available for purchase, both vintage and new, featuring Slim Goodbody. Scope out ebay and amazon to shop for Slim. To be fair, Slim Goodbody did (and does) teach about important stuff, like health and nutrition and whatnot, in about as entertaining a way as possible. And maybe my gross-out level is extraordinarily high. Budding doctors and nurses probably got all into Slim, see-through-skin and all. (Between you and me, I kind of suspect that the high show ratings were due, at least in part, to health classes wheeling in TVs from the audio-visual room and letting kids watch Slim Goodbody programs as a special treat. Yay, class! Time for Slim Goodbody! Remember: your digestive system is FUN!) Today, Burstein continues to educate in the U.S. and Canada on his National Bodyology Tour. Still dressing in the flesh-colored-organ suit. And still educating kids about health, fitness, and human anatomy. You can love and appreciate Slim Goodbody, even if he looks a little ooky. Creepy dress-up can be fun! Which reminds me of that special day every year when we love to party and dress up and maybe even gross people out with our costumes. What's that day again…?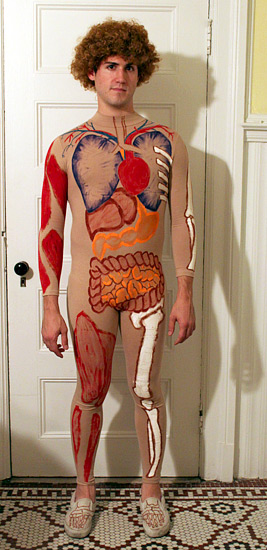 Photo credit: Jon Wilde
Yeah, baby. The homemade Slim Goodbody look totally rocks Halloween parties! Awesomeness!