By Lori Ferraro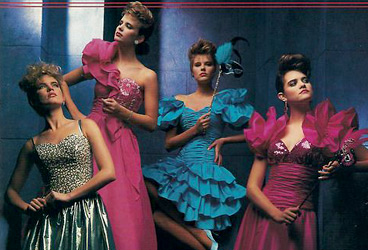 Like many others who graduated high school in the 80s I cannot hear Forever Young by Alphaville without thinking of my senior prom. When I hear that opening, those space age-y chimes, that hollow voice and those dramatic lyrics:
"Let's dance in style, let's dance for a while
Heaven can wait, we're only watching the skies
Hoping for the best but expecting the worst
Are you gonna drop the bomb or not?"
Did I mention this song is dramatic?
It's quintessential 80s, it's awesome and it screams Gunne Sax Dress, giant hair, an extra coat of hot pink lip gloss, and shoes that will hobble me for weeks to follow.
It's a prom theme song.
Below are a few standout themes of past 80s school dances.
Freshman year – Junior Prom – 1985 – Heaven by Bryan Adams
Holy crap, I was a freshman going to prom with a junior. I remember being soooo excited about going to my first formal dance. The dress I wanted was very different from this, it was way more foofy and it was black not white. Looking back I see why my mom steered me toward this innocent little number topped off with pearls around my neck and baby's breath in my hair. Good God, I look like a baby going to the dance with my math teacher. I don't remember where the dance was held, I do remember taking a limo (naturally) and that the ballroom was decorated with moons and stars to look like…Heaven??? And the last dance of the night was to that Bryan Adams power ballad, that song that still brings a tear to my eye:
"And baby, you're all that I want
When you're lyin' here in my arms
I'm findin' it hard to believe
We're in heaven."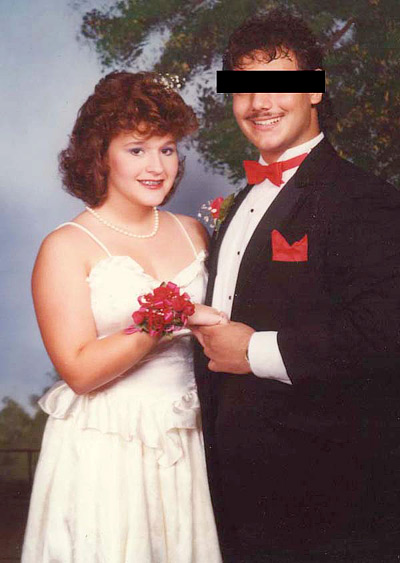 Homecoming Dance – 1988 – Hold on to the Night by Richard Marx
Three years went by before my next real get-all-dolled-up formal dance. I went with my boyfriend Larry, in an emerald green dress and way too much make up. I had my friend who sewed make five little green bows that I tacked onto my elbow length black gloves, shoes and purse to class the whole look up. We went with a big gang of friends and it was a really fun night – so fun, we held onto it:
"Hold on to the nights
Hold on to the memories
I wish that I could give you something more
That I could be yours."
And I held onto this napkin that I put in my little black purse with the little green bow on it: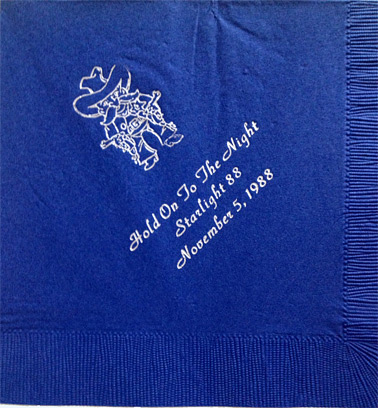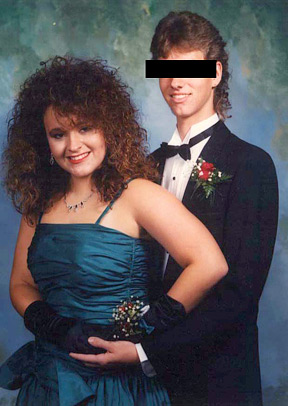 Senior Prom – 1989 – Forever Young by Alphaville
The grandpappy of school dances and prom theme songs, Forever Young was a song many of us loved and many people had never heard of. I went with my boyfriend, Brian who was a cool skater boy. I had a crush on him for like a year. A few weeks before prom he left a note at my house saying, "what's the deal with this prom thing?" and well, the rest is history. I LOVED this dress, the top and skirt had little sparkles on it, it felt pretty and classy compared to the slutty green bow-embellished homecoming dress that I wore with Larry. The dance was dreamy. I remember several disco balls, candles on the tables and a DJ spinning some Alphaville at the end of the night:
"Forever young, I want to be forever young
Do you really want to live forever, forever and ever?
Forever young, I want to be forever young
Do you really want to live forever? Forever young."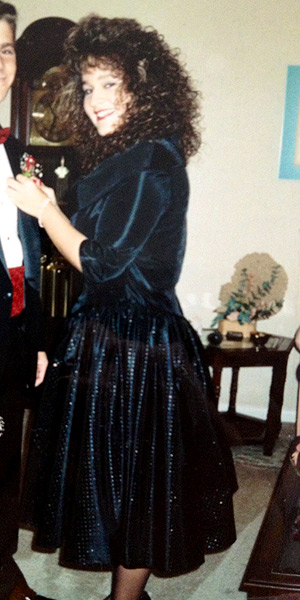 *Sigh*
I wonder if high schools today still have prom theme songs? I'm sure that they do.
But I can't imagine they would be half as good as any of the ones mentioned above – or half as good as whatever your 80s homecoming/prom theme song was…right?