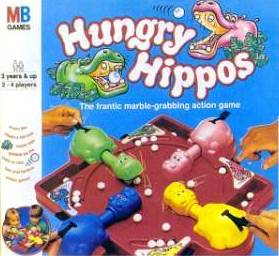 There are certain commercial theme songs from the '80s that are permanently embedded in my brain – especially the ones revolving around food.
Like whenever I know we are having chicken for dinner I silently sing the "I feel like Chicken Tonight" song. I still drink Crystal Light lemonade and you better believe that "I believe in Crystal Light 'cuz I believe in ME!" plays when I'm mixing up a big pitcher of the yellow stuff.
And when I'm just hungry in general? Which is A LOT — this entire song blares through my brain:
As a kid I was, and to this day remain, the Hungry Hungry Hippos family champion.
The object of the game is pretty self explanatory, as the song states:
"If you wanna win the game you've gotta take good aim
And get the most marbles with your hippo
Playin' Hungry Hungry Hippos. Hungry Hungry Hippos."
And…that's pretty much it.
You flip the little lever to make your hippo gobble up the marbles — the player with the hippo who eats the most marbles wins. A fast and furious game with pink (Happy Hippo), orange (Henry Hippo), green (Homer Hippo) and yellow (Harry Hippo) this game along with Sorry! And Trouble! were post dinner staples in our family.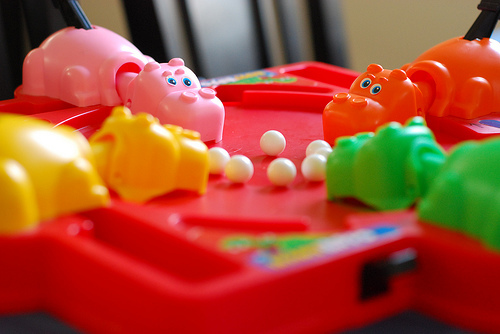 I was always Happy, the pink hippo. I would flip that flipper furiously to satisfy Happy's hunger. My brother is four years younger, and this game was so easy, it was fun to have a game we could play together.
The game came out in the late '70s but really gained popularity throughout the '80s and is still going strong today. We got it for our family a few years ago and I think I was more excited than my six and eight year olds to play.
That sound of the marbles sliding around the board and the "chomp, chomp, clack, clack" noise of hippos eating brought back memories.
Being the only girl in the family, the boys happily let me be the pink hippo again.
My kids love the game — and I like to think they also enjoy hearing me sing the '80s commercial out loud on a weekly basis.
At game time…and at dinnertime.