By Lori Ferraro
Honestly . . . it's a little hard to write this post considering just last week we lost one of the world's greatest comedians and the star of one of my favorite shows from childhood. My first memory of Robin Williams was seeing him on the television sitcom Mork & Mindy.
He left behind an incredible body of work – his start was onstage doing stand up comedy and his first sitcom was about an alien who comes to Earth in a giant egg.
Mork & Mindy ran on the ABC Network from 1978 – 1982 starring Robin Williams as Mork and Pam Dawber as his roommate and eventual love interest, Mindy McConnell.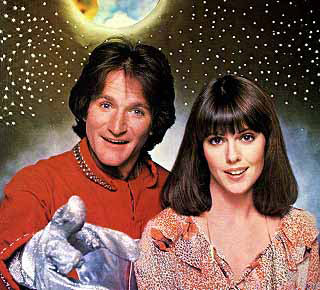 A spin-off from the hit series Happy Days where Mork unsuccessfully tries to take Richie Cunningham back to his home planet with him, Mork's egg took a hard left turn from the 1950s — the series Mork & Mindy was set in modern day Colorado.
Mork moves into Mindy's attic, and they end up becoming roommates. After discovering that he is indeed an alien from another planet, she keeps his identity a secret from everybody and tries to help him adjust to his new life on a new planet.
Mork's catch phrases crossed over into everyday popular culture. . . . his greeting "Na-nu-na-nu." his split fingered handshake and his swear word, "Shazbot" – which I have to admit that I still say to this day.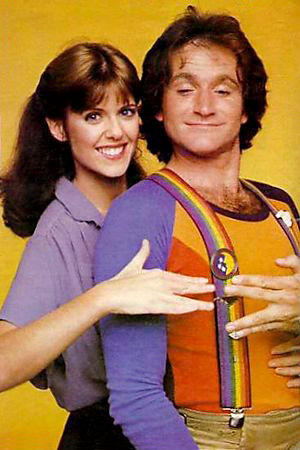 His fashion sense also caught on in real life – who didn't own a pair of rainbow suspenders back in the day thanks to Mork?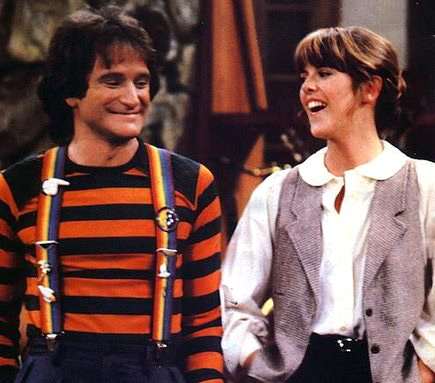 The show's swag also included trading cards, comic books, t-shirts, lunchboxes and Mork action figure, which came with Mork's egg, which I of course owned and loved.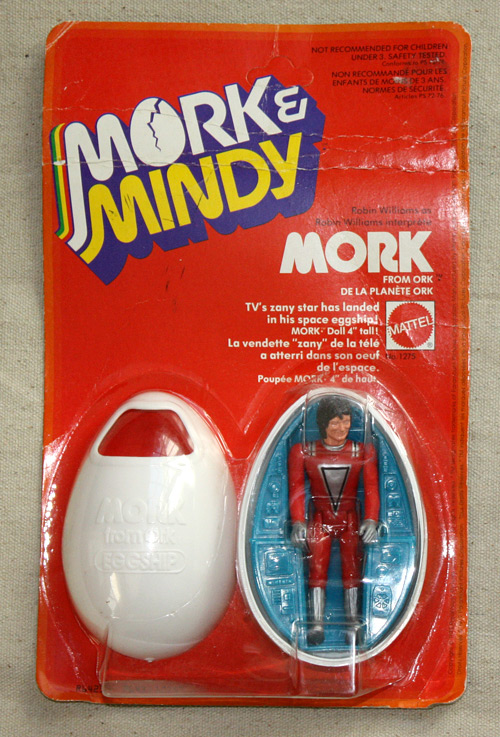 During its fourth and final season, Robin Williams comedic idol, Jonathan Winters, portrayed Mork's son Merth — on Ork children hatched from an egg and aged backwards, from old to young. Naturally!
The show ended each week with Mork in his red spacesuit, reporting back to his superior back on Ork, a voice named Orson on his findings on the planet Earth, signing off with his signature "Na-nu-na-nu."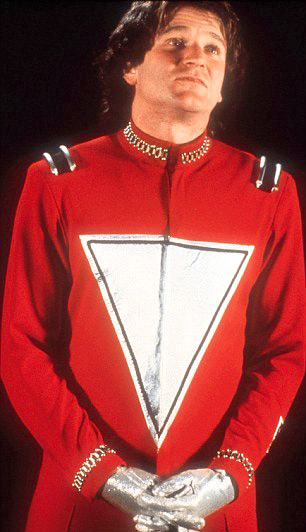 Thank you Robin Williams for the years and years of laughter you gave us all. Thank you for your brilliance and beauty as a human being. For your talent which may never be matched.
And thank you for making my childhood happier thanks to a fast talking, head standing, beyond hilarious alien in rainbow suspenders.