If you remember wearing a plastic costume featuring a picture of who you were supposed to be on the front and a plastic mask that impeded basic respiration, you probably trick or treating in the 80s.
On October 31st, in your plastic pumpkin head, giant garbage bag, or my personal favorite – the pillowcase – you would receive a bounty of treats. Some of the best included homemade popcorn balls, Reese's Pieces, Bottle Caps, and if you were very lucky, one or more of the best candies of the 80s.
Like . . .
Mr. Bones
No bones about it, Mr. Bones was the ultimate Halloween candy—a coffin filled with candy pieces shaped like bones that you snapped together to make a delicious edible skeleton. After finishing the candy bones, you were left with a tiny coffin to keep. The empty coffin was perfectly sized to hold my Barbie's shoes. Mr. Bones was created by Fleer Corporation (also the creator of Dubble Bubble) back in the late '70s and was sold year round, but was naturally especially popular at Halloween.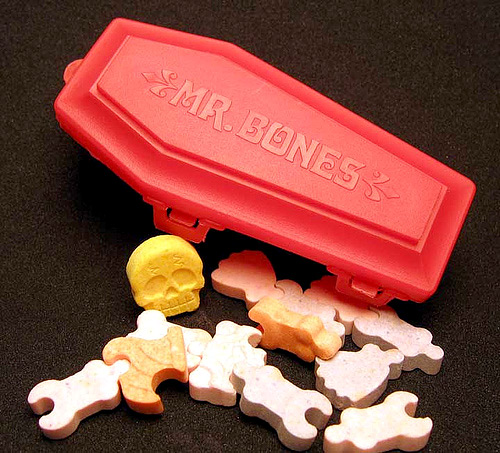 Now and Later
If you had braces in the 80s you were probably like me and ended up at the orthodontist several times as a direct result of throwing caution to the end and tackling the forbidden Now and Later. I would eat these like crazy after being told not to, pulling my braces off in the process. Now and Laters are the hardest taffy you will ever eat, created by a woman named Josephine Klein back in the 1800s! No joke! The original Now and Later colors were red, green and blue. Still on the market, these irresistible taffies, sold by the Ferrara Candy Company, now come in twelve different fruity flavors and remain a popular Halloween treat.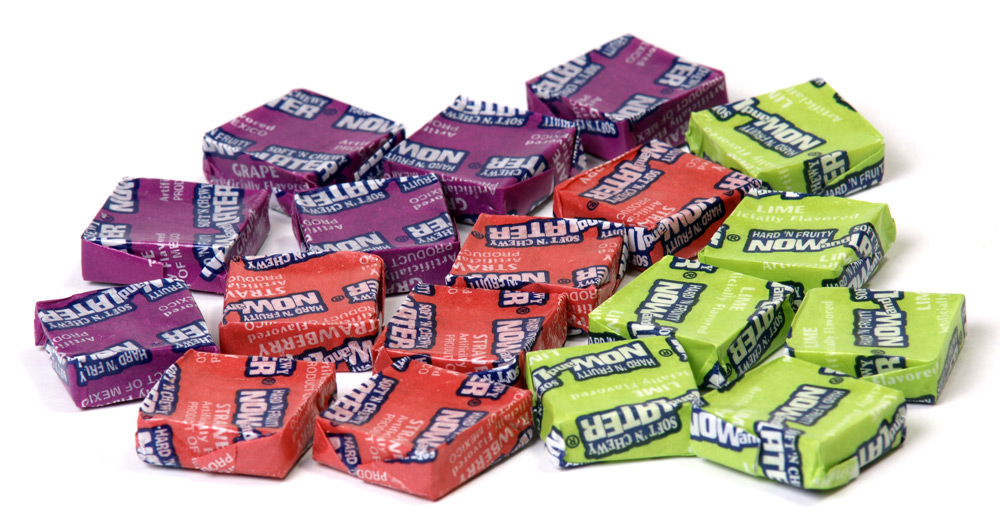 Candy Cigarettes
Can you imagine a kid coming home today from trick or treating with a pack of candy cigarettes? I remember them well as a hard, chalky candy as well as in bubblegum form. Both types were covered in a powdery dust that looked like "smoke" if you puffed or blew on them. Candy cigs date way back to the early 20th century, before we knew the facts on just how bad smoking is. Kids were encouraged to be "just like dad!" Clearly these are not as popular today but are still sold as novelties in specialty candy shops.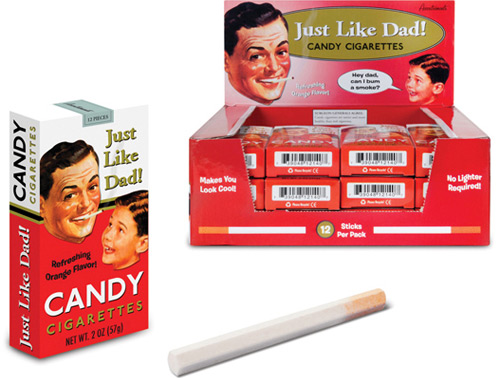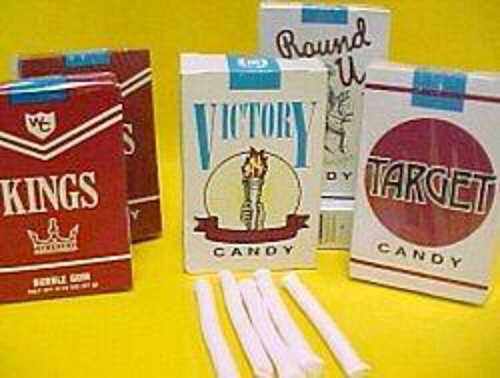 Wax Bottles
You could eat these little wax bottles two ways: 1) bite the top off and drink the tiny sip of super sweet fruit flavored syrup, or 2) pop the whole thing in your mouth and chew for a burst of gummy goo. Either way was good. And I loved chewing on that wax until all the flavor ran out of it. The official name for these puppies was "Nik-L-Nip," but everyone I knew just called them wax bottles. And, let's face it, wax bottles sounds more appetizing for sure. Wax bottles were another old-fashioned candy that remained popular in the 80s, brought to us by the people who brought us Tootsie Rolls!
Nerds
All hail Nerds, the king of 80s candy! Nerds were little pellets of sugary goodness in bright neon colors that we all loved (and still do!). The candy had two separate sides so each little box contained not one, but two flavors. One flavor was usually sweet and the other one sour, allowing you to combine them for the perfect flavor mix. Created in 1983, Nerds won "Candy of the Year" in 1985, and rightfully so – everybody was eating these tiny nerd-licious rocks. Sold by the Willy Wonka Candy Company, they are still super popular today. And, you've got to love a candy that gives birth to a cereal, right? Cookie Crisp gave us cookies for breakfast; Nerds gave us candy for breakfast.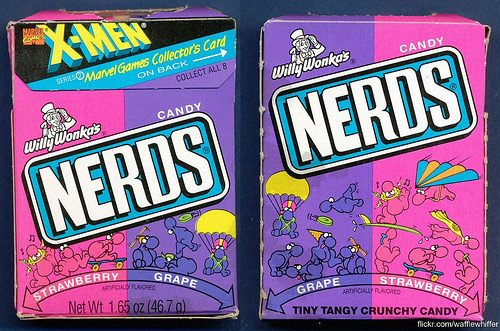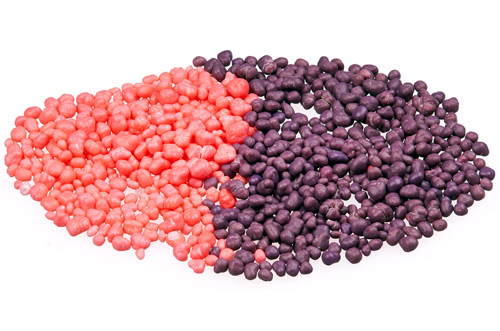 So there you have it. Five of the most totally awesome 80s candies ever, some still as popular today as they were back in the 80s (we're looking at you, Now and Laters and Nerds) and some gone to the candy graveyard (RIP Mr. Bones).
Pop yourself that perfect handful of Nerds and have a sweet Halloween.