When you think back to classic commercials from the 80s I'm sure those California Raisins come to mind (and maybe those two crash test dummies warning you about wearing your seatbelt). Or, maybe you think of McGruff the Crime Dog telling you to "take a bite out of crime."
And isn't it great when certain commercials from your childhood don't ever die? Think of the famous "how many licks does it take to get to the center of a Tootsie Pop" from the early 70s, or those 80s holiday Hershey's Kisses that play "We Wish You a Merry Christmas" every year.
With Easter coming, you have to have noticed this one, also from the 80s, has made its way back round for another year:
Yes, spring has sprung: jelly beans, chocolate bunnies, colored eggs, Peeps, chicks and a rabbit that clucks like a chicken.
It's the famous Cadbury Bunny folks.
There were a few ads that featured the infamous bunny from the 1980s; this one has been playing this past week. I have to say it makes me pretty happy hearing that clucking coming from the living room; I always peek my head in to get a load of the various animals auditioning for their shot at becoming the Cadbury bunny.
The Cadbury Bunny put two Easter favorites in kids baskets every year. First up is the delicious Cadbury Mini-Eggs, which I have to admit I will stockpile so I have enough to last a month or two (who am I kidding, they don't last two months) past Easter. With their hard candy shell, pretty pastel colors, and delicious chocolate center, Mini-Eggs top of my Easter candy list.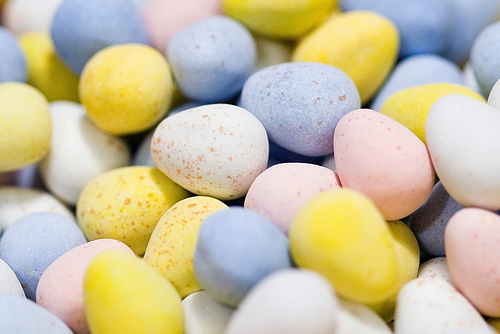 The other Cadbury product the bunny clucks about is the infamous Crème Egg. Delicious milk chocolate filled with an oooey-gooey crème center made to look like the inside of an egg, complete with a bright yellow yolk.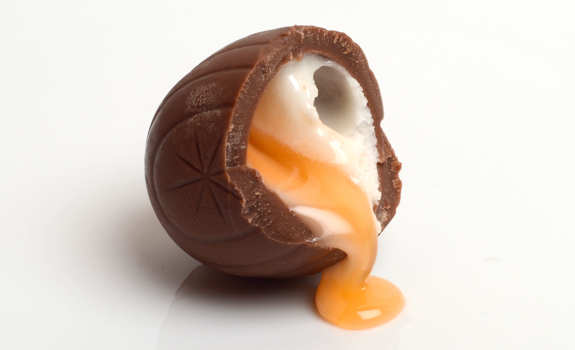 With as much of a sweet tooth as I had/still have, these eggs always put me over the edge, making my teeth tingle and my brain freeze with sugar shock.
But people love them and are fanatical about them! In fact, earlier this year there was quite uproar when Cadbury announced they would no longer be using their trademark "Dairy Milk" shell and would be switching to a new recipe. The outrage! The horror! Where's that clucking bunny when you need him, and why is he betraying us right after people have eaten their last bites of peppermint bark and chocolate Santas leftover from Christmas?!?
Thank goodness my precious Mini-Eggs still taste the same. And thank goodness that clucking bunny is still the same.
Because, as we all know…no bunny knows Easter like the Cadbury Bunny.