We are heading into one of the most important seasons in any teenage girl's life: PROM SEASON. What to wear? Make up and manicures! HAIR! Should I get a limo? Of course I should! Oh, and yeah, the big question: who's gonna be my date?!?
But the dress – the dress is number one. And back in the 80s, boy, was it ever. The prom dresses of the 1980s were pretty epic; like everything back then, they were bigger and louder than anything teenagers would dare to wear today. My senior year prom dress was surprisingly simple; I had it made from a pattern and felt pretty fancy going to special fittings.  I loved this dress, and I loved knowing that nobody else would be wearing the same thing. Surprisingly it wasn't big and brassy; it had little silver polka-dots on the top and bottom. My shoes were dyed black with little jeweled clips. It all felt very grown up and classy.
Speaking of classy, let's rewind a year back to junior prom. Ah yes, here we go.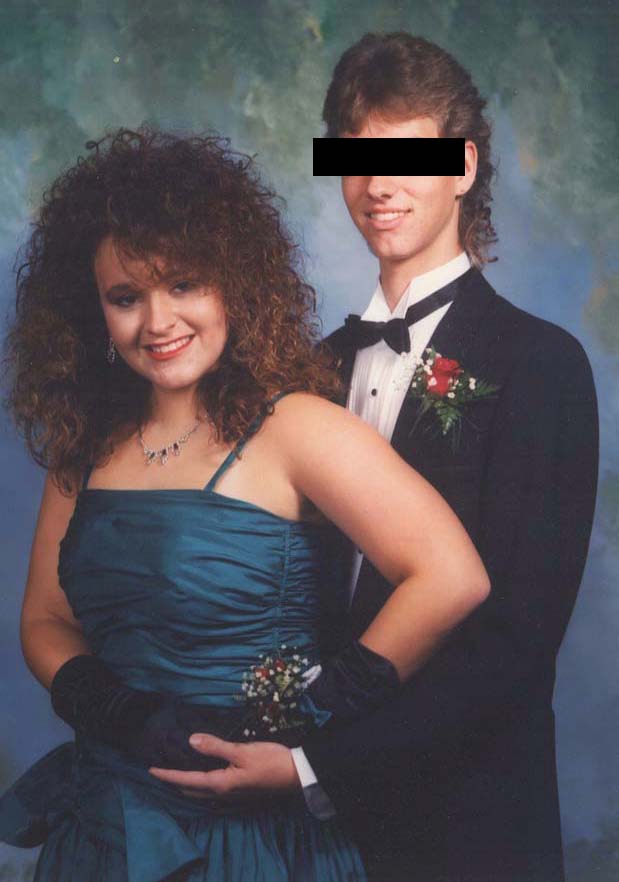 That's better.
Besides being big and brassy, prom dresses of the 80s had several defining characteristics. Let's re-visit some of the most often seen features of the typical 80s prom dress. If you attended prom in the 80s, I'll bet that your dress was styling and profiling with at least one (likely a combination of several) of these design details.
Ruffles

The more ruffles, the better. Look at my friend Tiffany's admirable shoulder/waist ruffle combo.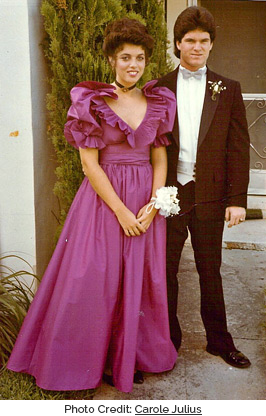 And, how about this glorious example of 80s ruffles from 1984?
Check out this gorgeous blue ruffle confection (note the dyed to match shoes).  Wait!?!  Who's her date?  That's right. That's none other than Matthew McConaughey at his own 80s prom.  He coordinated his tie and cummerbund to match her dress (so 80s), and check out his gold ID bracelet.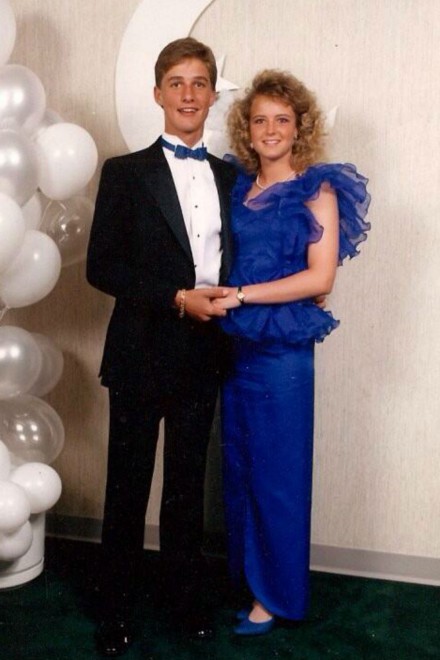 Bows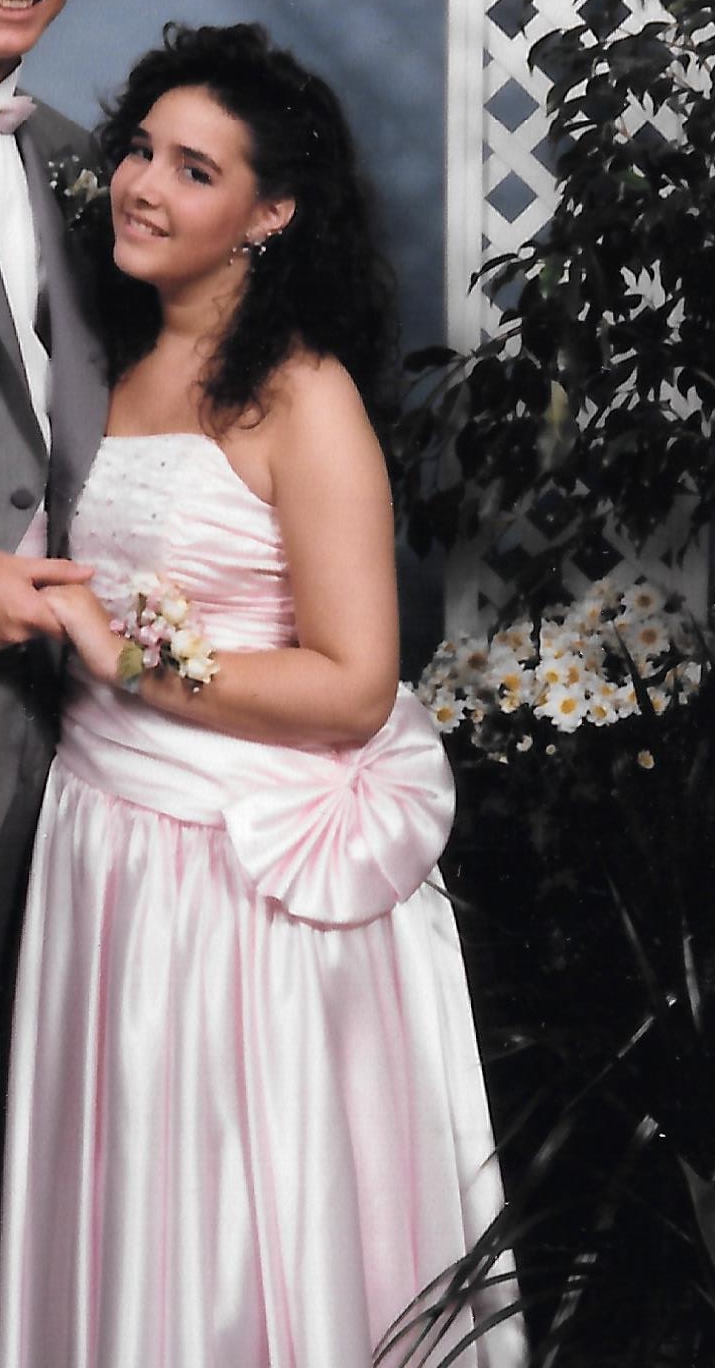 My friend Marci went with a very popular 80s silhouette; pale pink, sleeveless sateen with giant bow at the hip. Classic.
Tea Length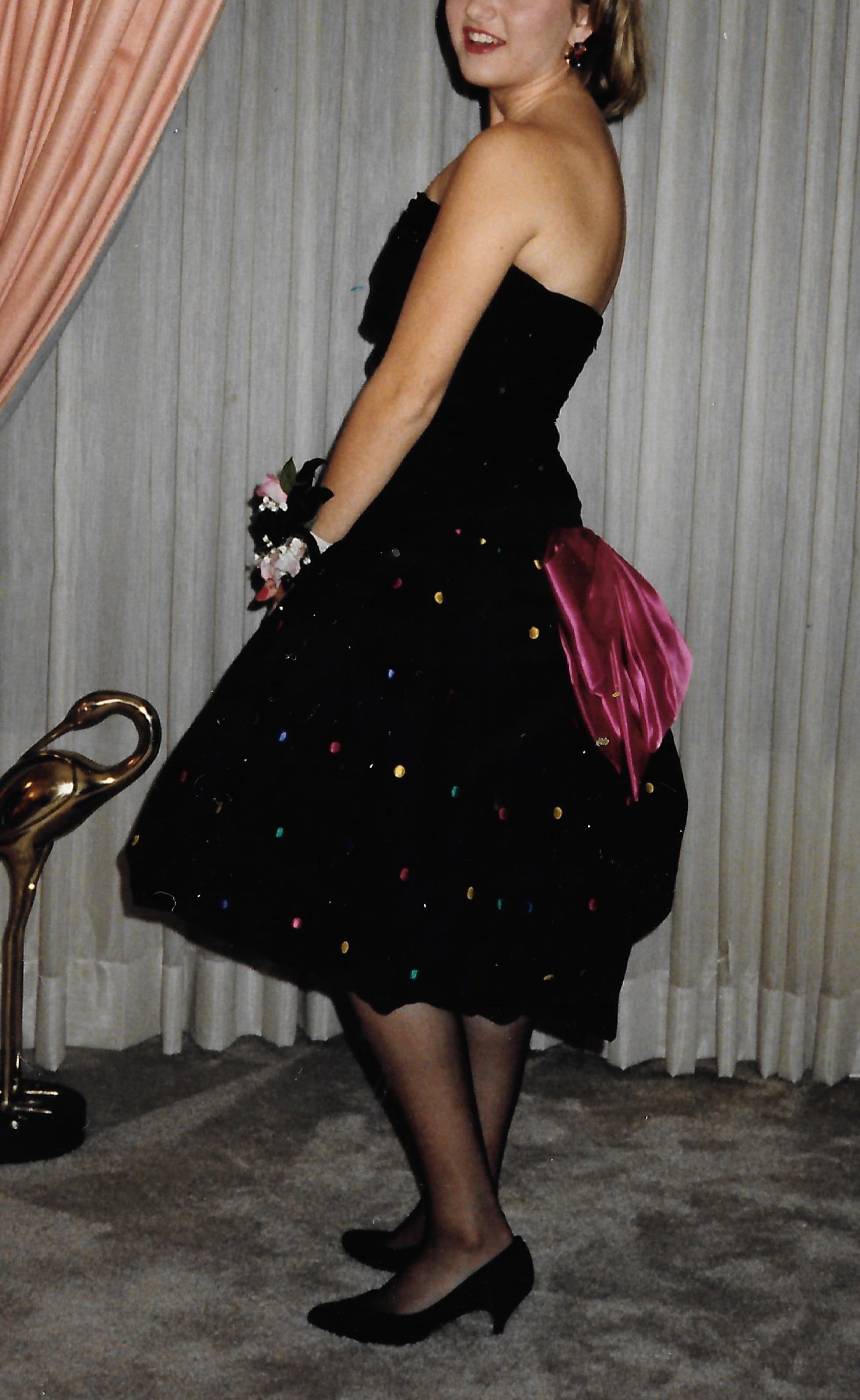 Check out my girl Jen, in our living room by a big brass bird with her classy tea length dress that had that ruchey-bubble at the bottom, very on trend. I envied this one. A lot. Oh, and bonus giant hot pink butt bow!
Formal Mini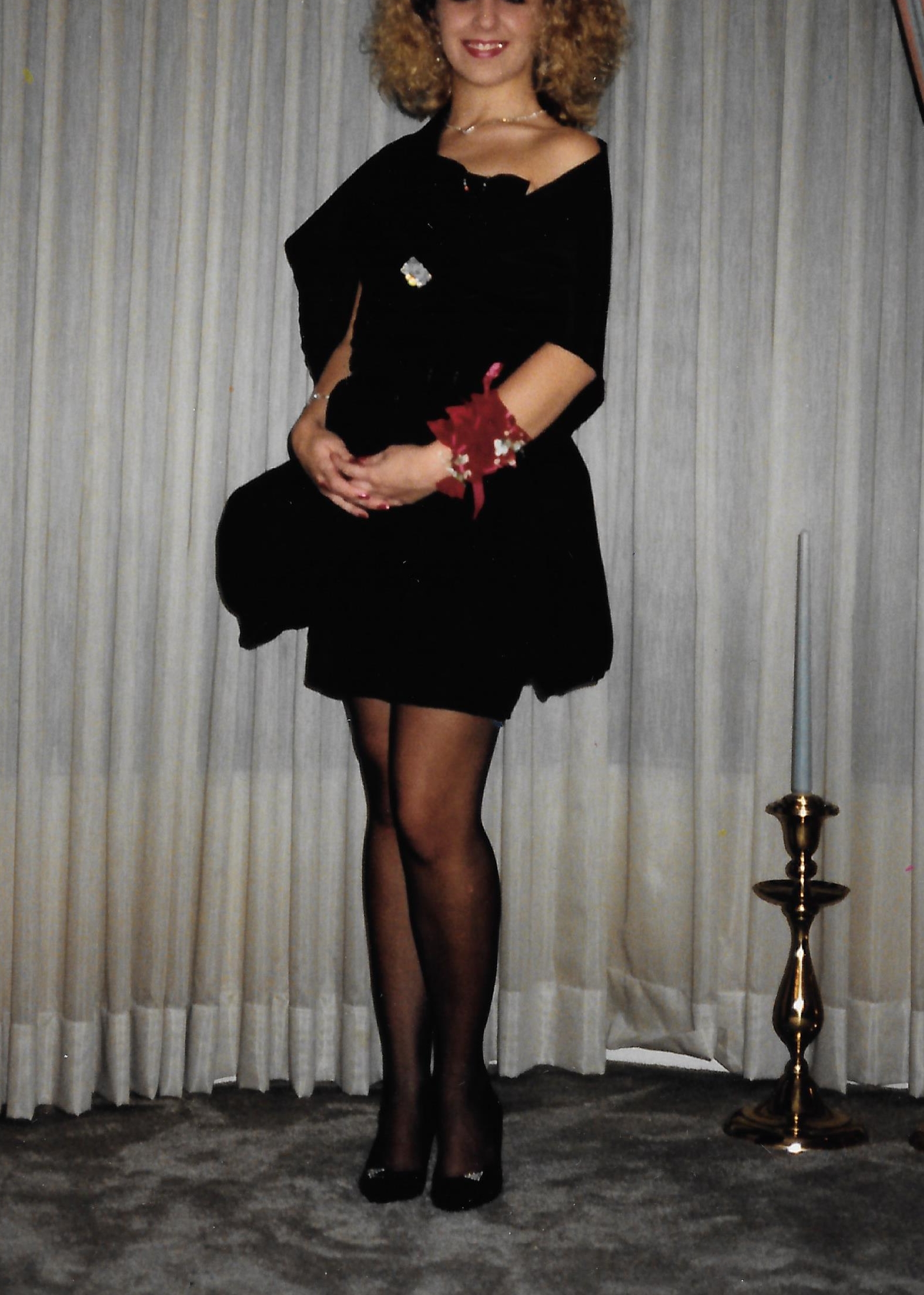 What's the opposite of tea length? That's right, some girls opted to take the hemline way up and go for the cocktail dress approach to prom-wear. Seen here, Valerie took a different approach than I did with her black dress. If I had those legs, I'd be wearing this too.
Metallic

Last, but certainly not least, metallics represent their own category. Holy moly, look at Vicki. Tiered. METALLIC. Gorgeous.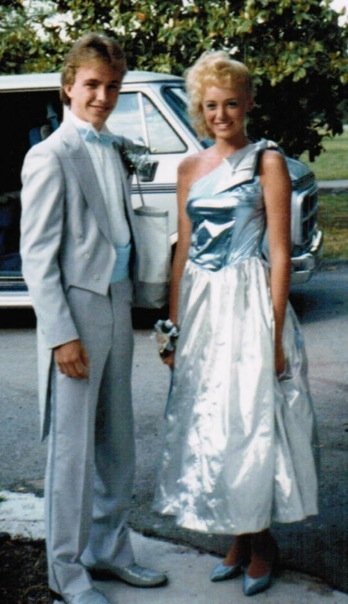 And, this one-shouldered, tea-length number was a custom-made metallic wonder. One metallic color was not enough. Two were definitely required: metallic silver and blue. With dyed-to-match shoes.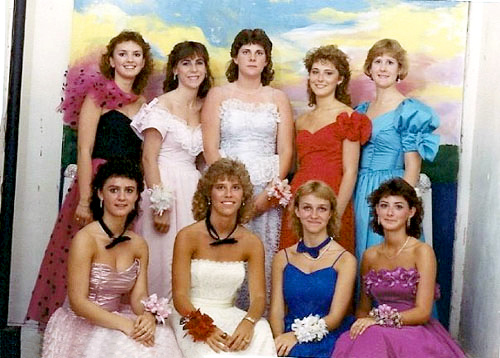 These awesome 80s gals have ruffles, bows, lace and wrist corsages galore.
Prom Advice for Our Kids
Kids, I know this is one of the biggest nights of your young lives thus far, so have fun at prom this year. But, not too much.
Boys, get your girl a big corsage (maybe with some baby's breath?) and have a nice dinner at Benihana. Ask her to slow dance.
And girls, take lots of pictures so that in 25 years your friend can relive her own prom night by writing a nice piece honoring the fabulous retro dresses you were all wearing to your senior prom.