Like a tarpless field after a sudden May shower, Major League Baseball is awash in statistics. From Earned Run Average to Runs Batted In to On-Base Percentage, it seems every aspect of the game can be boiled down to a number. Well, almost every aspect. Indeed, there is one phenomenon that has thus far eluded even the most moneyballin' statistician: the Eighties Entrance Music Effect (EEME).
Simply put, a player's EEME attempts to demonstrate the link between a player's 80s walk-up music and his overall performance. Admittedly, this theory needs some fine-tuning. (The name, for example: Maybe I should go with something like "Effect of Reagan-era Accompaniment"? (Oh, wait, "ERA" is already taken . . .) More importantly, I know hard-core statisticians will balk at the piddling levels of data I have to back up this hypothesis. But I swear: the EEME is real!
First, a little context: a "walk-up song" is the snippet of music, played over the home stadium's PA system, that accompanies a batter on his journey to the plate. While hardly a new development, walk-up music has now become a fixture in Major League Baseball; just about every current player has a theme song (available for purchase on each team's website, courtesy of iTunes). Basically, for fans, walk-up music is as essential to the ballpark experience as peanuts, Crackerjacks, and $11.75 beers.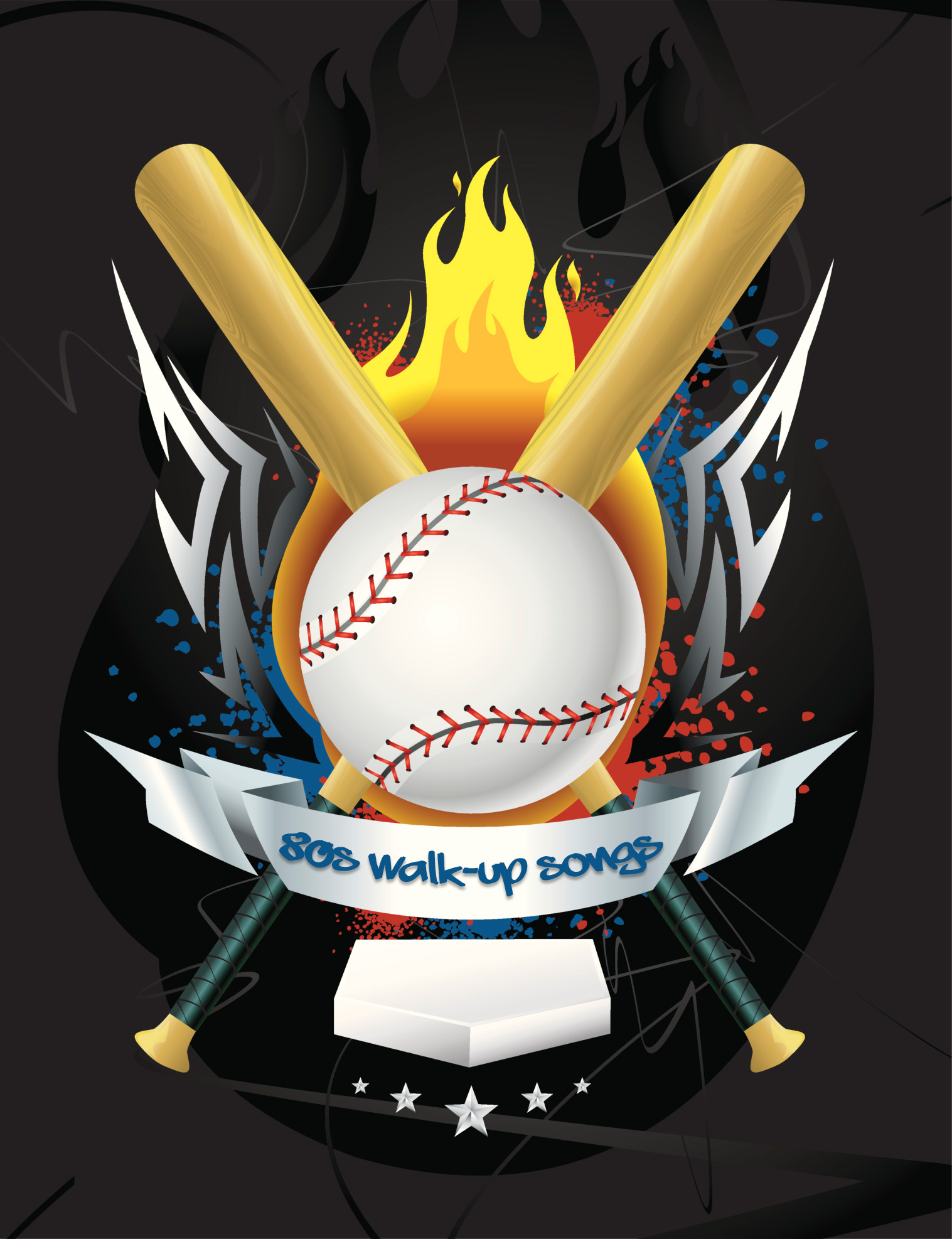 Many current players seem to gravitate toward hip-hop and rap for their walk-up music. For example, according to the site DesignatedHits.com (great name!), songs by Drake were used by twenty different players in 2014. But more than a few past and present players have bopped to the batter's-box to the immortal strains of 80s tunes.
Chase Headley had Whitesnake's "Here I Go Again." David Wright had New Kids on the Block's "You Got It (The Right Stuff)." Michael Morse had a-ha's "Take On Me," Matt Holliday had Madonna's "Holiday," Chipper Jones had Ozzy's "Crazy Train." And Mark Teixeira has actually used three 80s songs throughout his career (Michael Jackson's "Thriller," Twisted Sister's "I Wanna Rock," and Run-DMC's "It's Tricky").
The king of 80s walk-up songs is one that dates all the way back to Mark McGwire: "Welcome to the Jungle" by Guns n' Roses, which has been used by seven different players over the years (including Kerry Wood, former closer for the Cubs and Indians). And a close second is a song that actually has a bit of baseball connection (at least as far as the band's name is concerned): The Outfield's "Your Love," which has accompanied six players over the years.
(Incidentally, my research has revealed a total of zero players who have used the most iconic baseball song of the 80's: John Fogerty's "Centerfield." John has hardly been benched, though: the song is not only a between-innings mainstay at many ballparks, it was also honored at the 2010 Baseball Hall of Fame.)
Walk-up 80s songs come in all flavors. Metal bands — such as AC/DC, Motley Crue, and Quiet Riot — have supplied a bunch, which is not all that surprising; one of the purposes of entrance music, after all, is to strike fear in the hearts of your opponent. On the other hand, some players have chosen . . . less intimidating songs, such as Lionel Richie's "All Night Long," Night Ranger's "Sister Christian," and Mr. Mister's "Kyrie" (used by Matt Kemp, Adam Dunn, and Nate McLouth, respectively).
But the most curious — and most beloved — of all 80s walk-up songs? That would be Wham!'s "Careless Whisper," adopted by Oakland outfielder Josh Reddick for the 2014 season. Not only did this song improve Reddick's numbers (I'll get to that in a moment), but it sparked all sorts of audience participation; folks would bring actual saxophones into the stadium and play along.
(Total aside: previously, in 2013, Reddick walked out to the theme for WWE wrestler Triple H, and this year, he has adopted the music of wrestler Dolph Ziggler! A former Red Sox player who loves wrestling and 80s music? How was this guy not the first pick for my fantasy team?)
OK, so we have established that many MLB players have used 80s songs as walk-up music. But we haven't answered the key question: what influence, if any, does the choice of 80s music have on these players' overall average? What about the Eighties Entrance Music Effect?
From my admittedly unschooled perch, determining a player's EEME seems easy enough: just compare his stats from times when he uses 80s walk-up music to times when he doesn't. Let's use Josh Reddick as an example of someone with a high EEME. In 2013 (prior to using "Careless Whisper"), Josh had the following stats:
Games Played: 114
At-Bats: 385
Hits: 87
RBIs: 56
HR: 12
Avg: .226
OBP: .307
SLG: .686
Now, here are his stats for 2014 (when he started to use "Careless Whisper"):
Games Played: 109
At-Bats: 363
Hits: 96
RBIs: 54
HR: 12
Avg: .264
OBP: .316
SLG: .762
Basically, in 2014, Reddick played five fewer games than in 2013, but his average was higher
(.264 to .226). He had the same number of homers (12), but he had more hits in 2014 (96 vs. 87). On the downside, he had 2 fewer RBIs in 2014.
Now, I'm not really a "stat guy", so I turned to my brother Matt to interpret these numbers for me. Here's what Big Matt had to say: "Sabermeticians would probably tell you that Reddick's skills have declined because he doesn't walk enough (only 28 in '14, as opposed to 46 in '13), but as far as the stats that most people think matter, he definitely improved. I mean, Wham! shot his average up almost 40 points! It's simple math."
Matt also pointed to his increased slugging percentage (total bases divided by at-bats) as critical in figuring out his EEME: "His slugging percentage went way up (in 2014) — thanks, no doubt, to Wham!. So he was hitting it, and he was hitting it for extra bases. His home runs were the same, but he was still getting big hits."
Regarding Reddick's two fewer RBIs, Matt wasn't concerned. "RBI's are maybe the least important stat there is," he assured me, "because it's sort of the Al Capone 'I get nowhere unless the team wins' thing. How can you drive anyone in if there's no one on base? So the two fewer RBI thing is meaningless."
In short, after crunching the numbers, Matt concludes the following: "I think you can definitely say that Reddick had better stats in 2014 (and naturally, because of Wham!'s inspiration)."
Now, some purists might cry foul at our assessments. For example, they might suggest that my sample size is a little small — i.e. one player. And I agree: one batter does not a theory make, which is why I have provided a list of songs and players at the end of this article. As I said, I am not a statistician, but if you, dear reader, happen to be one, please use this as a starting point for an honest-to-goodness examination, to either prove me wrong or prove me right.
More importantly, I was recently (grand)-slammed by someone who told me I am confusing correlation with causation; in other words, I am discounting all the other possible factors besides George Michael that could have contributed to Reddick's improved performance. And this person isn't wrong. I can't conclusively prove that a Wham! song helped Reddick with his hitting. On the other hand, no one can prove it didn't.
It all comes down to the core paradox of baseball, a game of statistics as well as superstition. After all, baseball players famously and irrationally grow out their beards or eat special meals before games or wear thong underwear, if they think doing so will lead to a win. There's no "proof" that these rituals pay off, but that doesn't stop them from performing them time and time again. And that's because, beyond all the averages, beyond all the percentages, there's an element of magic in baseball. It's numbers AND necromancy. Abraca-data.
So if a player actually believes that playing Journey or Young MC or even Falco helps his batting average, then maybe that's enough. And, truly, why wouldn't an 80s song give a player that extra motivation, since 80s music is, after all, the best music ever created? So to all MLB players looking for a new walk-up song, I say go through your CD collection, pull out your favorite 80s band, storm into the clubhouse, CD in hand, and declare, "Put this in, coach. And start pressing play, today!"
Note: The following are 80s tunes that have, at one time, been used by MLB players for their walk-up songs. The team listed is not necessarily the player's current team, but the one he played for when he used the song. This information in this list was collected from various sources: designatedhits.com, mlbplatemusic.com, and official MLB homepages. Please contact LT80s with any additions or corrections.