When you think back to iconic films of the 80s, I'm guessing 1982's Steven Spielberg's E.T. the Extra-Terrestrial comes to mind. I'm also guessing that when you think back on E.T., all or most of the following run through your head:
"Phone Home"
"I'll be right here" (sniff)
Speak 'n Spell
That plush, kind of leathery E.T. doll that EVERYBODY had
Reese's Pieces (yum)
Adorable, young Drew Barrymore
And this: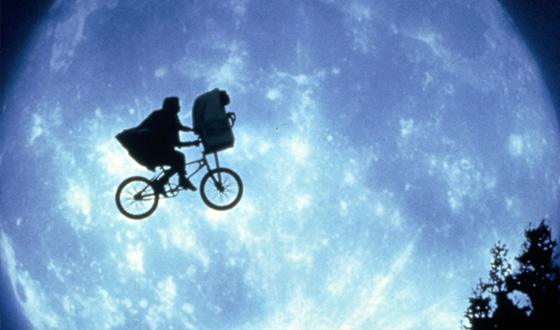 That scene in the movie was pure magic. An intense chase scene where the authorities are trying to capture E.T., Elliott, his brother Michael, and their gang of friends furiously riding away on their bikes, and E.T. using his alien powers to fly into the air and toward the forest where he will wait for his spaceship and his family's return to retrieve him—it didn't get better than that. You can cue the bawling at this point in the film. I will remember E.T. for many reasons; one being the first time my pre-teen self ever cried in a movie theatre, as I'm sure is true for many children of the 80s. You can replicate this infamous and magical scene and be Elliott from E.T. this Halloween (or for your next 80s party)! Here's what you'll need:
Jeans
A basket/orange crate/something in which to put E.T.
BONUS: carry around some Reese's Pieces and hand them out to fellow party guests. There is no better way to make friends than chocolate covered peanut butter. Here are some brilliant examples of this costume people have put together: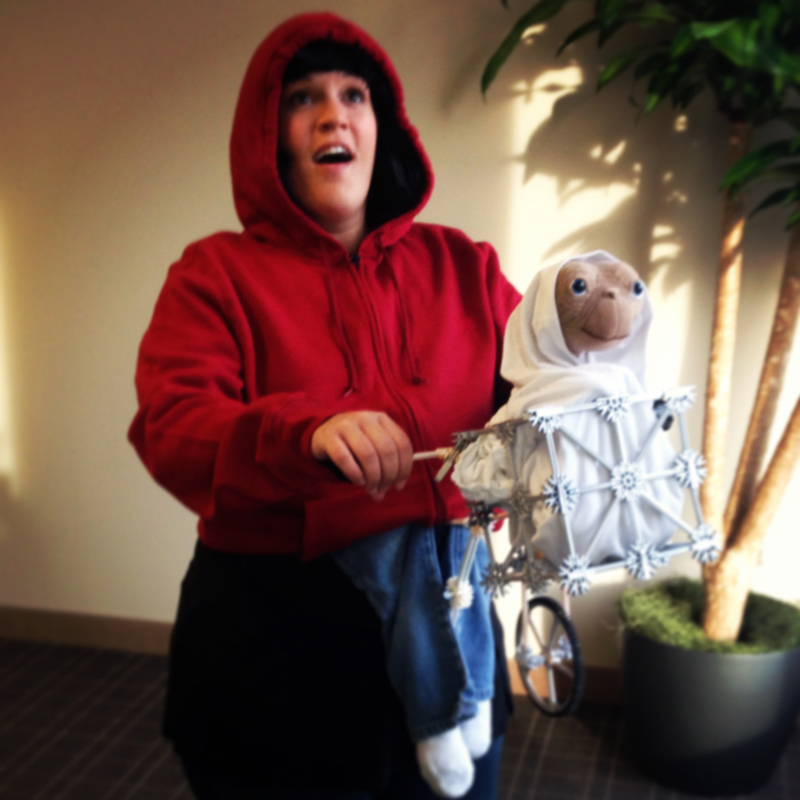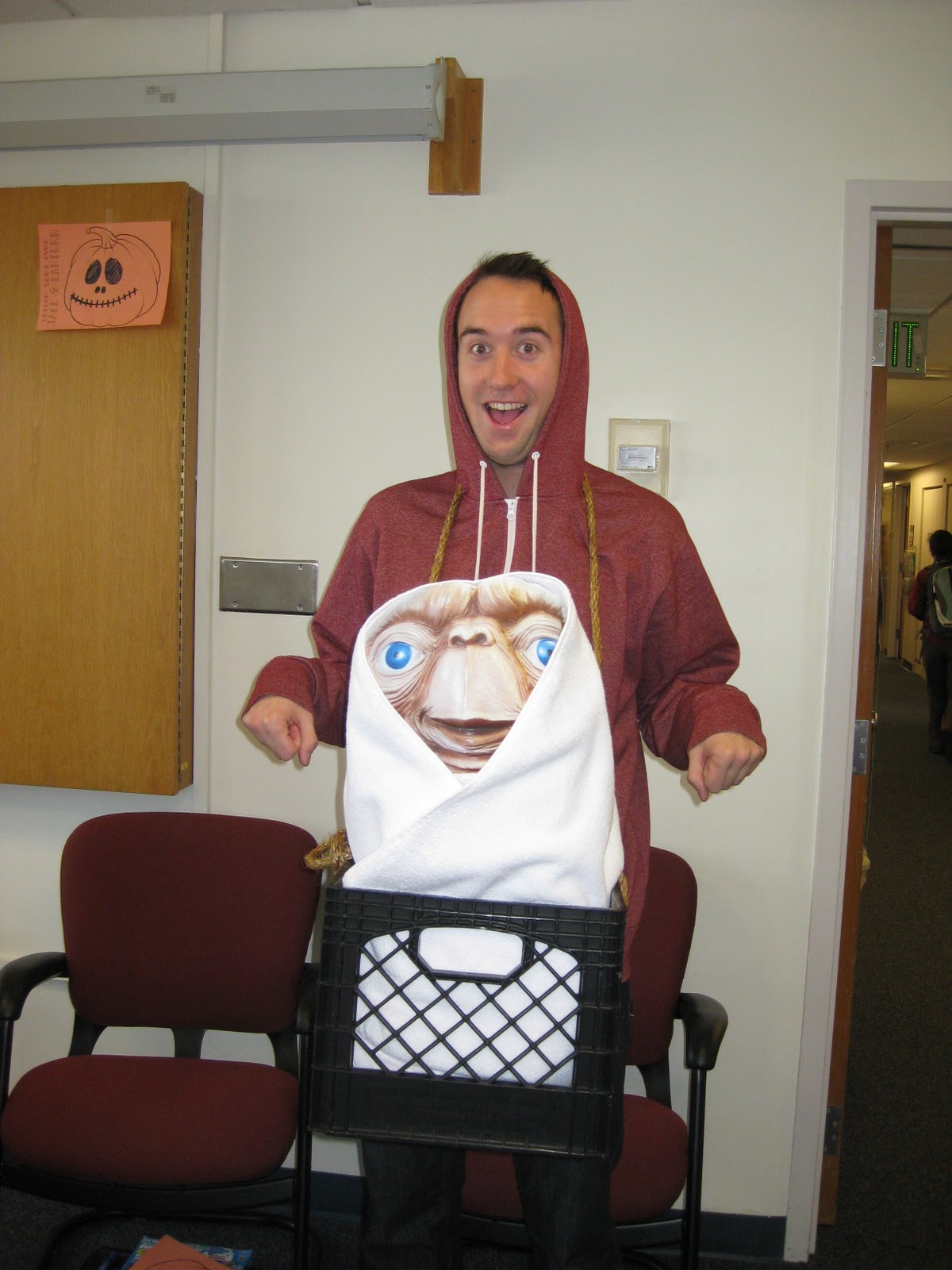 Accessories include a bike, or bike handles attached to your basket if you want to get fancy, and of course an E.T. doll/drawing/cutout swaddled in a white towel. And just look at this . . . Elliott and Gertie! With the flowers E.T. brings back to life. THE CUTEST!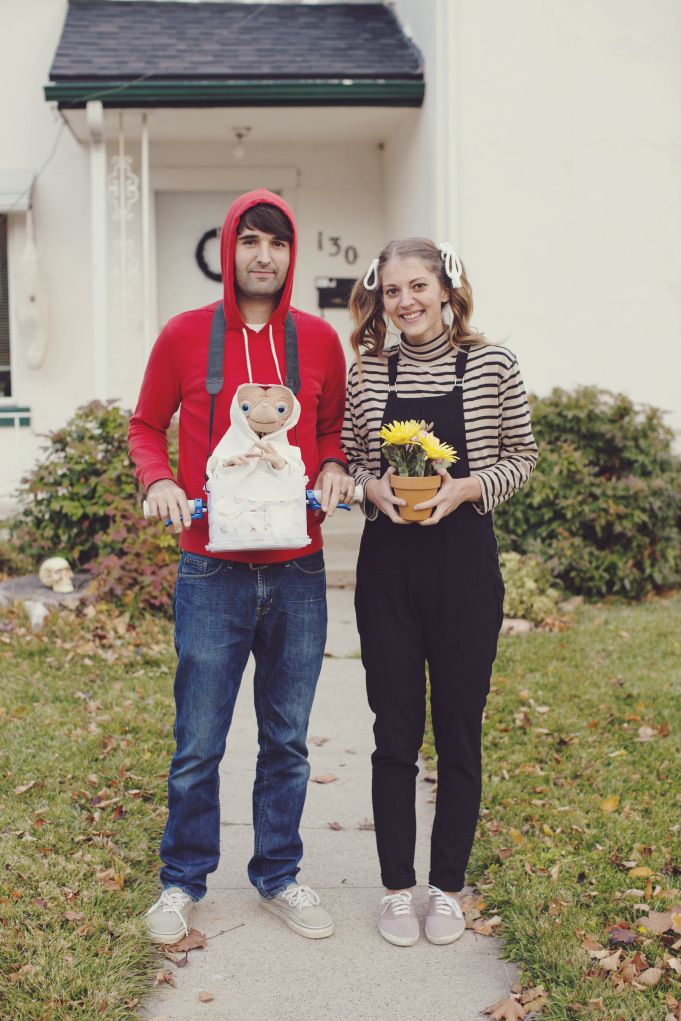 When people see you walk/bike/pretend like you're flying on a bike through the door they won't be able to not hear the theme music in their heads that still bring tears to my eye. It's the perfect costume for anyone who wants to have a super creative yet easy and totally awesome 80s Halloween. And man . . . I wish I had kept my little E.T. doll!