When I was a pre-teen/teenager in the 80s, the little white desk in my bedroom was a sacred space.
Not because this was a place where I wrote in my diary, did my homework or where I penned letters to all my pen-pals (remember those?!). No, this area was sacred because it was the space where I put on my make-up every day. Fresh from the shower, I'd sit at my desk with my hair wrapped up in a towel, feeling like I was backstage on Broadway, in my own dressing room with a star on the door because of this – check out its lighted glory below.  So many features, so much to offer.  How else could you be sure that your 80s makeup routine was up to snuff? The serious process that was makeup application in the 80s required serious equipment.
Did you have one too? The Clairol True-to-Light Illuminated Mirror.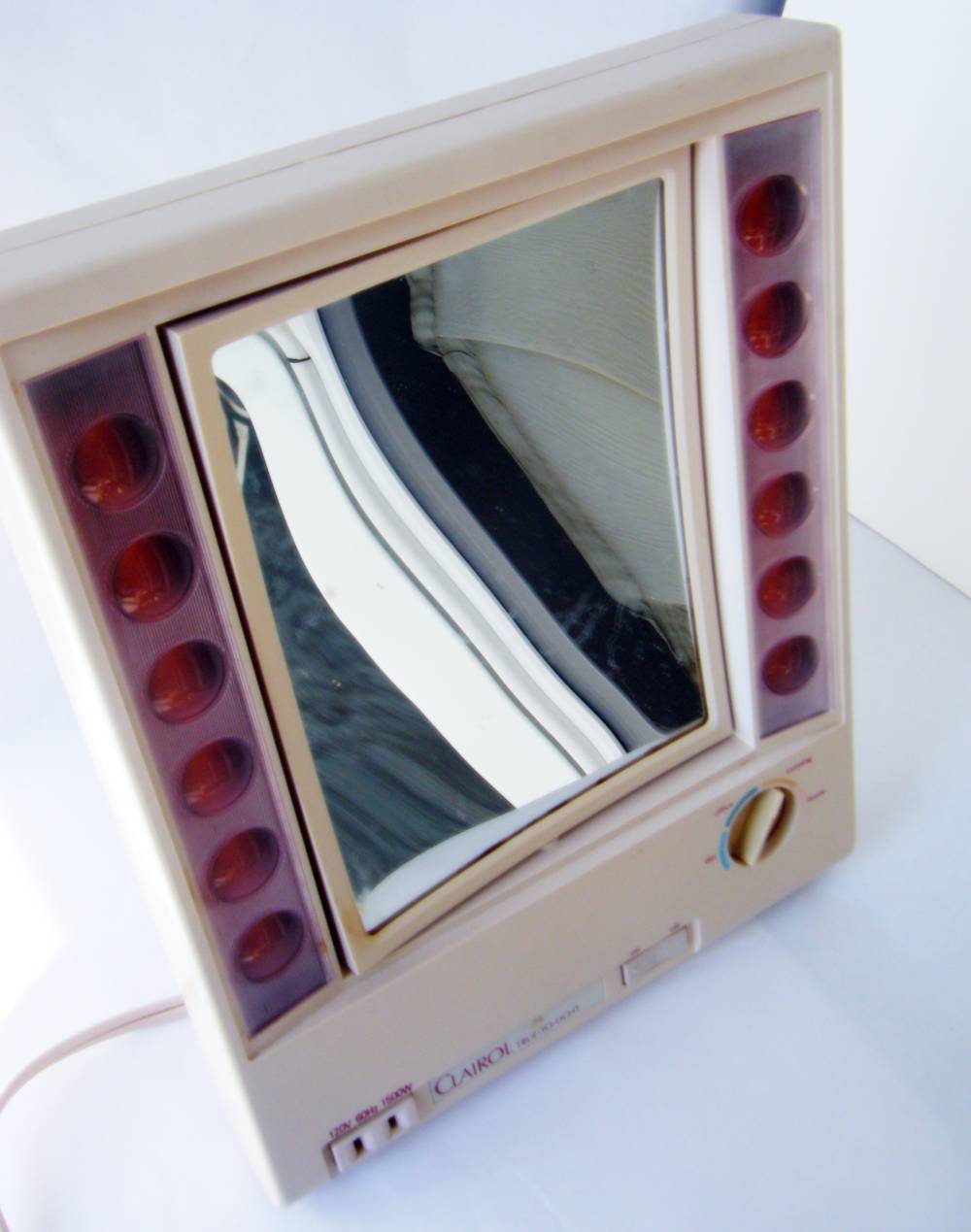 This mirror was my pride and joy; it had four settings to choose from so you would get the appropriate amount of light to apply your make up:
Day
Office
Evening
Home
Back in the day this was all very high tech, with little colored slats of plastic moved in front of the light circles as you changed the settings. From what I remember, "office" had a lovely light pink glow to it. Now I didn't work in an office at fourteen, but I sure liked to envision that I did, as I put my hair up in a banana clip, applied some light blue shadow and too much Dial-a-Lash mascara before taking the morning train to work a nine-to-fiver.
The other amazing feature of this glamorous 80s must-have was the rotating mirror that switched from a regular reflection to a serious up-close magnification. This allowed you to ensure that the finer points of your complicated 80s makeup regime were just so.  No pore was left un-investigated.  I'd pay real money at this point in my life never to see my face at that level of magnification. But, I digress.
This illuminated beauty spanned generations and was popular with everyone, including my mom and my grandma – because we all needed to know what the appropriate amount of makeup was for being at "home" right?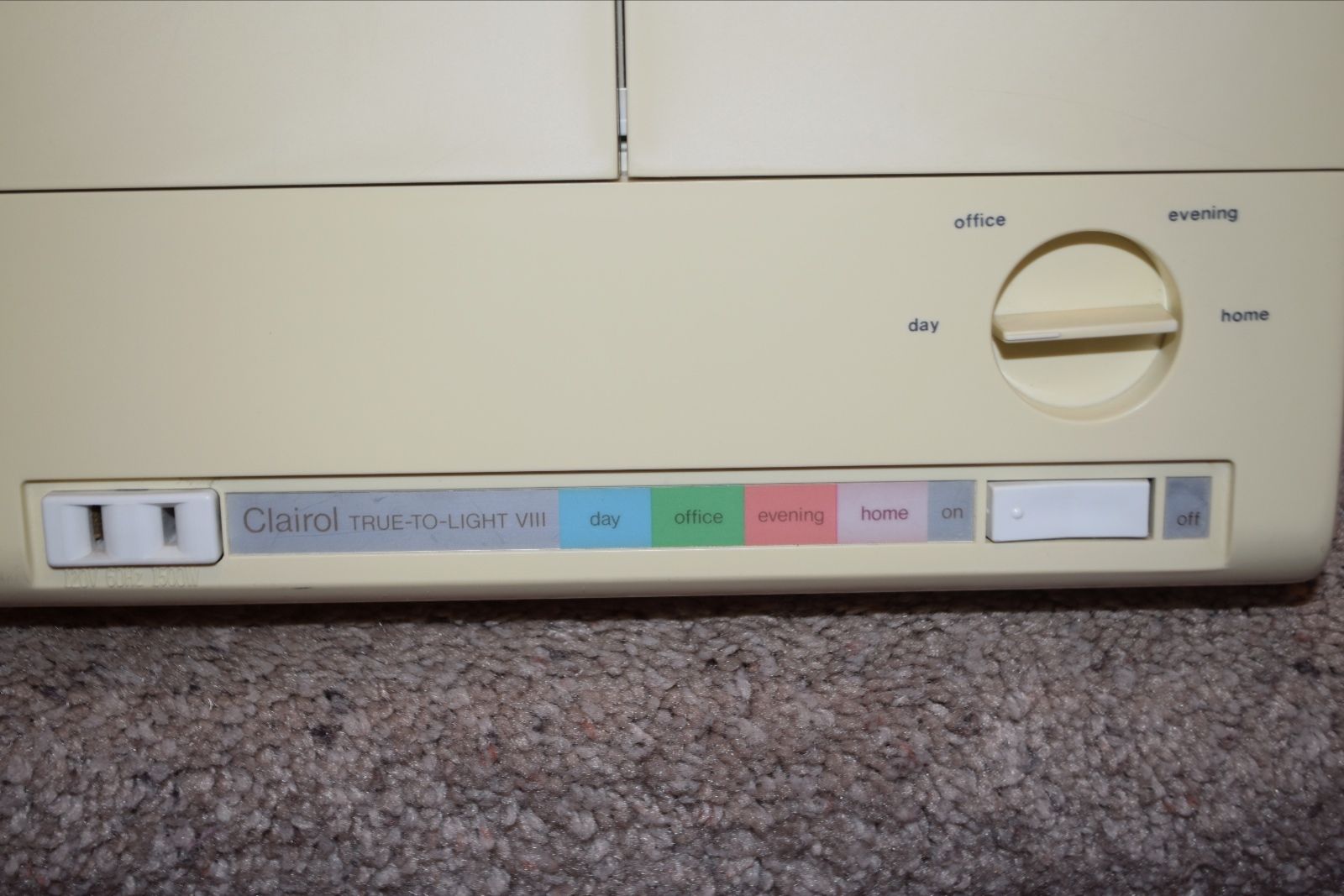 My B/F/F had a fancier version that swiveled and had two side mirrors that swung out and were adjustable, so you could make sure your hair was feathered or gigantic equally and symmetrically.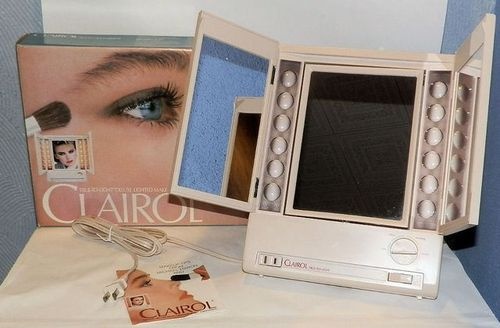 These mirrors are now considered "vintage" (sigh) and are readily available on etsy and various other places online, which makes me kind of sad that I sold mine at a garage sale years ago for one dollar. No joke. A buck.
What if all these years I've been wearing the inappropriate amount of eyeliner? Because the mirror in my bathroom doesn't have an "office" setting?! It may be time to get online and order a new/old mirror. And to clear the bills and computer off of my desk, move it on into my bedroom, and start my day in style once more.