Last Saturday night something happened that had been in the works since the eighth grade for me – I finally saw Madonna in concert.
Many of you may think . . . big deal, but for me it truly was a big deal. As far as 80s artists go, there's no denying that she is one of the best, love her or hate her (I love her, if you couldn't tell already.) Think about it; who else from our generation truly has that superstar staying power as she does and can still fill stadiums? Prince? Yes, I'd say Prince and Madonna are our two, true blue 1980s icons that we have left.
Madonna's Rebel Heart tour was everything I thought it would be and more. I knew she would put on a fantastic, over-the-top stage show, and she delivered. The dancers were sexy, athletic, and amazing. There were times between her costume changes when they were out there, and I felt like I was at a Cirque du Soleil show as they climbed up to the tippy top of poles and swung themselves back and forth into the audience.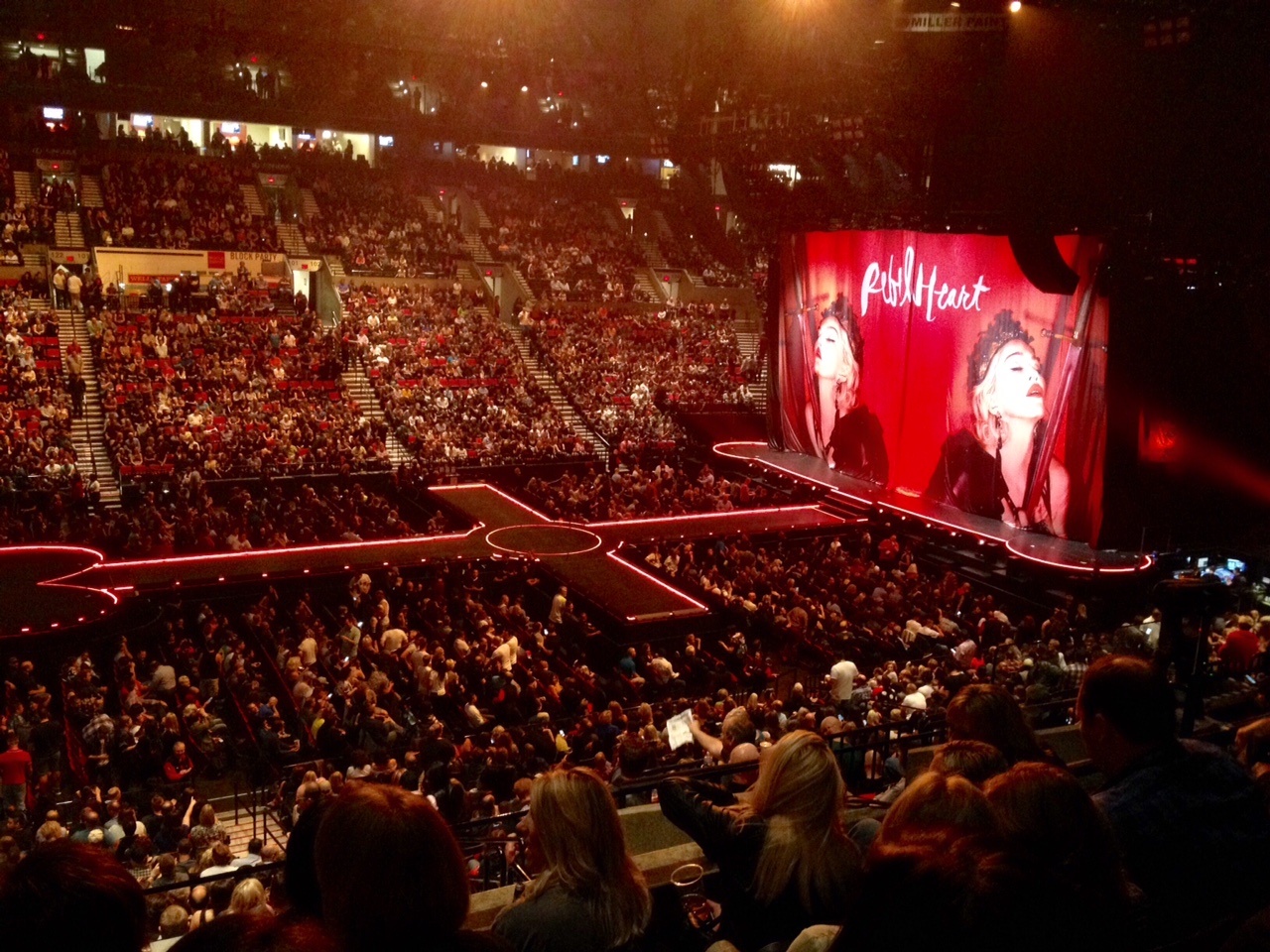 The costumes were gorgeous. The lighting, video, sets and props were perfection – would you expect less from "the queen?" This was not just a concert; it was a show.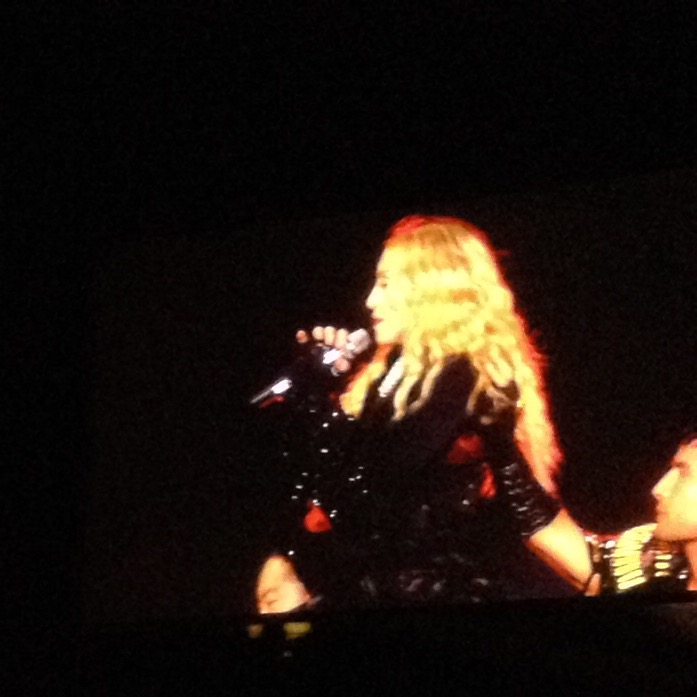 When Madge first came out onto the stage I finally had my "I'm kind of freaking out because I am in the same room as Madonna" moment. She opened with a song off of her Rebel Heart album (album? I'm gonna still say album. . .) called Iconic it was a hot, big fantastic number.
There were several new songs but there were also some truly great classic Madonna hits: Like a Virgin, Dress You Up, Material Girl, and a really pretty slowed down version of True Blue. If I had to choose a favorite number of the night I'd say it was Burning Up; I LOVE that song and watching Madonna play the riff on her electric guitar added another layer of awesome to the hot, sexy old-school song.
My friend Jordi and I sang, danced, held hands and hugged intermittently throughout the show. Because here is the thing that was the best about being at the Madonna concert. . .
As great as the show was, as wonderful as it was to finally see one of my favorite artists in concert after all these years, it was the community of Madonna fans that made the show so great. Looking all around you in the lobby, every decade of Madonna was represented. There's "Like a Virgin" Madonna! "Lucky Star" Madonna! "Cone Bra Truth or Dare" Madonna!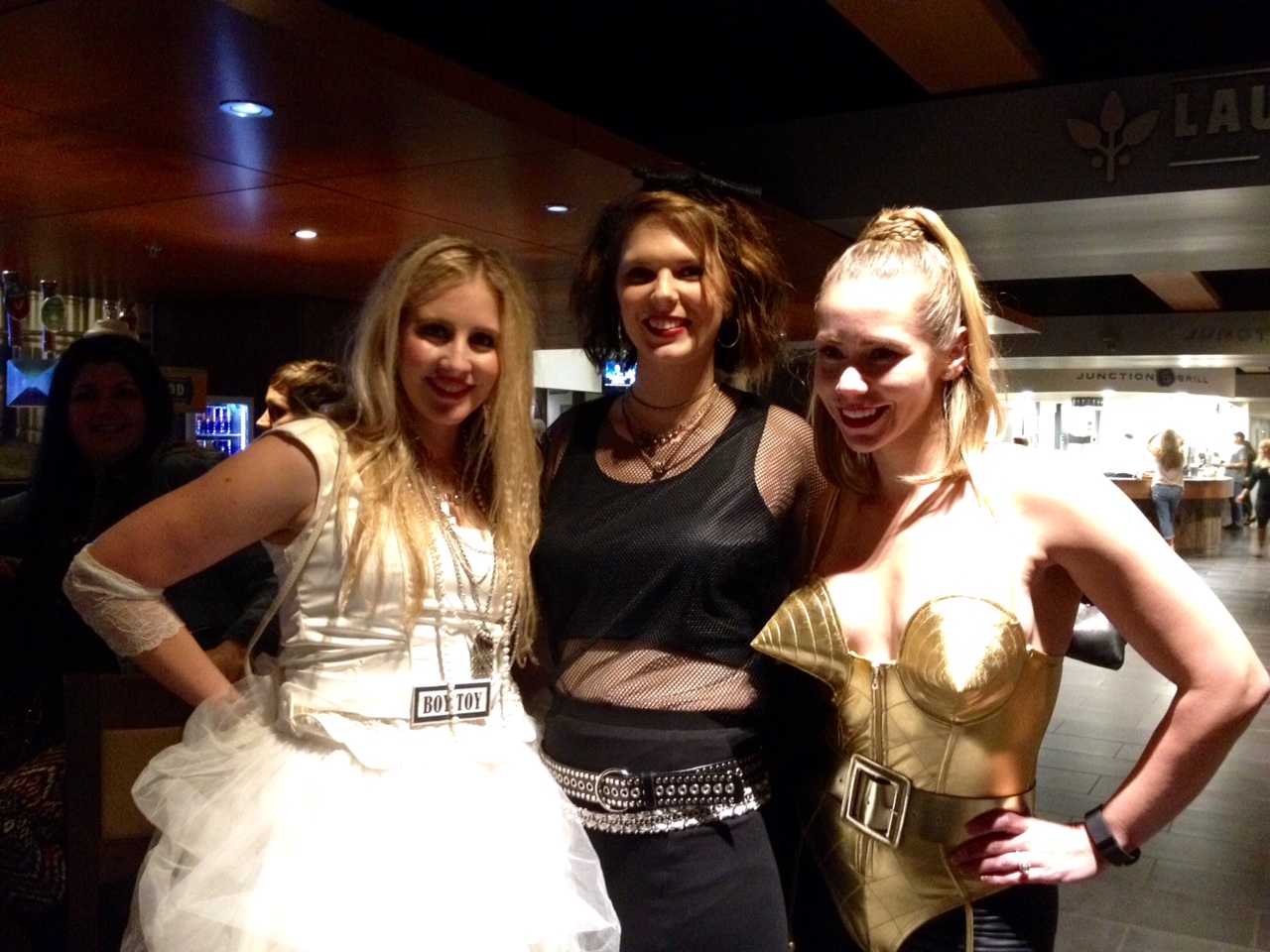 We were all beaming, smiling, complimenting each other's outfits and singing together. This is what made it more than a concert; it was more like a place that we all came together to gather, one person described it as "our Burning Man" or Grateful Dead show. It was all of us 30 to 40-somethings in an explosion of jelly bracelets, lace and crinoline skirts.
And it was awesome.
On the train into the concert a mother and daughter got on – the mom was youthful and cool and her daughter was beautiful and hip – the mom said "MADONNA CONCERT!!!" when she saw us and we whooped, hollered and periodically burst into song on the way to the Moda Center.
She told us this was their 5th Madonna concert together, that her daughter had been a fan since she was 2 years old, and how the music had gotten her through hard times, including a divorce; the concerts and the music were always there.
Music. Makes the people. Come together. Yeah.
I'll never forget this show, what a great performer. What great people. What an experience.
I'd expect nothing less from Madonna.