After a 60 year career in entertainment, George Gaynes, known for his role as the foster dad in the popular 80s sitcom Punky Brewster, passed away on Feb. 15 at the age of 98. Gaynes' career stretched much further than Punky Brewster, he also assumed the role of Commandant Lassard in all seven Police Academy films, with an even richer career pre-80s.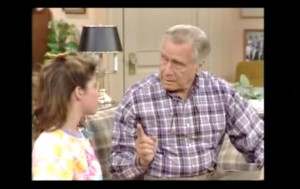 "Born George Jongejans on May 16, 1917, in Helsinki as raised in various Europeans countries, Gaynes got his start in the mid-1950s, guesting on TV series including from The Defenders and Cheyenne," according to Deadline.
"He continued to work through the '60s and '70s on such small-screen classics as Alfred Hitchcock Presents, Bonanza, Mission: Impossible, Hawaii Five-O, Columbo and The Six Million Dollar Man."
Gaynes' perfected the role of Henry Warnimont, the grumpy, strict, yet in his own way lovable father in Punky Brewster. Fans might remember his old references and punchlines in the show that were matched by Punky's equally quickly witted responses.
Soleil Moon Frye, the actress who played Punky took to Twitter to offer her own message in remembrance of her on-screen father.
"The universe just gained a gigantic star. You will be in my heart and soul always & forever. Your little Punky RIP George Gaynes," she wrote in her post.
We've included a little clip below which features Henry introducing Punky to Walker Wembley.