If you were a fan of the Pee-wee Herman Show and 80's films like Pee-wee's Big Adventure, Pee-wee's Playhouse and Big Top Pee-Wee you're in for a treat. Netflix has brought the comedic stylings of Paul Reubens back in their new film Pee-wee's Big Holiday.
Netflix US & Canada released the full length trailer for Pee-wee's Big Holiday featuring that unforgettable laugh and images of the picturesque town of Fairville. In the film Pee-wee decides to find out what there is to offer outside of Fairville. What he finds is a bigger adventure, "friendship and destiny."
The cast list is pretty extensive including Joe Manganiello and David Arquette just to name a few. Manganiello's character encourages Pee-wee to leave Fairville, take a vacation and live on the wild side, which leads to some pretty crazy experiences.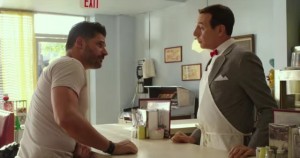 From giving a trio of bank robbers a life to experiencing what it's like like to live in an Amish village, Pee-wee really seems to be doing it all. Pee-wee's Big Holiday is set to premiere on March 18 via Netflix.
Are you excited for the new Pee-wee Herman film? Let us know in the comments section below.