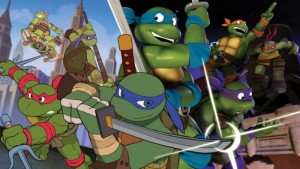 The 80s sparked a ton of crazes with the Teenage Mutant Ninja Turtles being one that has transcended multiple generations since. Now, the 80s Turtles are returning in a "trans-dimensional" twist to meet the current Turtles of Nickelodeon's Teenage Mutant Ninja Turtles the animated series.
What's more exciting is that the 80s Turtles will feature the voices of their original cast. That's right Michelangelo, Donatello, Raphael and Leonardo will resume their old form in a nostalgic crossover event.
"In the episode, the modern Turtles — Seth Green as Leonardo, Sean Astin as Raphael, Rob Paulsen as Donatello and Greg Cipes as Michelangelo — are transported to another dimension where they meet their '80s alternate-reality counterparts, once more voiced by Cam Clarke, Rob Paulsen (who's been a part of both series!), Barry Gordon and Townsend Coleman as Leonardo, Raphael, Donatello, and Michelangelo, respectively," according to IGN.
The Turtles of the 2000's will have to learn how to live in the shadows as they join forces to take out the team of evil villains Krang and the brand new Kraang Sub-Prime.
In the clip below, the Turtles of the 80s address the fact that they have now stumbled in to a 3D world but one thing still remains untouched, their love for pizza. The mashup episode is scheduled to air on March 27 just in case you wanted to relive some childhood memories. We're more than positive the kids won't mind.