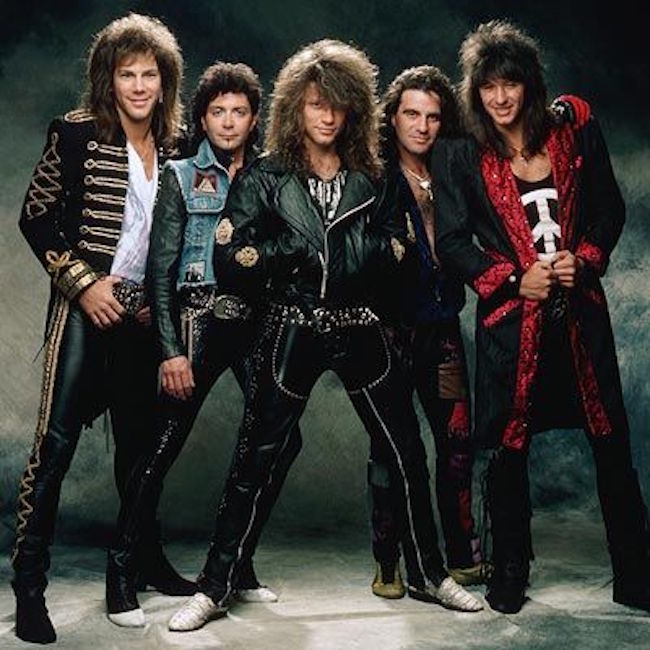 Jon Bon Jovi began playing piano and guitar at the age of 13. At 16, Bon Jovi met David Bryan and formed a band called Atlantic City Expressway. Though still in his teens, Bon Jovi played in the band "John Bongiovi and the Wild Ones" playing local clubs throughout New Jersey. In 1980, Bon Jovi formed another band, The Rest, and opened up for popular New Jersey rock acts like Southside Johnny and the Asbury Jukes.
Bon Jovi's first professional recording job was lead vocals on R2D2 We Wish You A Merry Christmas.
Aside from singing to a fictional robot, Jon Bon Jovi's career stalled a bit until a chance meeting while recording jingles for a local radio station.
Jon Bon Jovi visited local radio station WAPP 103.5FM "The Apple" in Lake Success, New York. In 1983, a then-unknown Bon Jovi visited the station and wrote and sang the jingles for the station. He spoke with DJ Chip Hobart and to the promotion director, John Lassman, who suggested Bon Jovi let WAPP include the song "Runaway" on the station's compilation album of local homegrown talent. Bon Jovi was reluctant, but eventually gave them the song, on which Bon Jovi had used studio musicians to play on the track "Runaway" (which was written in 1982). WAPP worked with WOR-TV (now WWOR-TV) in nearby Secaucus, NJ on a music video show, Rock 9 Videos, for a short time in 1984. The studio musicians who helped record "Runaway"—known as The All Star Review—were guitarist Tim Pierce, keyboardist Roy Bittan, drummer Frankie LaRocka, and bassist Hugh McDonald.
So in 1983 in Sayreville, New Jersey, coming off the success of Runaway, Jon Bon Jovi formed the original Bon Jovi lineup consisting of lead singer and namesake Jon Bon Jovi, piano and keyboard player David Bryan, bass player Alec John Such, drummer Tico Torres and guitarist and longtime co-songwriter Richie Sambora.
The band has released 13 studio albums, two compilations and two live albums. They're one of the world's best-selling bands of all time, having sold more than 130 million records worldwide and performed more than 2,700 concerts in over 50 countries for more than 34 million fans.
Not bad for a kid from New Jersey who cut his teeth on a Star Wars album.
Bon Jovi Discography
Bon Jovi (1984)
7800° Fahrenheit (1985)
Slippery When Wet (1986)
New Jersey (1988)
Keep the Faith (1992)
These Days (1995)
Crush (2000)
Bounce (2002)
Have a Nice Day (2005)
Lost Highway (2007)
The Circle (2009)
What About Now (2013)
Burning Bridges (2015)
This House Is Not for Sale (2016)
Bon Jovi Photo Gallery