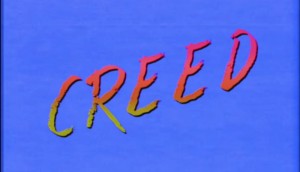 While the VHS was still available in the 90s it completed dominated the 80s. For the most part VHS commercials and trailers pale in comparison to the high definition ones today. That being said, they sure don't bring as must nostalgia as those old VHS tapes did.
Recently, Mashable decided to put an old spin on the movie Creed, sending it back to the original Rocky days with what they called a "90s VHS Video Home Release" commercial. When watching it, we just couldn't help to think that this was way too 80s to be considers a 90s VHS. One thing is for certain, they completely nailed the
"The legend of Rocky was revived with the release of Creed, the sports drama film about Donnie Johnson, the son of former heavyweight champion Apollo Creed who tracks down Rocky Balboa to train him," according to Hypebeast.
Featured stars in the film include Michael B. Jordan and Sylvester Stallone who despite being a favorite nominee in the 2016 Academy Awards, did not win Best Performance by an Actor in a Supporting Role for Creed.
"So irresistible is Stallone's blend of tough and tender that Oscar should give him points. You heard me. Yo, Academy!," commented RollingStone on the film and Stallone's performance.
Check out the VHS Home Video trailer for Creed and let us know what you think is it 80s or do you see more of a 90s twist?
Creed as a VHS Home Video Release