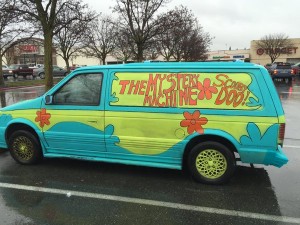 Throughout much of the 70s and the entire 80s, Scooby-Doo proved that four teen characters with passion to solve creepy mysteries, along with their four-legged friend, could make for one of the most classic cartoons in television history. Now, it looks like the beloved vehicle of Scooby-Doo and his gang, the Mystery Machine was caught on the wrong side of the law.
Sharon Kay Turman, 51 led Redding, CA police officers on a high speed chase. According to the BuzzFeed report, Turman was already a wanted suspect for violating her parole. We know the the Mystery Machine has been in situations where aggressive maneuvers had to be done however, the real life chase found Turman running a red light and nearly colliding with four other vehicles, according to reports.
This "Mystery Machine" #ScoobyDoo lookalike van apparently led #Redding police on a pursuit today @KRCR7 #KRCR pic.twitter.com/vjhvMsof5B

— Madison Wade (@madisonwadeKRCR) March 6, 2016
Turman abandoned the Mystery Machine and is still at large after reaching speeds of 100 mph on Interstate 5. The Mystery Machine now sits in an impound lot and we're still holding out hope that Scooby and the mystery crew will find the answer to this crime and regain possession of their vehicle. Check out the Twitter coverage of the chase as it went down below.
More photos of the #ScoobyDoo "Mystery Machine" van moments before the pursuit started today @KRCR7 #KRCR pic.twitter.com/PFODjXKYk7

— Madison Wade (@madisonwadeKRCR) March 7, 2016
RPD: "I think it's Scooby" – police chase #ScoobyDoo 'Mystery Machine' in #Redding @KRCR7 https://t.co/FzOPjOxJFu pic.twitter.com/ov2BsCutBz

— Madison Wade (@madisonwadeKRCR) March 8, 2016
The Classic Scooby-Doo Theme Song