There are plenty of forgotten candies from the golden era that is the 80s. Each week we're going to feature a some of the hard-to-find candies of the decade in hopes to point you in the right direction if you get that craving you can't get rid of. First up is Leaf Brand's Bonkers.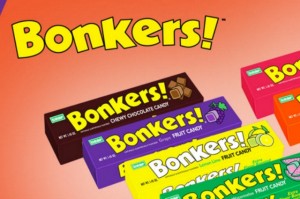 Remember popping open a box of Bonkers and endlessly chewing on the candy pieces. Well these fruit chews are looking to make a comeback.
"Currently, we are in the process of acquiring the machinery needed to wrap these amazing fruit chews," according to the Leaf Brand main page.
"At Leaf Brands, we pride ourselves in bring back original candy experiences, just like you remember. Bonkers! is making its come back and we are hopeful that it will be available for purchase in the second quarter of 2015!"
Unfortunately, it doesn't look like the candies met the 2015 release but according to their Facebook page, the machinery has been acquired and the company is now in the final stages of development and packaging.
While the candies were known for their fruity taste, the company did introduce a chocolate flavor and had one of their zany commercials to match it. Other flavors of the candy included watermelon, lemon lime, cherry, grape, orange and strawberry.
Bonkers were a big hit especially if you read comic books. You couldn't get through a comic-book without seeing an ad for the wacky candy in the 80s. As we mentioned before, the commercials were incredibly outrageous and it never quite made sense why the elderly were used to promote it.