The late 80s was filled with a bunch of new TV shows that entertained fans for years to come. Baywatch happened to be one of those shows and now it's being turned into a movie. The Baywatch film is set to star Zac Efron and Dwayne "The Rock" Johnson. However, recently it's been announced that the shows original star, David Hasslehoff will be making an appearance in the film as well.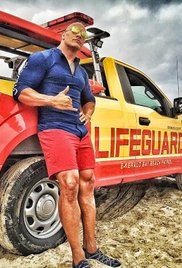 In a video posted to Johnson's Facebook Page, The Rock welcomes The Hoff back to the big screen for one of his most famous roles, aside from the classic show Night Rider of course. The video happens to be a Facetime conversation between The Rock and Hasselhoff as they continue to promote the Baywatch film.
Baywatch had a pretty length run premiering in 1989 and making it all the way to 2001. Over the years the show has been graced with a number of beautiful people including Erika Eleniak, Pamela Anderson and Yasmine Bleeth, to name a few. The actresses rumored for the 2017 version of Baywatch include Alexandra Daddario and Priyanka Chopra who stars in ABC's Quantico. Will you be heading out to see the film? Let us know in the comments section below.
"I WAS BORN READY!" Pleasure to officially welcome the original #BAYWATCH gangsta himself David Hasselhoff to our movie! #BAYWATCH is the most successful TV show of all time and from the day we announced we were turning it into a movie, "The Hoff" has been our greatest supporter. Especially once he knew our RATED R movie was going to be a combination of AVENGERS meets ANCHORMAN….Hoff's a cool dude who's down to have fun and here's the best part.. He's been training his ass off and gotten in the best shape he's been in in years! (cue slo-mo running and glistening chest hair.. wait, why the f*ck am I even thinking about Hoff's chest hair!?) World get ready.. #RockAndHoff #ThereAintNoBay #WithoutTheHoff

Posted by Dwayne The Rock Johnson on Wednesday, March 2, 2016