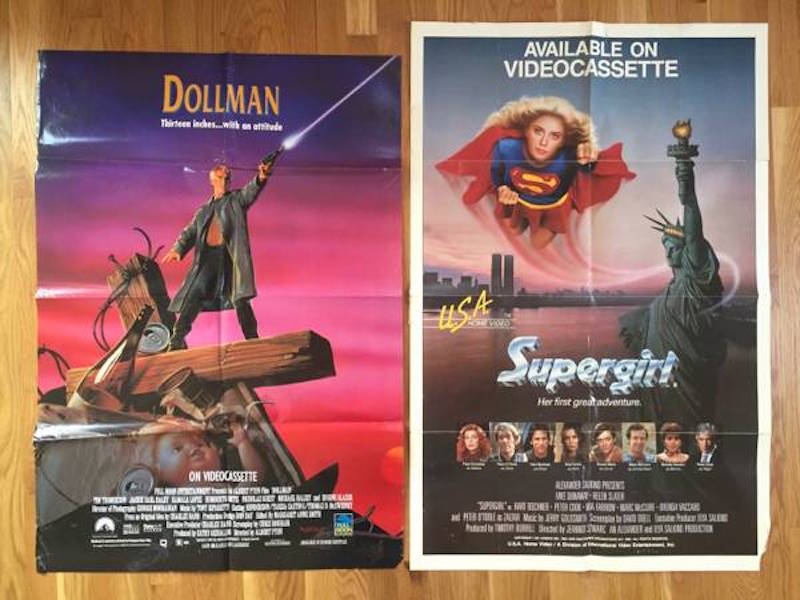 Some movie posters from the 80s and 90s are easy to find. You can't go three steps in a college dorm with seeing a Scarface or Reservoir Dogs poster. Some are a little bitter tougher to come by. Possibly because they've all been hiding in this guy's closet.
From Craigslist:
Hi there!

For Sale is a collection of approximately 207 original video store posters. There are a couple original movie theater posters mixed in too. These are mostly 1980s and early 1990s video store posters.

What is really neat about this collection is there are some B rate video posters for movies that were only released on video.

There are many cool 1980s titles like Jaws, Total Recall, Batteries not Included, Armed & Dangerous, Stand By Me, Once Bitten, Alien, Rocky V, Super Girl, Memphis Belle, League of Their Own. Harrison Ford, Sylvester Stallone,Bruce Willis, Arnold Schwarzenegger, Cheech & Chong and more.

Great eBay, tag sale or flea market resale potential with the box lot of posters. Jaws, Stand By Me & Rocky V would probably sell probably sell for $25 each.

I only want to sell this collection as one lot. If you really want a specific poster shoot me a price.

All posters are folded. Some posters were issued folded while others were folded by the store. Condition ranges from high grade with very little wear to low grade with tape on the corners and tears.

The posters fit in one Iron Mountain document box so if you have PayPal and want the posters shipped we can work something out.

Please contact me via craigslist with any questions.