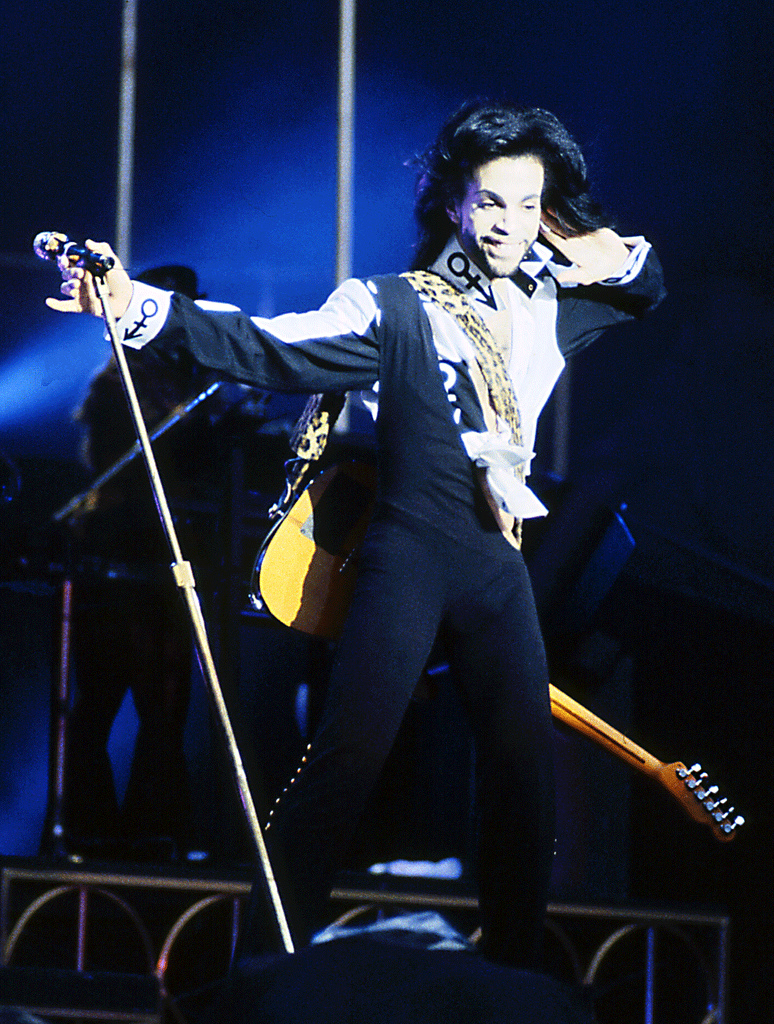 To be a budding fan of pop culture in 1984 was to learn about your favorite artists in piecemeal fashion. They didn't go from complete strangers to overexposed in a matter of weeks or days. Instead, we absorbed them in bits and pieces via articles in monthly magazines, features in the newspaper and via television interviews with celebrities such as Prince.
The most amazing thing to learn about Prince? It wasn't that his actual given name was Prince, or that he began making records in 1979 (which seemed to be a really long time ago in 1984), or that he dated a bevy of beauties or that he was an extremely prolific artist who was at his most prolific during the overnight hours.
It was that he stood a mere five feet two inches tall. A king-size talent shorter than most of our mothers.
Prince never stood taller than in 1984, the biggest year in pop culture's best decade. Five-foot-two? The hell with that. For kids of a certain age, the guy posed confidently atop a motorcycle in "Purple Rain" stills and dominating the stage in the movie's many concert scenes was larger than life.
He OWNED that movie and he owned a year in which music and cinema intersected like never before. There were only five number one albums that year, all of which rode to the top of the charts by maximizing the impact of the emerging music video medium.
One was Michael Jackson's "Thriller," which ended its historic two-year reign atop the charts as the John Landis-directed 14-minute video for the title track played non-stop on MTV. Another was "Footloose," the soundtrack to a musical thinly disguised as a new-kid-in-town drama. There was "Born In The USA," where the previously reticient Bruce Springsteen embraced music videos and ran with arms extended into full-fledged celebrity. Fun trivia answer: Huey Lewis and the News hit number one for a single week with "Sports," which had four top 10 hits, all of which were accompanied by tongue-in-cheek videos.
No album topped the charts longer than "Purple Rain," which was number one for the final 22 weeks of the year. And none saturated America like "Purple Rain." At one point in the summer, "Purple Rain" topped the album and box office charts while "When Doves Cry" sat atop the Hot 100. "When Doves Cry" ended up being the best-selling single of 1984 while "Let's Go Crazy" also hit no. 1 and the title track peaked at no. 2.
And yet a case could be made that the most impactful song in the movie never charted. An R-rated film in the summer of PG-13 included "Darling Nikki," whose lyric about masturbating with a magazine annoyed a powerful mother named Tipper Gore. Within months, the Parents Resource Music Council would be formed so that somebody could think of the children, and soon records with potentially offensive content would be shipped with warning labels affixed. Wonder what Tipper thinks of "Darling Nikki" compared to the records that get warning labels these days.
The soundtrack sounds as good as ever and has aged far better than the movie. MTV, which now only shows music videos when someone dies, played hours of Prince videos Thursday before going into a heavily edited and commercial-interrupted airing of "Purple Rain." With the benefit of 32 years of hindsight, we can now see it was just a really long music video with dialogue that would get it laughed out of theaters in the 21st century.
The Kid: "See you later."
Apollonia: "When?"
The Kid: "Why?"
But that frenetic opening, with "Let's Go Crazy" blasting as the triangle between The Kid, Morris and Apollonia was established? It's still positively electric and able to transport us to a time when such sequences were ground-breaking instead of routine.
And the end sequence, with The Kid performing "Purple Rain" following his father's suicide attempt? It was a reminder of how a man standing five-foot-two could establish and tower over an entire pop culture landscape and inspire goosebumps and tears from kids listening and watching thousands of miles from Minneapolis.
Prince did it again Thursday night, for entirely different and far sadder reasons than we ever could have imagined as "Purple Rain" blasted out of our boom boxes in 1984 and spilled out of HBO on our TV screens thereafter. Rest in peace, Prince, and thanks for the music, movies and memories.