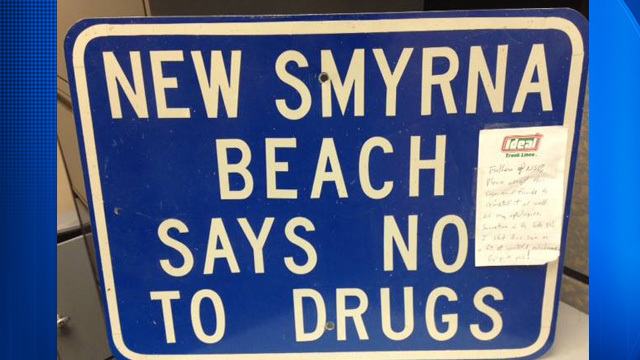 A thief who stole a sign nearly 30 years ago has returned it to the city of New Smyrna Beach, Florida with $50 and an apology note. The sign reads "New Smyrna Beach says no to drugs" and apparently it was stolen back in the 1980s, during the hey day of Nancy Reagan's "Say No To Drugs" campaign.
Lt. Shane Riggle, of New Smyrna Beach Police Department told the local news that the signs decorated the city in the 1980s.
"I think it's fantastic. I think somebody's life has changed maybe for the positive and they're making amends with some things that they've done in the past," said Riggle.

Along with the sign, came an apology note and a $50 money order for reinstallation.

"Fathers of NSB, please accept this sign and funds to reinstall it, as well as my apologies. Sometime in the late 80s, I stole this sign in a fit of youthful exuberance. Forgive me!" the note read.
Police said they're not sure what to do with the sign.