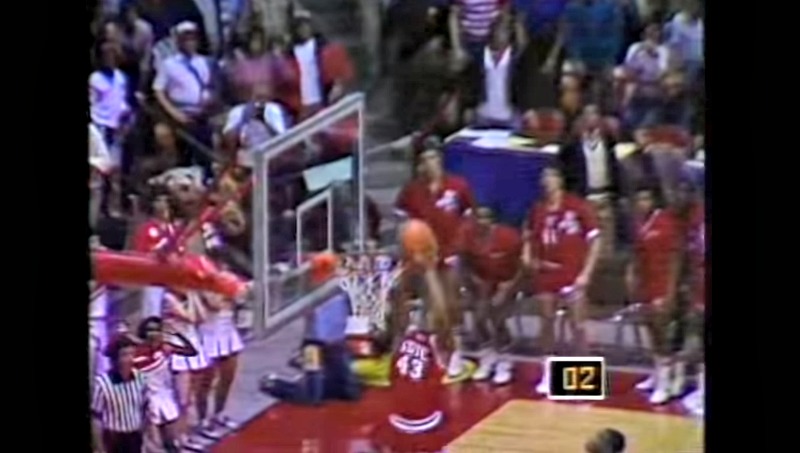 Kris Jenkins authored one of the greatest "where were you when" sporting moments of all-time Monday, April 4, 2016, when the Villanova junior drained a long 3-pointer as time expired to give the Wildcats a dramatic 77-74 win over North Carolina in the Division I men's basketball championship game.
This being the 21st century, Jenkins' shot, and the 39 minutes and 39 seconds that preceded it, were immediately lauded as the best ever. And to be fair, the shot and the game will live forever.
But was the shot the most dramatic championship game- or series-ending moment ever for those Generation Xers who came of age as sports fans in the 1980s? It's not number one on our decidedly subjective list. Agree or disagree?
(This is only for plays that decided a championship, o unforgettable moments such as Kirk Gibson's one-legged home run off Dennis Eckersley in the 1988 World Series, Mookie Wilson's ground ball snaking through he legs of Bill Buckner in the 1986 World Series and Christian Laettner's East Regional-winning buzzer beater in the 1992 NCAA Tournament do not qualify)
1.) Joe Carter's Walk-Off Homer
Joe Carter wins the 1993 World Series for the Toronto Blue Jays with a walk-off home run in Game 6. This wasn't a win-or-else moment for the Blue Jays, who led the Philadelphia Phillies three games to two and were three outs away from a decisive Game 7 when Mitch Williams took the mound looking to preserve a one-run lead. But Carter's walk-off homer — the first Series-winning blast since Bill Mazeroski lifted the Pittsburgh Pirates past the New York Yankees in 1960 — was the first time our generation had ever seen the backyard moment we all imagined actually happen in real life. And he reacted just like we would: Leaping for joy, ditching the helmet and pumping his fists as he rounded the bases. Blue Jays broadcaster Tom Creek offered up the perfect call as well: "Touch 'em all Joe, you'll never hit a bigger home run in your life!"
2.) Lorenzo Charles Buzzer Beater Dunk
Lorenzo Charles dunks just before the buzzer to give North Carolina State a 54-52 win over Houston in the 1983 NCAA Division I championship game. Former Boston Globe columnist Bob Ryan has forgotten more basketball than we'll ever remember, and he thinks Monday night's winner trumps Charles' 33 years earlier.
Some of you need to get a grip. There's a big diff between Charles dunking an air ball and Jenkins hitting a 30-plus footer at the buzzer.

— Bob Ryan (@GlobeBobRyan) April 5, 2016
But Charles' dunk edges out Jenkins' game-winner. First of all, it came off complete chaos: Teammate Dereck Whittenberg nearly had the ball stolen near half court before lofting a hopeless-looking shot from 35 feet. Charles reached up and dunked the ball with one second left to cap perhaps the biggest upset in championship game history as well as the type of Cinderella run that helped create March Madness as we know it. North Carolina State, which reached the NCAA Tournament despite suffering 10 regular season losses, was a 7 1/2-point underdog against Houston, which was 31-2 and had captivated the nation with "Phi Slamma Jamma."
Then of course there's the iconic reactions. Charles looked stunned, a la Jay Wright Monday night, as his teammates mobbed him. North Carolina State head coach Jim Valvano responded in an entirely different fashion, rushing the court and racing around, uncertain who to hug and kiss first.
Ranking it third doesn't diminish the awesomeness of Jenkins' title-winning shot, which was a masterpiece of planning and spontaneity. But Villanova was a season-long contender two days removed from the most lopsided win in Final Four history. For the sheer shock factor, Charles' dunk edges it. But these reactions will forever generate goosebumps.
4.) Luis Gonzalez wins the 2001 World Series for the Arizona Diamondbacks
The Yankees appeared ready to win their fourth straight title—a feat last achieved in baseball by the 1949-1953 Yankees—when rookie Alfonso Soriano hit a go-ahead homer in the eighth inning. But the Diamondbacks pieced together a historic bottom-of-the-ninth rally against all-world closer Mariano Rivera, who allowed the tying run after giving up two hits, hitting a batter and committing an error before Gonzalez, who hit 57 homers in 2001, laced a single over a drawn-in infield to end a dynasty and unleash a wild celebration in the desert. The hit also made Tim McCarver look eerily prescient.
Vinatieri hit the field goal as time expired to give the New England Patriots the win over the St. Louis Rams in Super Bowl XXXVI. The first Super Bowl as-the-clock-hit-:00 game-winner since Jim O'Brien booted the Baltimore Colts past the Dallas Cowboys in Super Bowl V never would have happened if Bill Belichick and Tom Brady listened to John Madden, who wanted the Patriots to take a knee and go to overtime after the Rams tied the game 17-17 with 1:37 left. But Brady, in his first year as a starter, marched the Patriots 53 yards in seven plays before Vinatieri began New England's historical dominance of the NFL. The most amazing thing, with the hindsight benefit of 15 years in which Brady and Bill Belichick have become America's preeminent sporting heels? People were HAPPY for the Patriots, who had never before won a Super Bowl and entered as 14-point underdogs against the Rams
Jerry Beach is a New York-based sportswriter who absorbed far more '80s culture than medically advisable. Follow him on Twitter @defiantlydutch or email him at [email protected].