To have come of age during the music video revolution means hearing a song on the radio and replaying the video in your head. Here's five  music videos of top 40 songs you were probably watching this week in 1984 (countdown courtesy of XM's 80s on 8, which uses the Billboard charts):
5 music videos you were watching this week in 1984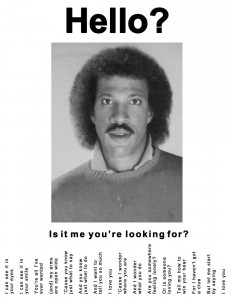 35.) Infatuation, Rod Stewart: The hype back then was presumably about Stewart's reunion with former Faces bandmate Jeff Beck, who handled the guitar solo. But by the vaguely Hitchcock-ian video, in which Rod pursued an object of affection played by Kay Lenz (today we'd call it "stalked"), overshadowed Beck's shredding. It was a pretty raunchy video by 1984 standards, especially around the 2:27 mark.
26.) Stay The Night, Chicago: Many of the artists that were quick to embrace the music video medium were those who appeared to be the unlikeliest candidates to do so. Chicago, the kings of Lite FM balladry you heard in the backseat of your parents' cars, making a video in which a black widow type eludes lead singer Peter Cetera during a crash-filled car chase? Yup, and it worked.
12.) Borderline, Madonna: The voice is—pardon the pun—borderline shrill, and the song no better or worse than anything on the radio at the time. But Madonna's first top 10 hit still resonates because it offers up a vulnerability and an ordinariness that would be gone forever by the time she authored MTV's first "Where were you when" moment months later by writhing around to "Like A Virgin" during the Video Music Awards.
7.) Against All Odds (Take A Look At Me Now): Speaking of unlikely music video stars. There were six soundtrack songs in this week's top 40, but we'll go with Phil Collins since he was smack dab in the middle of owning the whole decade. This was the title track to an R-rated movie, but the clips shown in the video hinted at enough sex and violence to make pre-teens everywhere feel like we'd just gotten away with seeing the movie in the theaters.
3.) Hello, Lionel Richie: There were a lot of 1980s songs and videos that grew weirder and creepier upon in retrospect, none more so than Richie's turn as a drama teacher pursuing a blind student, who in turn expressed her love for Richie by sculpting a ceramic likeness that looked nothing like him at all. Look, it was 1984. We didn't know any better.
Three decades later, "Hello" still inspires memes and lampoons—including one in which Richie gets in on the fun as his non-ceramic head sings along with Jimmy Fallon, who of course can't keep a straight face.