"The one constant through all the years, Ray, has been baseball." So intoned Terrence Mann (James Earl Jones) in 1989's Field of Dreams. And one constant in Major League Baseball in the twenty-seven years since that pronouncement? 1980s music.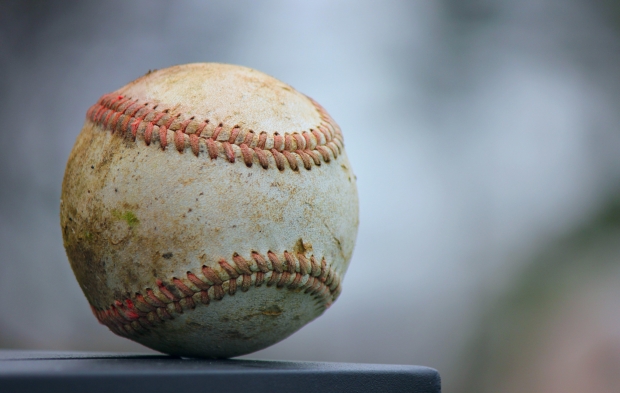 Go to any MLB park in North America, and you'll most likely hear 80s tunes over the PA at some point during the game. The San Diego Padres play "Let's Go Crazy" during the 7th inning stretch; members of the Chicago Cubs may find themselves taking the field to Tom Petty's "Running Down a Dream" or John Mellencamp's "Pink Houses" : and according to MLB.com, the Kansas City Royals fans could jam out to any number of 80s songs– from Bon Jovi's "Livin' on a Prayer" to Human League's "Fascination" to Bonnie Tyler's "Total Eclipse of the Heart"— during a game at Kaufmann Stadium.
And let's forget not forget that ballpark staple, John Fogarty's "Centerfield," released in 1985– probably the best baseball song this side of "Take Me Out to the Ballgame" (and the only song honored by the Baseball Hall of Fame, back in 2010).
Furthermore, many past and present MLB players have used 80s songs for their walk-up music– that snippet of music that accompanies players as they mosey on up to the plate (or to the mound, in the case of closers).
Last spring, for LIkeTotally80s.com, I wrote an article detailing players who reached way back, way back to the 80s for their walk-up music; in that article, I canonized Josh Reddick of the Oakland As, who bopped to the batter's box to Wham!'s "Careless Whisper" during the 2014 season. Reddick's choice of walk-up music really resonated with the fans, some of whom brought actual saxophones into the stadium to accompany the song's infectious solo.
(Incidentally, Reddick didn't choose an 80s song for his 2016 walk-up music, but I'll forgive him, since he's using the next best thing: a pro wrestling song!  Reddick comes to the plate to John Cena's theme, "The Time Is Now.")
This year, I decided to return to my handy-dandy MLB.com Fan Forum and research all the players who are using 80s songs for the 2016 season.  In particular, I tried to see if anyone this year picked a song that equalled "Careless Whisper," in the "decidedly-less-than-intimidating" category.  I think I found it.
Below is my list of the Top 8 Walk-up Songs from the 1980s for the 2016 Season. But first, the  honorable mentions:
"In the Air Tonight," Phil Collins– used by Josh Donaldson (Blue Jays) and Carlos Ruiz (Phillies)
"It's Tricky," Run-DMC– used by Mark Teixiera (Yankees)
"Wanted Dead or Alive," Bon Jovi– used by Tyler Thornburg (Brewers)
"Get Down on It," Kool and the Gang– used by George Springer (Astros)
"Holy Diver," Dio– used by Eric O'Flaherty (Braves)
"Funky Cold Medina," Tone Loc– used by David Ross (Cubs)
"The Stroke," Billy Squier– used by Tyler Naquin (Indians)
"Tom Sawyer," Rush– used by Jed Lowrie (As)
"Don't Stop Believin'," Journey– used by Clint Barnes (Padres)
And now, in no particular order (except for number one, which is so obviously superior, at least in terms of its uniqueness)… the List!
"Your Love," The Outfield
The only band on this list whose name actually has a connection to baseball, the Outfield's biggest hit– about a horn-dog guy trying to talk a girl (who is not his girlfriend Josie, since she's on a vacation far away) into having a one-night-stand with him– is used by two players: Charlie Blackmon (Rockies) and Gordon Beckham (Braves).
 "Money for Nothing,"  Dire Straits
Hey, a baseball player's life in many ways mirrors that of a rock star, so I guess it's appropriate that three current players chose for their walk-up music this classic paean to excess: Corey Kimbrel (Braves); Kelly Johnson (Mets), and Fernando Rodriguez (A's).
"Paul Revere," Beastie Boys
"Now, here's a little story I've got to tell/ About three bad brothers you know so well." Oh, yeah… THAT song. Honestly, I hadn't thought of this cut from Licensed to Ill in years… but two current players obviously have.Both Drew Storen of the Blue Jays and Jerry Blevins of the Mets use this as their walk-up music.
Various, AC/ DC
For players who want songs that will make their opponents tremble in their cleats, AC/DC tunes are go-to choices. Liam Hendriks (As) and Jason Castro (Astros) currently use "Back in Black"; Zach Britton (Orioles) uses 1981's "For Those About to Rock, We Salute You"; and Hunter Strickland (Giants) uses "You Shook Me All Night Long."
(And yes, other players use AC/DC songs, just not ones from the 1980s. So, Peter Moylan of the Royals enters to "TNT," but that song came out in 1975. And Brad Brach of the Orioles, enters to "Thunderstruck," which is a 1990 song.)
"Kickstart My Heart," Motley Crue
This year's most popular 80s walk-up song, "Kickstart" is used by four current MLB players: Evan Marshall (Diamondbacks),, Will Myers (Padres), Drew Carpenter (Nationals), and Alex Presley (Brewers). Incidentally…
Presley also uses another 80s song for his walk-up music: "Epic," by Faith No More. (And, yes, both "Kickstart" and "Epic" came out in 1989, so they make the cut!)
And speaking of Motley Crue… relief pitcher Joba Chamberlain has long used "Shout at the Devil" for his warm-up music.
"Crazy Train," Ozzy Osbourne
The quintessential entrance theme, for everyone from the New England Patriots to Kevin Malone on The Office. Two current MLBers– Tuffy Gosewisch (Diamondbacks) and Lonnie Chisenhall (Indians)– are using this as their walk-up song. But for baseball purists, the tune will forever be linked to Chipper Jones, who retired after the 2012 season, after spending his entire 19-year professional career with the Atlanta Braves.
"Welcome to the Jungle," Guns N' Roses
This one has always been a popular choice for walk-up music, dating all the way back to the late 90s, when Mark McGwire used it during his time with the Cardinals.  This year, three different players enter to this song: Chris Heston (Giants), Carlos Beltran (Yankees), and closer Craig Kimbrel (Red Sox).
As an aside, I've seen Kimbrel come out to "Welcome to the Jungle" at Fenway, and I can't say the song electrifies the crowd like the tunes used for the previous Red Sox closers: "Sandstorm," for Koji Uehara, and "I'm Shipping Up to Boston," for Jonathan Papelbon.  (Really, the "I'm Shipping Up to Boston" years were awesome!)
 "PYT," Michael Jackson
Some players, as I mentioned, use heavy metal for their walk-up music, to strike fear in the hearts of their opponents. Other players take a different route. So Josh Reddick used "Careless Whisper," David Wright has used New Kids on the Block's "You Got It (The Right Stuff)," and Michael Morse has used a-ha's "Take On Me."  All fine 80s songs, albeit low on the "Strike Fear into Opponents' Hearts" Scale
In that same tradition, the most 80s-rific song of the 2016 season (so far) has to be Michael Jackson's "PYT."  The song was used, briefly, by Colin Walsh, formerly of the Milwaukee Brewers. I say "briefly" and "formerly," because just a few weeks ago, Milwaukee traded the under-performing Walsh back to the Oakland As, who then sent him to their Triple-A affiliate in Nashville. So, I guess in this case, a fun 80s walk-up song doesn't necessarily translate to success.  But a fun song nonetheless.
Ultimately, the fact that baseball players in 2016 are still using 80s songs just proves, once again, the timelessness and enduring popularity of the decade. To borrow a line from Terrence Mann: if you play an 80s tune, people will come… people will most definitely come!