One of the most distinctive voices in rock turns 65 today. Bonnie Tyler and her unmistakably raspy delivery had just three top 40 singles in America, but boy did she make them count.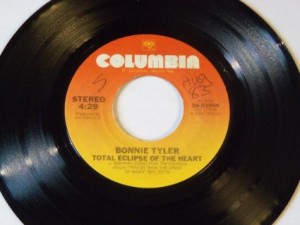 Her first hit actually came at the height of disco in 1977, when "It's a Heartache" hit no. 3 on the singles charts. This is a very 1970s-esque video.
Six years later, Tyler produced one of the '80s most memorable songs and videos with "Total Eclipse of the Heart," a gloriously bombastic Jim Steinman-penned number that reached no. 1 and sent her album, "Faster Than The Speed of Night" into the top 10. Who hasn't rolled down the window and belted out "I REALLY NEED YOU TONIGHT" at some point over the last 33 years? Stop it. You're lying.
The video—which apparently involves Bonnie and a boys' boarding school that may or may not include bright-eyed aliens—has been viewed a whopping 158 MILLION times on YouTube. It also inspired this hilarious parody in which the video's images are interpreted in a literal manner.
Bonnie Tyler: "Total Eclipse of the Heart"
Tyler had her final hit song in 1984, when "Holding Out For A Hero" became one of the six top 40 singles off the "Footloose" soundtrack. The song only peaked at no. 34, though it has experienced a pretty good shelf life via the countless airings "Footloose" gets on cable every year and as a sporting anthem in stadiums around the country.
Tyler has continued to record over the last three-plus decades, though she hasn't had an album chart in the United States since 1986. She still sounded in fine form during a performance at the Rewind Festival in 2014. Happy Birthday, Bonnie, and watch out for those weird-eyed boarding school boys.