One of the most beloved actors of the '80s, Michael J. Fox, turns 55 today. (Here we will pause so that the realization that Alex P. Keaton is now 55 years old can properly sink in)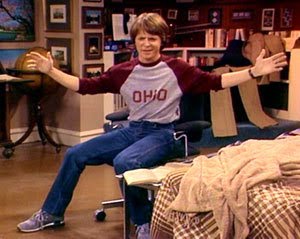 We'd probably be noting Fox's birthday even if his career peaked with "Family Ties," the sitcom that flipped the script by casting Fox as the proudly Republican teenaged son of former hippies played by Michael Gross and Meredith Baxter (who, by the way, each turn 69 on June 21).
Sha la la…
But there was a lot more to Fox than his uncanny interpretation of the Reagan-era young Republican. Thanks largely to Fox's acting chops, "Family Ties" was one of the few '80s sitcoms that could pull off the "Very Special Episode" without making  us laugh for all the wrong reasons. Who could ever forget Fox's grief after his own laziness saved him from being in a fatal car crash with his friend Greg?
Fox cemented his superstar status in the summer of 1985, when "Back To The Future" hit theaters and promptly became one of the biggest blockbusters of all-time.
He was so perfect as Marty McFly that it's hard to even conceptualize that Eric Stoltz was not only the original pick for McFly but actually spent several weeks shooting the movie before being fired.
"Back to the Future" was such a massive hit, it made a previously unreleased Fox movie a hit as well. "Teen Wolf," which Fox shot in three weeks for the independent Atlantic Releasing Corporation, was originally supposed to be released in the spring of 1985. The success of "Back to the Future" nudged Atlantic into rushing "Teen Wolf" into theaters in August 1985, when it opened at no. 2 at the box office behind, you guessed it, "Back to the Future,"
Unlike so many teen icons, Fox made a pretty smooth transition into adult roles. In 1989, "Family Ties" ended and the two "Back to the Future" sequels were released six months apart.
Fox had a hit with 1991's "Doc Hollywood," in which he played a big city plastic surgeon who wrecks his car in rural South Carolina and falls in love with the small town (and Julie Warner).
He starred in another popular sitcom in 1996, when he debuted as the deputy mayor of New York City in "Spin City." Fox won an armful of awards for the role, which he played for four seasons until exiting due to his battle with Parkinson's Disease.
Fox has continued to act, largely in guest roles, while spending most of the last decade-and-a-half running The Michael J. Fox Foundation, which raises funds for Parkinson's Disease research in hopes of finding a cure. He has more than one million followers on Twitter, where he posted a poignant message last weekend following the death of boxer Muhammad Ali, who battled Parkinson's Disease for more than three decades.
Ali, the G-O-A-T. A giant, an inspiration, a man of peace, a warrior for the cure. Thank you. pic.twitter.com/MCLyJhLC0X

— Michael J. Fox (@realmikefox) June 4, 2016