There's an entire generation of moviegoers who believe "The Transformers" movie franchise sprung from the ADD-addled mind of Michael Bay. We, of course, know the truth, and the proof will hit stores Sept. 13, when Shout! Factory releases a 30th anniversary DVD of "Transformers: The Movie."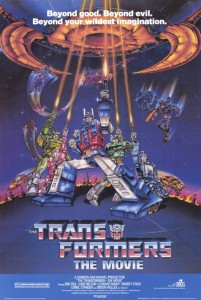 As a child of the '80s, you know Transformers originated as a Saturday morning cartoon. After a successful debut season in 1984, the Transformers began airing weekdays in syndication and became an after-school staple for elementary school-aged kids everywhere.
The original Transformers movie went into production following the second season and took place way, way, way in the future—in the year 2005. With a built-in audience, plus a generation-spanning voice cast that featured the likes of Judd Nelson, Eric Idle, Robert Stack, Casey Kasem and even Orson Welles (in his final role), "The Transformers: The Movie" felt like a sure-fire hit.
Alas, as with so many expected hits in the summer of 1986, "The Transformers: The Movie" fizzled out at the box office. It didn't even make the top 10 in its debut weekend—a weekend in which even "Howard The Duck" finished in the top 10—and grossed $5.8 million before exiting theaters.
But it did well enough to generate a cult following and keep the Transformers franchise alive long enough for Bay to assault our senses. Bay's first four Transformers movies have made nearly $4 billion worldwide (that's nine zeroes, people). There is one more sequel and two spinoffs planned for the next three years.
If that's all too much to wrap your mind around, sit back, absorb the hair metal awesomeness of the title track from the original "The Transformers: The Movie" and save your bucks for the DVD re-release.
Transformers The Movie 1986 Theme