It looks like Tesla fans can rejoice as the "Psychotic Supper" album from 1991 is celebrating it's 25th anniversary with a two-LP vinyl release.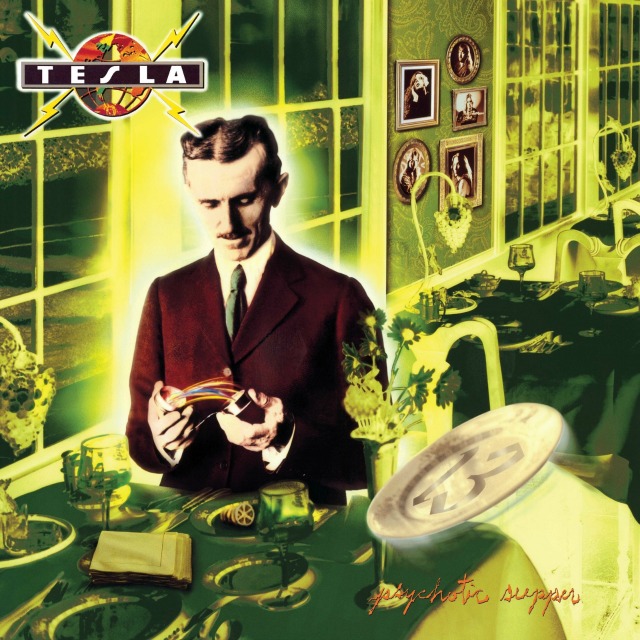 "Tesla's third album, Psychotic Supper, the band's third studio album, released onAugust 30, 1991, was the follow-up to the live Five Man Acoustical Jam, peaking at #13 on the Billboard 200, featuring an aggressive change in direction from the previous disc, landing an impressive five songs on the Mainstream Rock Tracks chart, including "What You Give," which went to #7 and even cracked the Billboard Hot 100 at #86," according to a recent press release.
"Other memorable songs include "Edison's Medicine," which spotlights how its subject received credit for harnessing electricity over the band's own namesake, Nikola Tesla, which climbed to #20 on the Mainstream Rock Tracks, along with "Call It What You Want" (#19), "Song & Emotion" (#13) and "Stir It Up" (#35). Produced by Michael Barbiero (Metallica, Guns N' Roses, Anthrax) – who also helmed the band's first two studio efforts — the album was eventually certified platinum in 1993 by the RIAA, and was included in German magazine Rock Hard's book of "The 500 Greatest Rock & Metal Albums of All Time."
According to the release, Tesla themselves have been quoted as considering Psychotic Supper their best record. While the band consider's Psychotic Supper to be one of their best works, 80s lovers will know that "Love Song" was one of the best tracks from the band.
The two-LP vinyl will be released on June 22.
The complete Psychotic Supper album track list is as follows:
SIDE 1
1. Change in the Weather
2. Edison's Medicine
3. Don't De-Rock Me
SIDE 2
1. Call It What You Want
2. Song & Emotion
3. Time
4. Government Personnel
SIDE 3
1. Freedom Slaves
2. Had Enough
3. What You Give
SIDE 4
1. Stir It Up
2. Can't Stop
3. Toke About It