If you went to the movies 29 years ago this week, odds are you used your hard-earned paper route or lawn-mowing bucks to see the sequel to one of the '80s most iconic movies, or one of the decade's best gangster movies. You might also have seen a pair of family-friendly films, or one of Michael J. Fox's first post-Back To The Future vehicles. Without further ado: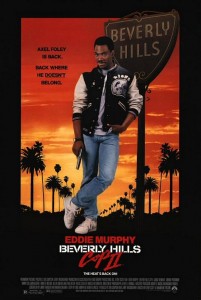 1.) Beverly Hills Cop II: The sequel to the movie that cemented Eddie Murphy's superstardom grossed a little more than $12.4 million in its third week in theaters. It would eventually gross $154 million, about $80 million less than the original but still good enough for third place overall in 1987.
2.) The Untouchables: The critically acclaimed tale of Eliot Ness (Kevin Costner) trying to take down Al Capone (Robert DeNiro) during Prohibition in Chicago grossed a little more than $10 million in its opening weekend. The movie finished as the sixth-highest grossing film of 1987 at a little over $76 million and Sean Connery won an Academy Award for his portrayal of Jimmy Malone.
3.) Harry and the Hendersons: The story of a family that runs over an then rescues Bigfoot netted a little more than $4.1 million in its debut weekend and ended up grossing just shy of $30 million. Hey, it was the '80s.
4.) Ernest Goes To Camp: The first of five theatrically released movies featuring one-time pitchman Ernest P. Worrell netted a little more than $2.35 million in its third week on its way to a final gross of $23.5 million. Hey, it was the '80s.
5.) The Secret of my Success: Fox's most successful non-Back To The Future '80s film grossed a little more than $2 million in its ninth week of release and finished the year as the no. 7 movie with $67 million in receipts. And yet the title song by Night Ranger didn't even break the top 40. Life is unfair.