Fans who absolutely loved their 80s styled swimsuits and are looking to jump back into the old school styles may have a chance to do so.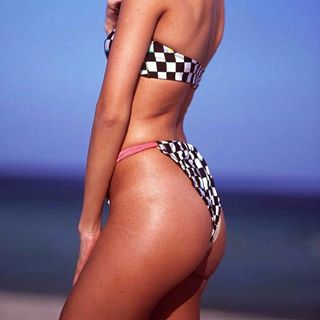 "You don't need to be a cultural anthropologist to see that the '80s are coming back in a big way. The couture shows were rife with '80s references—take your pick from Ronald van der Kemp or Chanel," according to Vogue.
"A Baywatch movie will arrive on the silver screen in 2017. And the go-to swimsuit silhouette for everyone from Kylie Jenner to Beyoncé is a high-cut one-piece. That's where Solarium comes in."
The report states that Solarium, a fashion swimwear company has just launched some 80s-inspired swimwear for those who are looking for a bit of a vintage look, or quite frankly, the look you once sported back in the day.
"The venture, launched by couple Harry Mason Dent IV and Amelia Lindquist, actually started out as an art project," according to the report.
"Mason was exploring this idea of shooting '80s-style babes for lighters he was making. I would help him a lot, sourcing vintage swimsuits, and it proved to be a process that was a lot more difficult than we'd expected. One day in January, I just decided to actually make them myself," said Lindquist.
So, what started out as a photoshoot venture turned into a whole new line for Solarium Swim. You can check out some of the styles in the Instagram photos from Solarium below.
Solarium 80s-Inspired Swimsuits