While Scooby-Doo was introduced in the 70s, there is no doubting that through the 80s it was at its peak. Nowadays we realize that plenty of these characters were based off of some of the social classes that you may have encountered in high school. There was one character in particular who fit into a "stoner" group so-to-speak and his name is Shaggy. So, we decided to pay homage with the Best Shaggy Costume From Scooby Doo.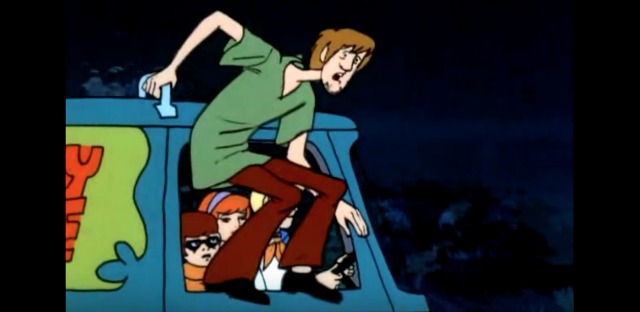 Shaggy was the always hungry and seemingly high character and if it wasn't for the always hungry Scooby-Doo, you may have picked up on the fact that he was totally high much earlier. While he exhibited signs of enjoying the occasional hit every once-in-awhile, he still remained pretty kid friendly and was a fan favorite on the show.
(Best Shaggy Costume From Scooby Doo Below)
Enough about Shaggy and his stoner qualities, let's get down to one of the most simple costumes you could ever think of. You really only need three pieces to pull off this look, unless you can't grow a rad goatee. If you can't grow one, you can always get a fake goatee.
The next step to getting the perfect costume would have to be that lime green v-neck t-shirt that shaggy always sports. You want to continue by pairing the green shirt with a pair of burgundy or dark brown pants.
To cap it all off, you need some brown suede shoes and there you have it, a super simple Shaggy costume.