Believe it or not Thanksgiving specials are pretty popular when the season rolls around. The 80s had some of the greatest Thanksgiving specials from a wide range of shows. As impossible as it sounds, we created a list of 5 Classic 80s Thanksgiving Specials.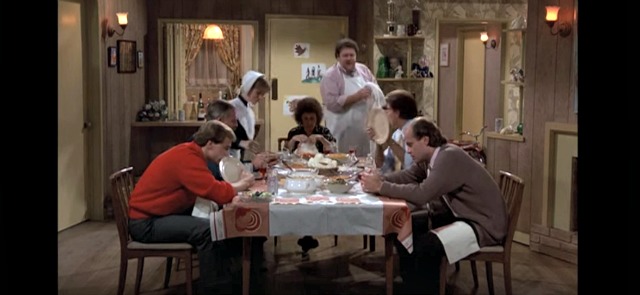 We should note that these Thanksgiving specials are referring to special episodes from TV shows that pretty much defined the 80s. Classic shows like Cheers started implementing these awesome themed episodes so when that time of year rolled around it was like you were celebrating along with them.
In most cases you were probably laughing along with them as they helped you get through the holiday season. Thanksgiving is a time for family and each of the shows below featured episodes that were centered around family and togetherness.
We brought you a pretty awesome 5 Classic 80s Thanksgiving Specials below but not to worry, we'll explore even more 80s Thanksgiving specials as the holiday nears.
5 Classic 80s Thanksgiving Specials
1. Cheers: "Thanksgiving Orphans"
One of the most epic TV food fights ever.
2. Who's The Boss: "Thanksgiving at Mrs. Rossini's"
The kiss that sparked a little Thanksgiving turmoil.
3. Family Ties: "No Nukes Is Good Nukes"
Ending up in jail on Thanksgiving is the absolute worst.
This two-part episode showed just how much humanity Alf had for those who were less fortunate.