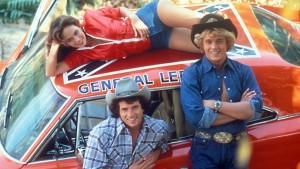 While the premise seems silly now, The Dukes of Hazzard comes from a time when the site of Confederate flag could still be innocent (at least partly because the Duke brothers were so likeable). It was a show that stopped America in its tracks when these words played 'round the nation.
"Just two good ol' boys,

Never meanin' no harm.

Beats all you never saw,

Been in trouble with the law

Since the day they was born."
When you heard that catchy TV theme song in the early 80s, you knew that it was time to jump into the "General Lee" with the Duke Boys for an hour of rollicking, old fashion fun. And, if you were lucky, sexy Cousin Daisy would join the fun, in her short, trademark "Daisy Dukes." The beloved, rural comedy ran on CBS from 1979 to 1985. In that time, "Daisy Dukes" shorts became part of our lexicon, and the boys' trusty car, the General Lee, became iconic.
The plot was simple enough. Cousins Bo and Luke Duke fought a never-ending battle with the authorities of Hazzard County, the snoopy ne'er-do-wells, and that scheming, no-good Boss Hogg. The boys could always rely on their kinfolk—Cousin Daisy and Uncle Jess—to help them make fools of Boss Hogg and his lackeys. Every week, the hour-long comedy was chockfull of car chases and crashes, hilarious sight gags, and the eye candy that were all three Duke Cousins.
What happened to The Dukes of Hazzard cast?
So whatever happened to the cast? There was a TV movie reunion back in 1997, but what has the cast been up to since?
John Schneider, who played Bo Duke, was born in 1960. He has released over nine studio albums that have topped the Billboard country charts. He continues to act on TV and in films.
Tom Wopat, who played Luke Duke, was born in 1951. After the show, he left Hazzard County for The Great White Way, appearing in numerous Broadway shows. (On a personal note, I saw Wopat as Billy Flynn in the touring company of Chicago years ago, and he was wonderful.)
Catherine Bach, who played Daisy Duke, was born in 1954. She has done several low-budget films and the Canadian drama series African Skies, along with launching a line of diamond jewelry.
Rick Hurst, who played Deputy Cletus Hogg, was born in 1946. He has been a busy actor—appearing in many movies and TV shows throughout the years, and he regularly participates in Duke of Hazzard events.
Sonny Shroyer, who played Deputy Sheriff Enos Strate, was born in 1935. He reprised the role in the short-lived Dukes of Hazzard spinoff, Enos. Shroyer has been a hardworking character actor in TV and film since.
Ben Jones, who played Cooter Davenport, was born in 1941. The actor became a politician, serving in the U.S. House of Representatives from Georgia's 4th district.
The cast still looks great after all these years, especially the three Duke Cousins.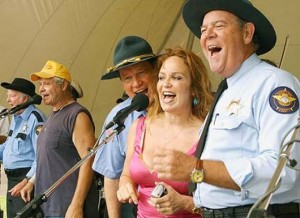 The series is currently not running on TV or streaming services. However, you can purchase the episodes on Amazon.