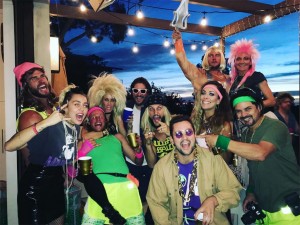 The Hunger Games' Liam Hemsworth took his fiancée, Miley Cyrus, "back in time" over the weekend. No, not in hot-tub time machine or a souped–up DeLorean. They were attending Liam's big brother's 80s-themed blowout.
It was Luke Hemsworth's 36th birthday, and he wanted to celebrate it by throwing a party inspired by the decade of his birth—the 80s. This included Luke's retro birthday cake, modeled after Rubik's Cube and Pac-Man.
Liam and Miley got into the spirit of things by wearing rad, retro costumes. Miley was clad in a tight, leather skirt and a Madonna t-shirt. Liam was unrecognizable—not to mention hilarious— in his Fabio wig, sunglasses, big gold chain, and his "Let's Get Physical" outfit: a yellow tank top, red shorts and a pink sweatband.
The birthday boy and Westworld star, Luke, pulled out all the stops with his superhero He-Man costume—big sword and all. He later wrote on his Instagram, "Fabulous secret powers were revealed to me the day I held aloft my magic sword and said 'by the power of greyskull!'"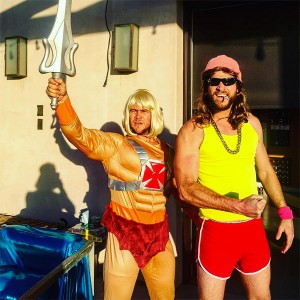 Other partygoers decked out in their best 80s gear, included Laural Barrett, Mark Furze, Eric Haskell, Lisa Oberwager, Jen Rossi, Courtney Tyler Seashols, Jaime Haskell, Katie Jensen, and Luke's wife, Samantha Hemsworth. Good friend Zac Efron was in New York and could not attend the birthday bash, as Samantha commented on an Instagram photo caption: "We missed you!!…You better be in town for the next party! #missingafewpeople."
Samantha also posted tubular and bitchin' Polaroid photos of the festivities on her Instagram account, along with this: "Like totally gnarly dude, the 80s are back! #80sparty."
Many of the attendees likewise shared pics from the California party via Instagram, including Laural Barrett, who wrote, "Halloween just keeps on giving this year…Happy birthday @hemsworthluke ya legend!!"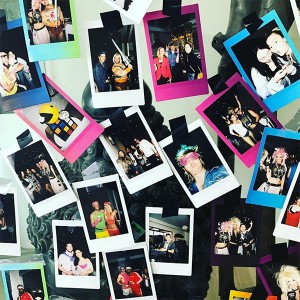 Looks like the 80s are here to stay…If celebrities have anything to say about it.